Enter Ashnikko's Brave New Fantasy World, 'WEEDKILLER'
Since the singer's first dalliance with viral TikTok fame, she's sharpened her reputation as an unbridled and vivid worldmaker, unrestrained by genre.
Photographs by Juan Veloz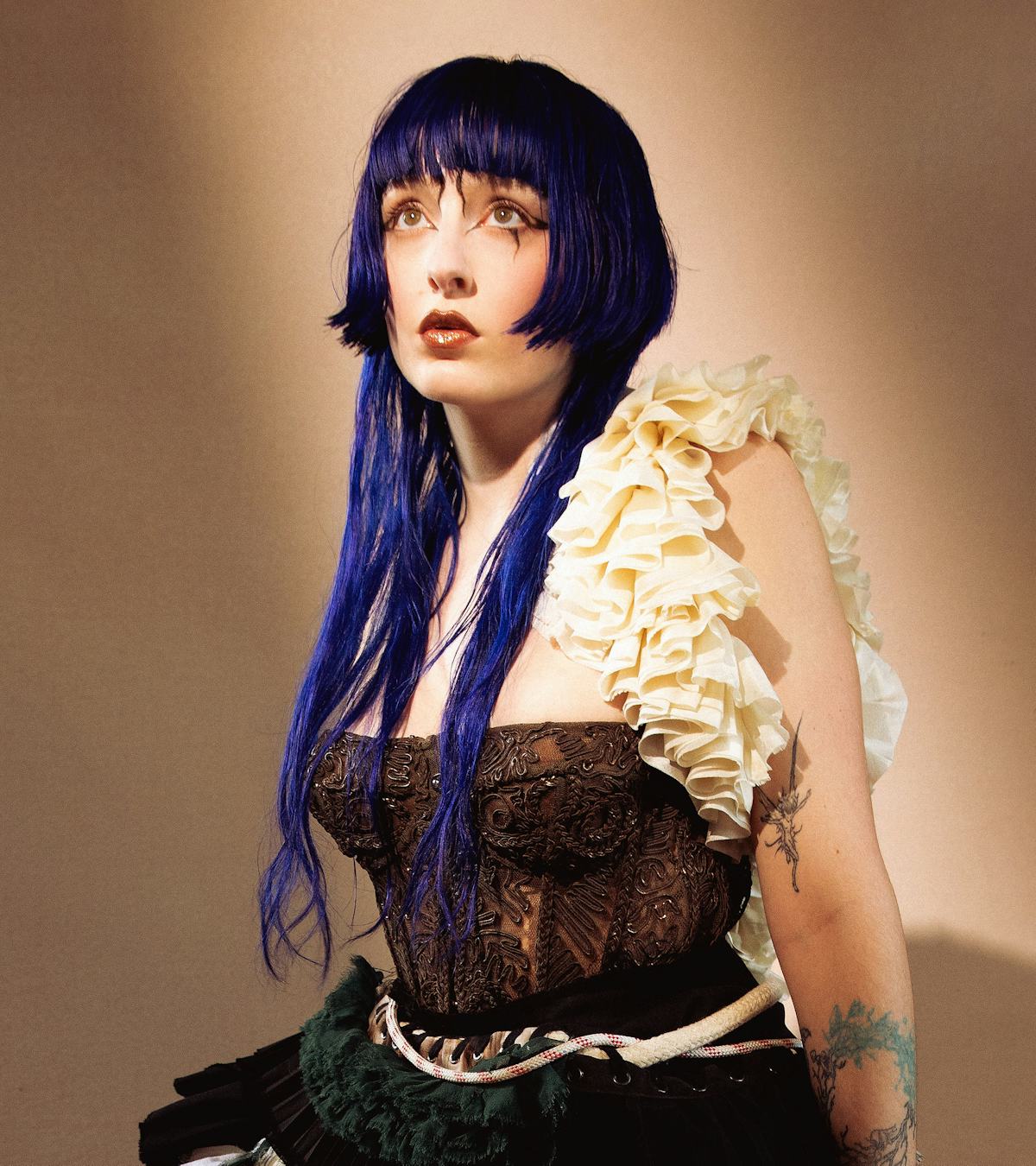 Ashnikko's debut album WEEDKILLER tells the story of a world not unlike our own. Instead of humans living on Earth, they are fae living on an unnamed, forest-covered planet. In the place of climate change, pollution, and war, there are the Weedkillers, AI machines that are slowly destroying and violently devouring the planet's biomatter. The heroine of this story is a fae who's had her wings ripped out and replaced with machine parts, becoming half of what she detests. Still, with her Kool-Aid-blue hair flying, she's determined to fight back.
If you've kept up with Ashnikko since 2019's "Stupid," then you won't be surprised by the conceptual, Mad Max-esque lore of WEEDKILLER, out June 2 via Warner Records. Since the singer's first dalliance with viral TikTok fame, she's sharpened her reputation as an unbridled and vivid worldmaker unconstrained by genre or convention. Her music videos often pair her frenetic hyperpop with eye-spinning visuals that remix animes, video games, and fairy-tale characters — in 2022's "Panic Attacks in Paradise," for example, she portrays a hedonistic Eve in the garden of Eden, and in 2021's "Daisy," she becomes both a bee and a sexy version of Satan. WEEDKILLER is a bigger endeavor than both of those combined.
"This is the first body of music where I'm like, this is a world I'm passionate about building," she tells NYLON. It is 9 a.m. in Osaka, Japan, and she's just woken up. Later that night, she'll kick off her Asia tour, playing a simplified version of the show she's bringing to the Coachella stage this April — two big markers of just how huge the Ashnikko name has grown in the last three years.
The WEEDKILLER story didn't spring out of nothing. The 27-year-old has long nurtured a passion for creative writing, crafting "loads" of short stories and poetry that were often streaked with elements of sci-fi and the surreal while she was growing up in North Carolina. "It feels like creating magic to craft these fantastical worlds with words," she explains.
While its concept centers around fantasy beings, WEEDKILLER's themes are more human than they seem. The antagonists represent a variety of evil villains, real and abstract, plaguing Ashnikko and our Earth today. The AI angle is its most obvious — a commentary on society's dangerous spiral into technological development at the cost of the environment. "I feel like we live in a world that has lost the ability to be empathetic towards the natural world and consumes more than we give back," she says.
But there's also "Possession of a Weapon," a toxic sludge puddle of a song that's her response to the overturning of Roe v. Wade. Its lyrics turn her body into artillery: "Is that what you want, blood and guts/ Pussy teeth to imprison you?" "Cheerleader" is a barbed stadium chant about the "incredible pressure to maintain f*ckability and to hold myself to impossible beauty standards," she says about being a highly visible queer femme popstar. On WEEDKILLER, all of these societal forces, big and personal, congeal into monsters tangible enough for Ashnikko to destroy. It does, however, end on a hopeful note with the Ethel Cain-assisted "Dying Star," a showstopper. The soft ballad about abandoning a dying relationship for a soft new love is twice the length of the other songs, and presumably dedicated to her partner, Arlo Parks.
WEEDKILLER is ripe for stage adaptation, and Ashnikko will do just that at Coachella, with stage design, props, costumes, and perhaps a surprise guest or two fit to bring her brave new world to roaring life. It'll be her debut performance at the festival and finally achieve one of her earliest goals.
"Coachella is definitely that festival that I have been dreaming of playing since I was a kid, and it's one that you can tell people who are not in music, and they're like, 'Wow, that's a really big deal,'" she says. "I don't want to spoil too much, but there's some big surprises."
Photographs by Juan Veloz
Set Designer: Carlos Lopez
Talent Bookings: Special Projects
Video Director: Kyle Hartman
Photo Director: Alex Pollack
SVP Fashion: Tiffany Reid
SVP Creative: Karen Hibbert