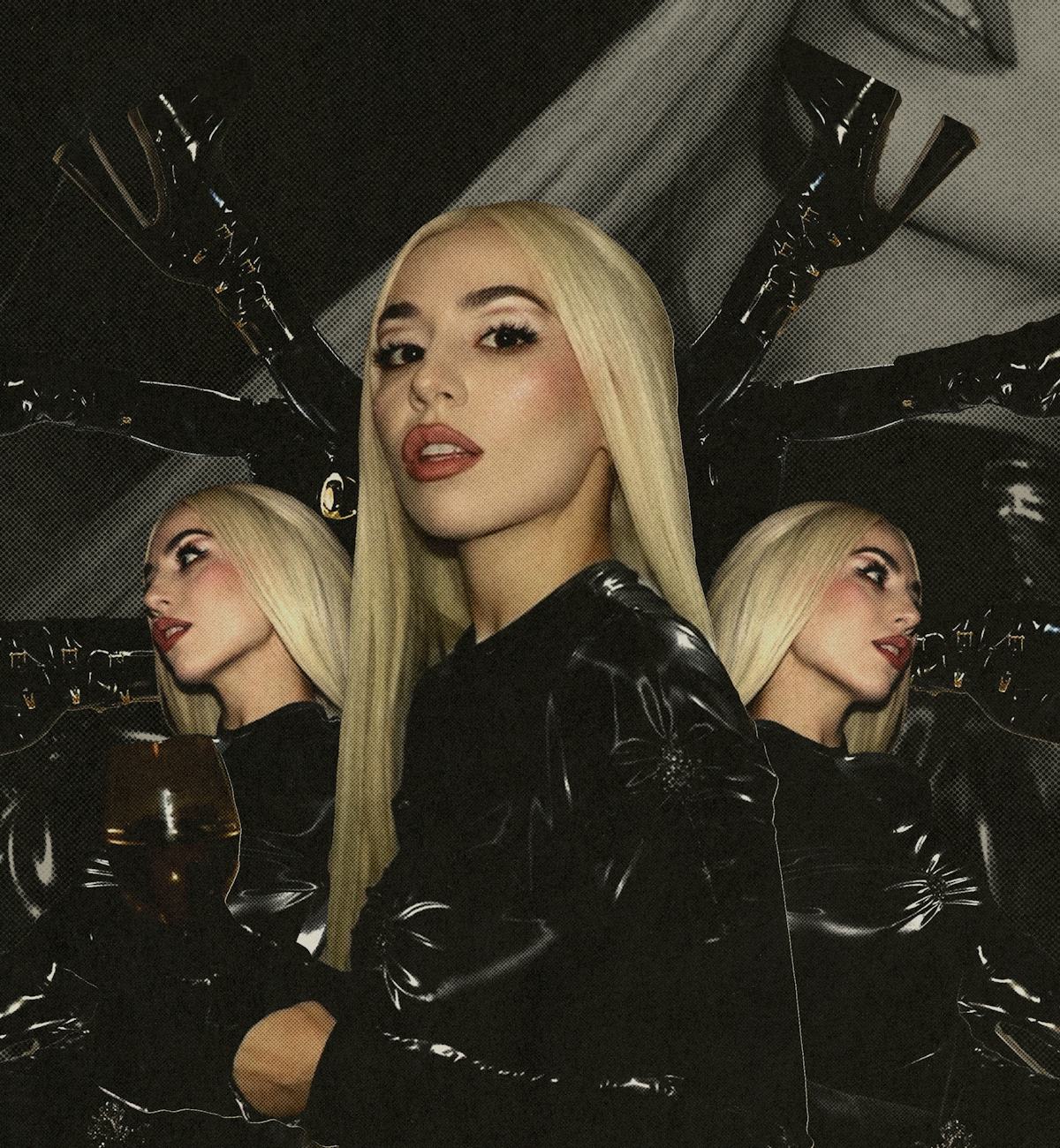 Victoria Warnken/NYLON; @avamax
Ava Max Would Rather Be Daring Than Boring
The pop star on her love of interpolations, dealing with internet trolls, and the pitfalls of dating as a celebrity.
Ava Max is sitting on the edge of a tub in the bathroom of her TriBeCa hotel room on a late Friday afternoon. In a few hours, she'll perform at queer nightlife fixture Ty Sunderland's Devil's Playground party at Webster Hall, and she is demonstrating her pre-show ritual: She glides her hand across her shoulders, then down the middle of her body. Is she religious? "No, I'm not," she says, sounding almost surprised by the question. But isn't that... the sign of the cross? She looks down at her hands. "Maybe it is considered a cross to some people. I cut any negative, demonic ties that are on me, or any dark energy that's on me. I imagine they're like scissors, not a cross."
Max is in town for New York Fashion Week, where she'll attend the Area show and the Tommy Hilfiger NYFW Dinner, and right now she is in the middle of her pop-star glam transformation. She's sporting a licorice-colored Brielle catsuit and a hip-length blond wig parted straight down the middle. Makeup bags, bobby pins, and beauty products are strewn across the sink. She grabs at the rings on her fingers and rattles off the names of the stones she wears — kyanite, hematite, black tourmaline — to maintain good vibes at all times. "I have to protect myself. Like, if I don't have my crystals on…" she says. "My mom thinks it's in my head. I really don't think it's in my head. It's good to protect yourself from negative energy. I'm all about positivity."
It's been two weeks since the release of the pop star's second album, Diamonds & Dancefloors, a collection of happy-sad Abba-esque hooks and slick synth-pop beats that sound like the early-aughts Europop explosion never left. Of all the mainstream pop stars actively promoting in America at the moment, there are few, if any, as committed to the lost art of the unpretentious dance-pop banger as Ava Max. On her 2020 debut album, Heaven & Hell, Max kept the lockdown dance parties going with hits like "Kings & Queens" and her breakout single "Sweet but Psycho." Now with Diamonds & Dancefloors, she's proving she's more than just a regular on your gym playlists — she's a pop destination in her own right.
"You don't know what's going to happen with me," she says before heading to the Sunderland event. "I see a lot of people who are very routine. They do the same thing on stage. You're never going to see me routine. What you're going to see is something you probably haven't seen before. Anything no one has done is what I'm going to do… even if it's crazy."
Can she tease anything? "I might wear shades and throw 'em in the audience," Max says. "I think I did that somewhere else. I threw my coat out." (She did not get it back from the crowd.) Her choreographer likes to joke that she turns into a different person when performing. Dance routines, audience banter — "it all goes out the window," Max says, once she steps on stage.
Before that can happen, though, Max has to squeeze in a quick vocal lesson over FaceTime that she's already running late for. She tap-tap-taps away at her phone and pulls out a big Ziploc bag of vitamins and supplements and extolls the benefits of turmeric gummies and magnesium. ("Want one?" she offers.)
"Some people don't understand pop stars," Max says, shrugging. "I'm very theatrical. I make some weird faces. People might think I've lost my mind. And in fact, I may have." She pauses to consider the idea, then lets out a deep laugh that echoes through the bathroom.
Ava Max was born Amanda Ava Koçi in Milwaukee, Wisconsin, where her parents eventually settled after fleeing Albania around the end of its communist regime in 1991. Alongside Dua Lipa, Bebe Rexha, and Rita Ora, Max makes up a coterie of chart-topping pop stars with Albanian heritage. "I think we just have a lot of soul and pain in our voices from generations of pain," she says. "It's in our blood, what our ancestors had to deal with." She credits her family with her musicality: Her father played piano, her mother sang opera, her grandmother still writes poetry to this day, and her late grandfather was an actor and comedian in Albania. He passed away just one day after the release of Heaven & Hell. "It's like he stuck around just for my debut album," she says.
Max moved to L.A. as a teenager to pursue a singing career, but things didn't really get going until she met Henry Walter, aka Cirkut, the Canadian super-producer who's worked with The Weeknd and Britney Spears, at Chateau Marmont in 2014. When I ask how they started working together, there's a long pause. "Um… we actually started dating," she says. "This is the first time I talked about it, actually." She points at the recorder on the sink. "But I think it's OK, because it's been long enough." The two have remained close friends, and he produced or co-produced every song on Diamonds & Dancefloors. She calls meeting him "the biggest blessing in my life."
Many of their biggest collaborations feature interpolations: "Not Your Barbie Girl" flipped Aqua's iconic hit into earnest empowerment; "Kings & Queens" gave Bonnie Tyler's "If You Were a Woman (And I Was a Man)" a 21st century update; and "My Head & My Heart" took the nonsense hook of ATC's "All Around the World (La La La)" to new euphoric heights. (The latter also soundtracked a memorable lip-sync battle on RuPaul's Drag Race last year: "My face didn't even express it, but I was in shock," says Max, who was the episode's guest judge. "I was like, how can one person be doing all that?")
The interpolations strategy has been great for branding — but also a source of side-eye from some pop fans and perhaps even her peers. Last year, her former labelmate Charli XCX released her own interpolation banger, "Beg for You," from her self-described "major-label sellout" album, Crash. At the time, Charli said the song was part of a "sick desire to play this weird game" and that Crash "wouldn't really be a truthful representation of what it's like to be a female pop artist signed to Atlantic Records without doing an interpolation song." As a female pop artist signed to Atlantic doing interpolation songs herself, what did she think?
"I'm not too sure what she said — love her. My opinion is they should always be done right. It shouldn't be a knock-off of the whole song," Max says, pointing to her recent single "Million Dollar Baby," which borrows the chorus melody from LeAnn Rimes' "Can't Fight the Moonlight." Max briefly sings along: "'...In the dark.' Just three words. The whole song was new. I think it should be done tastefully. I spend a lot of time making sure it's not at all like the [original] song. That's the beauty about bringing something back. You don't want to give people the same thing. I take a lot of time on my songs — especially if I interpolate them."
"I know that people who may not like me now will end up liking me. Because I will never stop making pop music."
Leveling up in pop music, as Max has, means enduring plenty of snark and criticism on social media. "The comments online have been kind of mean," she admits. "[But] this music is helping so many people, I can never stop. No matter how many haters there are out there, or people who want to bring you down — or people who think I'm a Lady Gaga comparison, which is huuuh-larious."
That comment has followed her since the beginning of her career, mostly because the two are big-voiced divas who share a love of blond wigs and four-on-the-floor dance anthems. "Who doesn't love Gaga?!" she says. "I can't help that I look like this. I was born the way I was born too! I can't help that I'm 5-foot-2 as well." Her voice grows exasperated. "Like what do they want me to do, dye my hair black?! I did that, and then they started comparing me to Dua! You can't win."
For years, Max famously sported a divisive asymmetrical blond hairdo — one side long, one side shoulder-length — known as the Max Cut. She claimed she was giving herself a haircut at home a few years ago when, halfway through, she urgently attended to some chocolate chip cookies burning in the oven and forgot to get to the other side. But the look fit the message of songs like "Sweet but Psycho," so it became the official 'do of her first album, and Max promises fans haven't seen the last of it.
"If I wake up one morning and I want pink hair, I want pink hair! I don't want to be confined to one look," she says. "The whole point of the Max Cut was about not caring what anyone else thinks, even if it's a ridiculous haircut. At the end of the day, daring is better than boring."
That night, at a packed Webster Hall, Max takes the stage just after 1 a.m. to perform three songs: "Kings & Queens," the new album track "Ghost," and her 2021 Tiësto collaboration, "The Motto." She scoots, shimmies and twirls her way across the stage in front of a cheering audience of predominantly glitter-encrusted gay men. She does not throw anything into the crowd.
After the performance, down under the stage, Ava is surrounded by a group of fashionable friends and record label employees. She dangles from the neck of a tall, handsome 20-something, letting go only briefly to cozy up on a couch next to Christian Siriano. Earlier in the day, Max told me she is still getting used to dating as a pop star. "It's hard to meet people out 'cause then they ask what I do," she says. "I started joking like, 'I'm an interior designer.'" Then there are the demands of her job. "I work 24/7. I'm always on my phone. My life is through my phone to contact my fans. I've had guys in the past throw my phone, like, 'Get off your phone!' I just want to meet someone who gets it."
Her schedule is not slowing down anytime soon. She's working on the deluxe edition of her new album, which she describes as "like Diamonds & Dancefloors on crack," and a collaboration with Khalid. "We actually have a song we started in the studio I haven't told anyone about," she says, "but I'm really excited." She'll also head out on her first headlining tour this spring and says she's been studying live shows from "the queens" — including Madonna, Rihanna, and Beyoncé — as she figures out what her own will look like.
"I believe that consistency and perseverance are key in any career. And I know that people who may not like me now will end up liking me. Because I will never stop making pop music," she says. For a moment, she stares at me in silence, then starts to laugh. "So if you're not a fan now, you'll probably become a fan with the thousand other songs I've done."
Under the stage, Max hops off the couch and into the venue's dressing room, where her glam squad fusses with her hair. Her team pulls her away from her beau ("Just 30 seconds!" someone tells her) to pose for a few photos with guests in front of the vanity's bright bulbs. It's well after 2 a.m. when we finally say our goodbyes, but Max stays behind, still mingling, laughing, making out, and partying the night away.