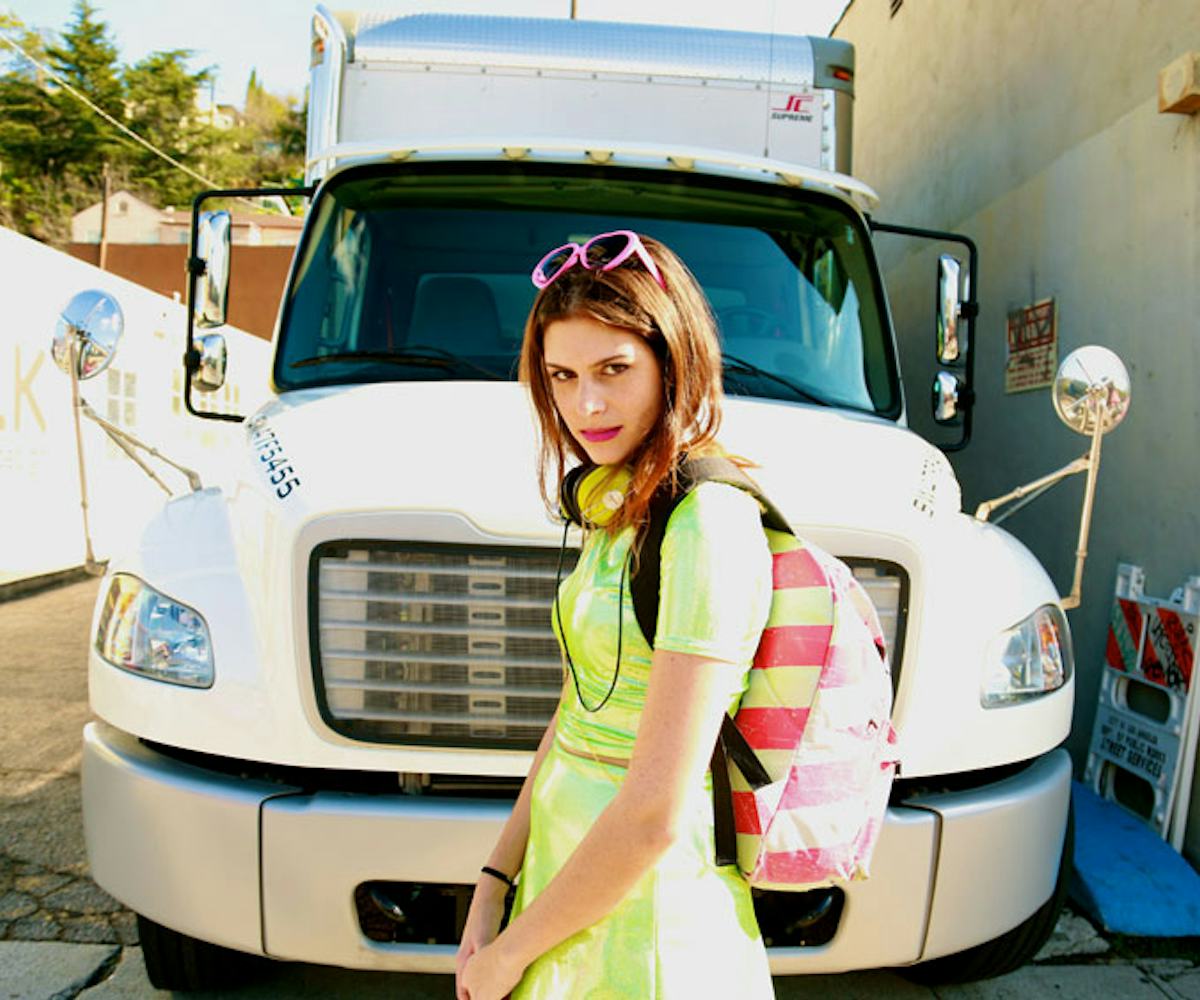 meet frankie, the musical embodiment of california
we're premiering her new single "new obsession"
Pop has a fresh, suntanned face with a sound that glistens like the heat of a scorching Cali beach and soars like the breeze of a PCH convertible ride. Rising singer-songwriter Frankie is a vision of the West Coast with a forthcoming debut EP, Dreamstate, inspired completely by the Golden State. Effortlessly relaxed and subtly soulful, the five-track release marries Frankie's love of '70s songwriters like Stevie Nicks to '90s girl-powerhouses like the Spice Girls. "I've written every song myself to share a story, while bringing in the grander pop sounds of my childhood," Frankie said. "I want to create a world that invites you to dance and think about my lyrics."
The project's lead single, "Problems Problems," brightly bounces like a carefree, 365-day summer, tracing the demise of a failing relationship. "Problems Problems, I know that everybody's got 'em," wails Frankie with a flirty finesse that's begging for Top 40 attention. Frankie's followup single, "New Obsession," showcases more of her attitude with tongue-in-cheek lines like, "I've got the tricks if you wanna lock lips." You can listen to it below. We caught up with the Dreamstate singer to talk about her Britney Spears obsession, love for Motown and 2 am songwriting in bed.
What is it about the '70s that inspires you?
The '70s shaped me as a woman and musician. I grew up listening to Stevie Nicks and Joni Mitchell in the car every day, thanks to my mom controlling the radio. I remember hearing their life stories through the music, feeling their heartbreaks and triumphs, and thinking to myself that maybe I could use music as an outlet to understand my own feelings and connect with others. These women were so brave to take over the music industry in a time when men controlled everything. They weren't afraid to be exactly who they were, so when I hear songs from that era, I feel their strength.
What about the '90s?
In the '90s, I was obsessed with everything pop culture. I owned every Spice Girls merchandise available and anything Britney Spears-related. I knew every choreographed dance move and lyric from the two, and was really hit with this wave of 'girl power.' That era was so sparkly, bright and in your face, creating a larger than life world that every young girl wanted to be a part of.
Tell us about the lead single, "Problems Problems."
I wrote the single, 'Problems Problems,' pretty quickly. I was playing guitar with my friend and started singing the chorus' lyrics without really thinking about what I was saying. My friend started singing along and together we create this vision of a relationship slipping away, finishing each other's sentences within a mutual understanding of love lost. I remember hearing the chorus for the first time once it'd been produced and saying to myself, ' think this song has the potential to connect to a lot of people,' because feeling is so universal. Plus, the song has a hint of Motown and who doesn't love Motown?
On the track, "New Obsession," you sing, "I got the tricks if you wanna
"New Obsession" is the jam. My friend Petros produced all the EP tracks, but he really killed it on that one. I basically wrote it about my best friend at the time, who I wanted to see me in a different light, but there's something so much more to that song for me now, as well. When I sing the chorus on stage, it's like I'm talking directly to the audience, asking them to hear me out and give me a chance. In the track, I sing, 'Just let me be your new obsession,' and I'm talking to everyone—not just my old best friend.
Do you have a typical songwriting process?
My writing process is truly a song-by-song case, but growing up, I always wrote on a guitar. Songs would just flow out of me, whether it was a melody snippet first or just one line that felt good to sing. With this EP, something shifted. Pretty much every song stemmed from me being in that state when you're almost asleep and you don't really know what you're thinking or even if you're thinking at all. Full songs with lyrics and melodies would pour out of me. I have these funny voice memos of me singing the chorus to 'Blackout' at 2 am with my retainers in, looking cute and singing the track's melody with lyrics—it was so crazy.
Is there a track on this EP that means the most to you?
The last track, 'Chaos,' is special to me. It's really stripped down and different from the rest of the songs—truly just me. I have nowhere to hide because it's such a simple, vulnerable conversation that I'm having. I'm nervous for people to hear that song, but I really love it.
Why do you think pop music is so powerful?
Pop music can really change a mood. When I'm having a rough day and my favorite pop song plays on the radio, there's an instant shift and I'll be healed. Pop is universal and has the most reach, but it's up to the artist what exactly they want to say. Personally, I want to deeply connect, help and heal my audience, while still making music that's catchy and universal.