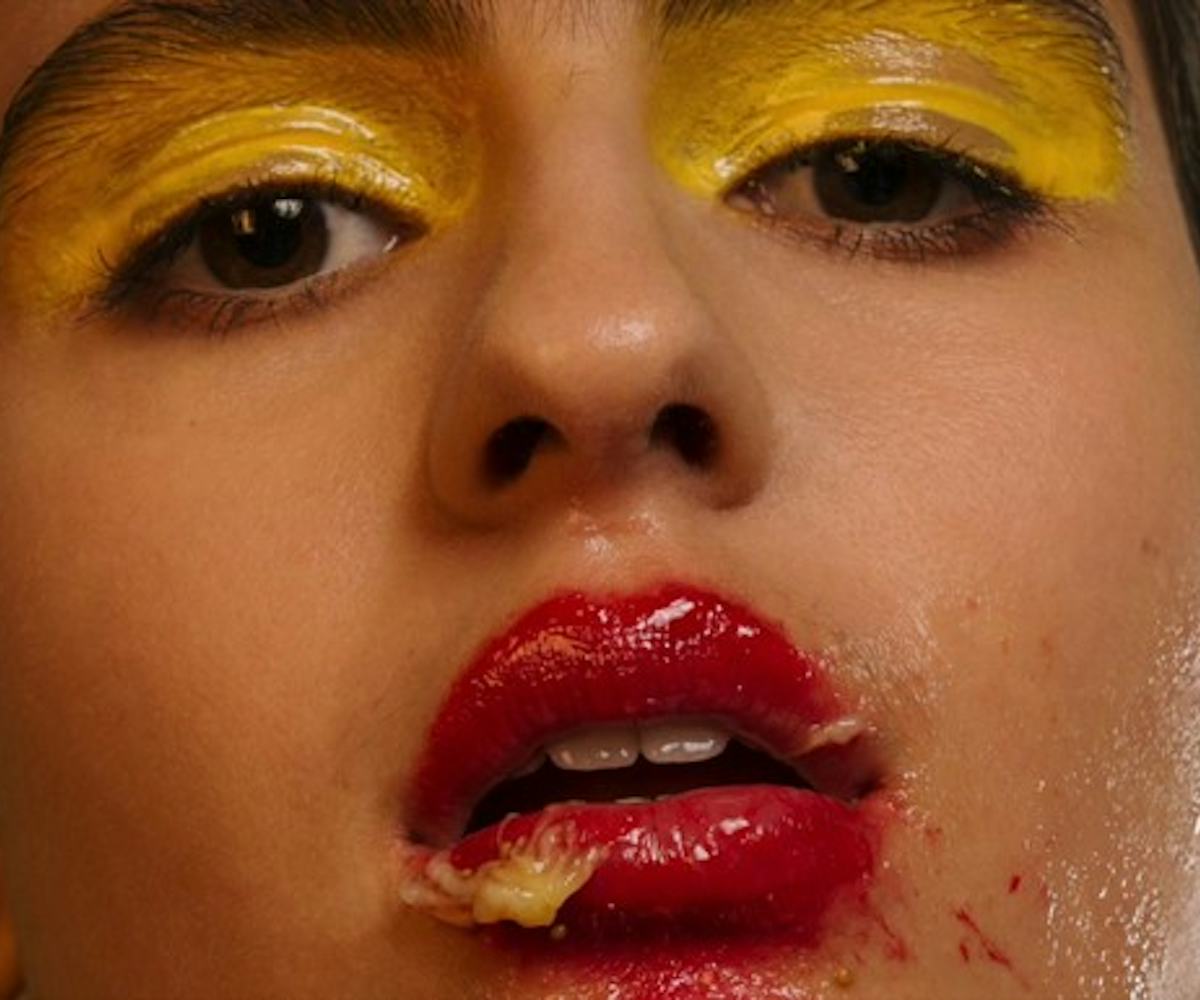 Banoffee's "Ripe" Is Insanely Addictive Electropop
Premiering the Australian rising star's brand-new video
Martha Brown, better known as club-pop supremo Banoffee, has been quietly taking the internet by storm. Her self-titled debut garnered plaudits in her native Australia, while her 2015 single, "With Her," catapulted her into tastemaker publications and SoundCloud playlists alike. But while her previous output made waves online, the newest iteration of the Banoffee sound seems set to break her into the mainstream.
Her latest single, "Ripe," is her most accomplished yet, an acerbic kiss-off to a demanding lover, climaxing with the juiciest of insults: "You're so overripe." Brown's voice is simultaneously alluring and dismissive, while the sweetness of her '80s-inflected production is counterbalanced with the sour metallics of a classic SOPHIE break.
The video, premiering on NYLON today, is an equally idiosyncratic statement. Directed by her longtime collaborators COCO and MAXIMILIAN, it's a PC Music-like bedroom fantasy, as Brown and her girlfriends dance in their pajamas in front of dystopian TV shows. We caught up with Brown to discuss the video and this new stage in her musical evolution.
You moved to L.A from Australia. How are you liking life in the U.S.?
I love living in the U.S. People often make the mistake of thinking just because we consume a lot of American pop culture that Australia and America must be really similar, but I find it to be a completely different experience to living in Melbourne.
What's been most surprising about living in L.A.?
The complete lack of good bread. No matter what bakery I go to and how amazing they tell me their sourdough is, it all tastes like fluffy white bread to me. And marriage is still a big trend. I think because gay marriage is illegal in Australia, the concept as a whole has been rejected by a lot of people. As gender and sexuality have become more and more accepted as [being] fluid, so has the concept of what love is.
The whole 10-year plan with a picket fence, kids, and solid jobs is very prominent here in L.A. Back home, I feel that people aren't as committed to linear plans. Don't get me wrong—there are a lot of people still following these types of life schedules, but I feel that people in L.A. put a lot of pressure on themselves to live on a timeline. This isn't a criticism, just an observation.
"Ripe" shows off your music at its catchiest and most powerful. Is this indicative of your sound going forward?
Yes, I hope so. My next body of work is pretty diverse, but it all seeks to surprise the listener, to take strange jumps and leaps and celebrate different rhythms. My challenge this year has been to mute the voice in my head that says, "That's too pop." I love pop. I want to make a song that might drop on the dance floor one night.
Should we be expecting an album soon?
I ask myself that question every day! You should expect new material soon, in what form I am yet to decide. The music world is less a world these days. We are looking down on the planets that used to house such certain paths for us, and now we're all just floating around laughing about the thought of stable ground.
When discussing "Ripe," you mentioned that Banoffee started off as a lifeboat for you. What state were you in when you started the project, and how have things changed since?
I felt that I was an alien that had arrived on a planet I didn't fit into, and it brought me down a lot. I definitely still feel that way but with curiosity, not disdain. I've also come to realize that being able to escape that through music is a privilege a lot of people aren't afforded. Identity can be suffocating; nothingness is so much more liberating than "somethingness." When I created Banoffee, there was nothing that came before it. It was a new body, with ideals and characteristics that were disposable. It is now its own machine, but Banoffee still sheds skins very frequently and always will.
The video avoids obvious fruit imagery that you might associate with the song. How did you conceive of the video concept?
The first idea came to me because I wanted the video to show me the way I feel I am: in PJs, a little messy, a little sticky, dancing around my sitting room. The more we explored this imagery, [the more] we realized that we were having to discuss what showing that meant, because when you're faced with showing "the real you," you realize that there are at least five or six faces that ring true. It's confusing to pin down what or who you are.
I wanted to show the future the way we envisioned it in the '90s and early 2000s. The way we live now is like a really boring version of what we envisioned. It's like we took all the ideas we thought would eventuate, and then made the image black-and-white. I wanted to show it in color.
Who are your girlfriends in the video? Their dancing looks A+!
Ugh, I love them! Aren't they just the best? They have taught me so much about dance! Briana has now moved to L.A. as well, so it's so exciting having her here. Aisha is in Australia still choreographing and teaching dance in Melbourne. I really hope to reunite the team at some point.
Your style in the video is impeccable. Where do you get inspiration and where do you shop?
Want to know a secret? The shorts are boys' pajamas from Target, and the T-shirt is my housemate's, so based on that outfit, I don't have many good shopping tips! I'm inspired by cartoons, random Insta accounts, underwater textures like seaweed and coral reefs, anime, and martial arts. Basically, I just have a lot of fun getting dressed. I've recently been styling for other people, which I also have so much fun doing because I feel I'm just there as an enabler for people to wear things they've been a little too scared to try out.
HTMLFlowers has tweeted a lot about working with you. Are you two collaborating on your album?
Not on my album, but on something new! HTML is one of my dearest friends, and music is a nice way to keep our friendship going when we're across the world from each other. Keep your ears open because there is something coming really soon, and I am so excited about it. He is just so intelligent and such a treasure; his solo work and Lossless are both such huge inspirations for me.
You tweeted "Who is our generation's Cyndi Lauper?" Have you found an answer?
Drum role please… I believe our generation's Cyndi is Chela. Not in the way that she sounds like Cyndi, but when you're out at night, and you need something to make you feel good, maybe you're a little tired, maybe your Uber driver was a sleaze, I don't know... something… a Chela song will come on, and you'll think, Oh, this was made for me. This is my "get the fuck up and enjoy yourself" track.