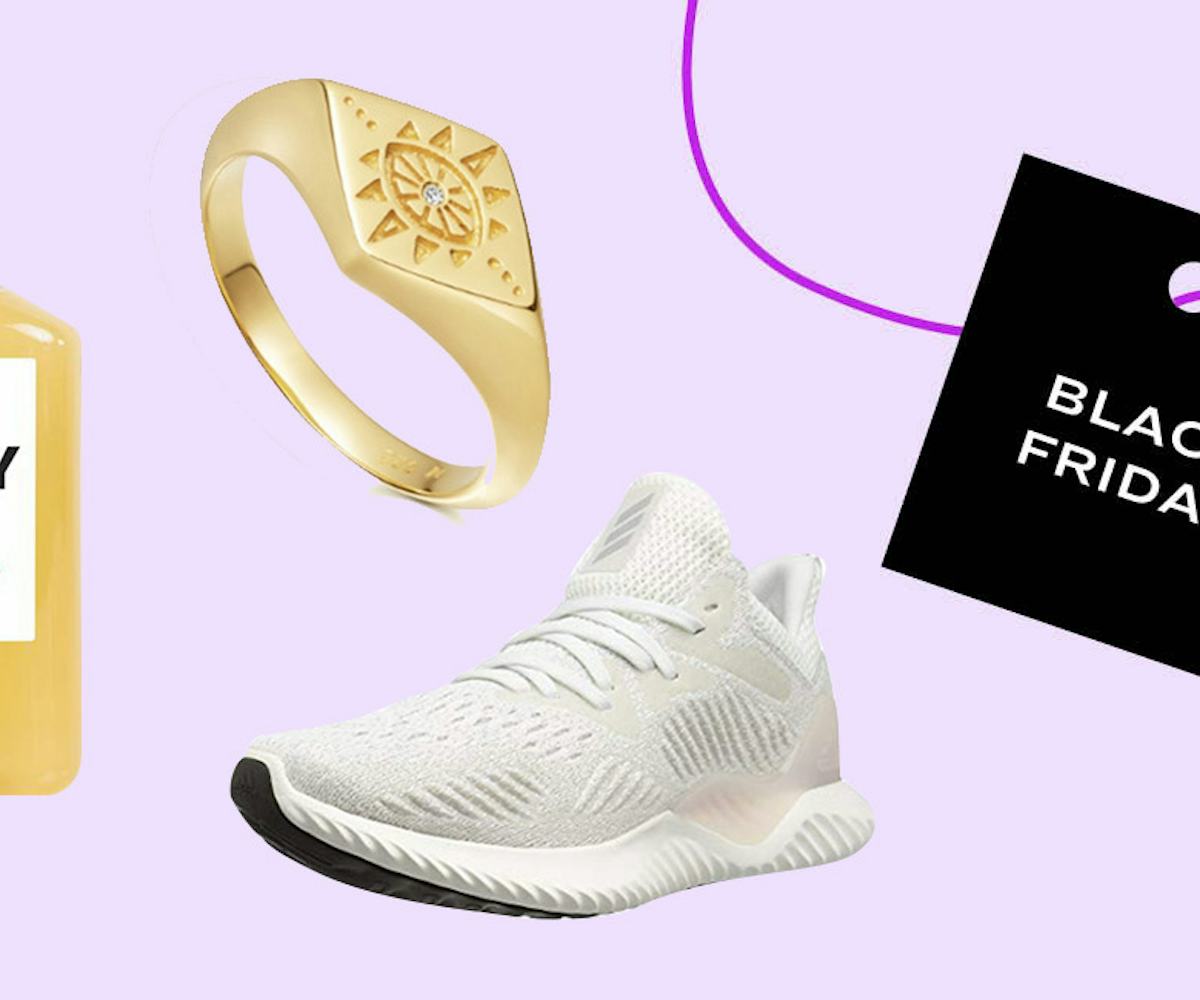 16 Items To Snag On Sale This Black Friday
The deals you won't want to miss
Tis officially the season for gift-giving. For us, that's a full month in which we'll be providing gift ideas for everyone on your list with our Unwrapped holiday gift guides. So make your holiday shopping a breeze this season, and let us help you find gifts for all the people in your life.
Ahh, Black Friday is back. With so many sales happening at once, how are you ever going to know what to prioritize?
To save you the time and anxiety, we compiled a list of 16 must-have items to snag at today's sales. From the dresses you'll wear to this year's holiday soirees to the boots you'll wear well into spring (not to mention, some of the best beauty deals of the day), we've got you covered.
Bonus? You can shop them all from the comfort of your couch. Because I know you're still dealing with that lingering food hangover—I know I am.
Ban.do
Ban.do, Buddy Cylinder Bag in Onyx, available at Ban.do.
Take 30 percent off sitewide (excluding Iconery) with code THIRTYOFF.
We'll be snagging this adorable pom-pom cylinder bag (and just about everything else), for sure.
Mr. Larkin
Mr. Larkin, Petty Dress in Hilma Embroidery, available at Mr. Larkin.
Take 30 percent off sitewide with code THANKFUL30 (some exclusions apply).
Step up your shirtdress game with this embroidered beauty.
Richer Poorer
Richer Poorer, Classic Bralette in Marigold, available at Richer Poorer.
Take 35 percent off sitewide. Catch us lounging around in this cozy cotton bralette on every snow day this winter.
Mille
Laura Lombardi, Tira Earrings, available at Mille.
Take 30 percent off sitewide (excluding new arrivals) with code BLACKFRIDAY18.
Laura Lombardi at a discount? Don't mind if we do.
Glossier
Glossier, Cloud Paint, available at Glossier.
Take 20 percent off sitewide.
Ummm, 20 percent off everything on Glossier.com through Monday? Sound the alarms!
Amazon Fashion
Adidas, Women's Alphabounce Beyond, available at Amazon Fashion.
Snag up to 45 percent off on select Adidas apparel, shoes, bags, and accessories (plus a ton of deals on other brands).
We'll be stocking up on our athleisure favorites (like these super-cute running shoes) at Amazon Fashion's insane Black Friday sale.
Staud
Staud, Omars Dress Rainbow Check, available at Staud.
Take 25 percent off ready-to-wear sitewide, excluding sale items.
We love how seamlessly this rainbow check dress can be dressed up or dressed down, and with deals this good, we have to have it.
Nicole Miller
Nicole Miller, Midnight Sky Off The Shoulder Dress, available at Nicole Miller.
Take 25 percent off sitewide.
You got your holiday party dressing covered in this sweet, celestial frock.
Soko Glam
COSRX, Tripe C Lightning Liquid, available at Soko Glam.
Take 30 percent off sitewide (excluding sets, gift cards, and The Little Book of Skincare) with code SGBF18.
We'll be snagging all of our K-beauty favorites with Soko Glam's killer sale—this cult-favorite Vitamin C serum, especially.
Anine Bing
Anine Bing, Chloe Boot in Popcorn, available at Anine Bing.
Take up to 70 percent off sitewide.
Everyone needs a pair of yellow boots—especially a pair we can wear from winter well into spring.
Missoma
Missoma, Evil Eye Signet Ring, available at Missoma.
One tree planted through TreeSisters with every purchase.
Shop cute jewelry while doing good for the planet? How could we resist?!
Plant Apothecary
Plant Apothecary, Get Happy Body Wash, available at Plant Apothecary.
Take 25 percent off sitewide and snag a free gift with purchase.
This joy-inducing body wash is the only thing that'll get us through post-holidays winter.
CoEdition
Hutch, Gemma Navy Metallic Maxi Dress, available at CoEdition.
Take up to 70 percent off sitewide.
This metallic maxi dress is what New Year's Eve dreams are made of.
Ashya
Ashya, Palmetto Sorrel, available at Ashya.
Take 25 percent off The Blue Mountains collection with code GIVING.
We're longtime fans of luxury belt bag brand Ashya, so we'll definitely be picking out a bag or two with this sale.
Fashion Bunker
C/MEO Collective, Close Enough Skirt, available at Fashion Bunker.
Take 25 percent off sitewide.
We'll be pairing this gorgeous skirt with tights until spring, then wearing them all year long.
Meow Meow Tweet
Meow Meow Tweet, Deodorant Stick, available at Meow Meow Tweet.
Take 20 percent off sitewide with code DANCINGCAT.
This Black Friday, we'll be snagging one of our favorite natural deodorants at a discount.