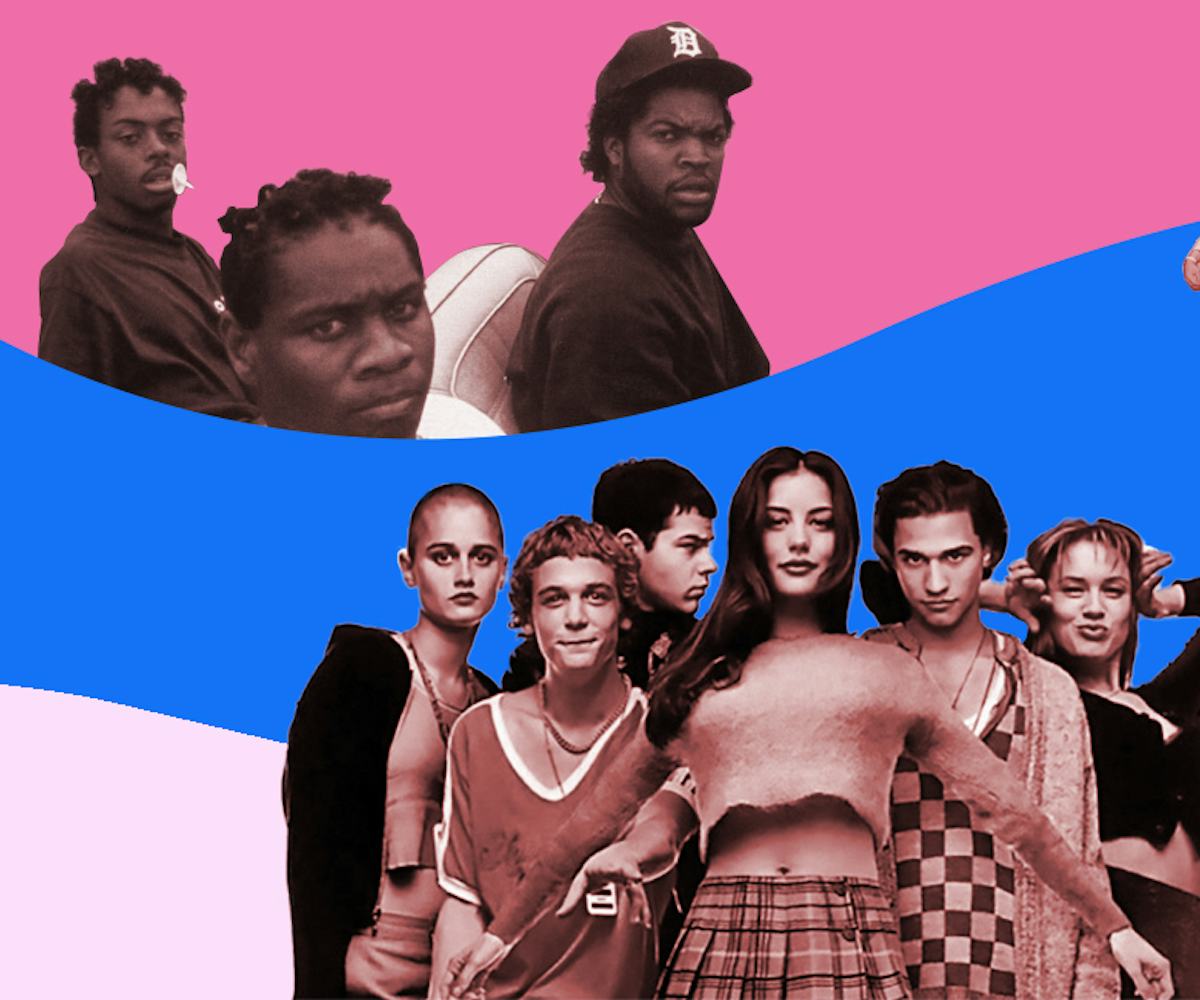 These Are The 11 Best Millennial Teen Movie Soundtracks Ever
This is what it sounds like when doves cry
The discovery of good music is an essential aspect of the teen experience. I know my adolescent adoration of The Spice Girls and N*Sync expanded, at roughly the age of 13, into an obsession with Nirvana, Rilo Kiley, Neutral Milk Hotel, and Joanna Newsom. When we're looking to understand who we are, music offers an easy set of definitions: This band is indie, and so am I; this singer is punk, and I'm a rebel; this guitarist is the Platonic ideal of me.
If music is more emotionally significant for teens than anyone else, then it makes sense that movies about and for teens have such good soundtracks. Through querying my millennial friends and colleagues—all of whom are between the ages of 22 to 35—I've deduced that these are the very best teen movie soundtracks of the millennial generation. They helped us figure out who we are, and made sure we'd never feel the same after listening to them.
Empire Records (1995)
Naturally, a movie about employees of a record store would have an excellent soundtrack. Made up mostly of under-the-radar indie pop and punk bands, as well as more well-known acts like Better Than Ezra and The Cranberries, this soundtrack perfectly illustrated the mid-'90s angst of this iconic teen film.
The Perks of Being a Wallflower (2012)
This soundtrack features The Smiths, which is the angstiest band that has ever existed, and it's frankly surprising the band is not featured in more teen movies. Compiled by Stephen Chobsky, author of The Perks of Being a Wallflower and director of the movie adaptation, the soundtrack is spot-on: meditative, energetic, and nostalgic.
Boyz N The Hood (1991)
This is the oldest movie on this list and pushes the millennial designation, but it's too good not to include. With Ice Cube (who also stars in it), Yo Yo, and Quincy Jones all featured, this soundtrack made it to Number 12 on the Billboard 200. Described by Complex as "the most important hood flick of all time," the film follows three teens growing up together in L.A. While most mainstream teen movies focused on the plights and foibles of suburban white teens, Boyz N The Hood addressed a still-underserved segment of young movie watchers, and its soundtrack masterfully accompanied the film with its breadth of the period's best hip-hop.
Mean Girls (2004)
Mean Girls has potentially the most memorable use of Kelis' "Milkshake" of all time, and Peaches, The Donnas, and Samantha Ronson make this women-powered soundtrack slightly seedy, pop-fueled fun.
Juno (2007)
"Cute" is how I would describe this soundtrack. Much indie music in the mid-aughts, when this movie was made, was cute. Think: lots of ukuleles and unembellished, childlike vocals, as embodied on this compilation with essential art school faves The Moldy Peaches, Belle & Sebastian, and Antsy Pants.
Save the Last Dance (2001)
Quite possibly the soundtrack that feels freshest and most listenable today—though not without a distinct late '90s/early aughts flavor—this is the one I've had on repeat while writing this piece. The movie, starring Julia Stiles as a Chicago transplant and Sean Patrick Thomas as her dance teacher and boyfriend, is worth a rewatch for two reasons: (1) the amazing hip-hop/R&B soundtrack and accompanying dance choreography and (2) a young Kerry Washington, who plays an aspiring fashion designer who becomes Stiles' best friend.
Dirty Dancing Havana Nights (2004)
This movie is probably not as good as I remember it being (blame it on my Diego Luna crush when I was 15), but the soundtrack bangs. It's a dance movie, so obviously this is one to turn up before going out on a hot night. Wyclef Jean, Christina Aguilera, and Santana are standouts here.
Romeo + Juliet (1996)
A moody, wild compilation, as befits a Baz Luhrmann extravaganza, this soundtrack ended up hitting Number 2 on the Billboard 200. It was also incredibly popular in Australia and went platinum five times over there. Garbage, The Cardigans, and Radiohead all made it onto this one.
Cruel Intentions (1999)
This soundtrack is nearly as legendary as the movie itself, but it had a rough journey to icon status. Composer John Ottman originally wrote a score for the film, but it was thrown out after performing badly in screen tests. The idiosyncratic resulting soundtrack features Aimee Mann, Marcy Playground, Placebo, and Counting Crows.
Clueless (1995)
The Clueless soundtrack was the most popular response I received, and for good reason: Few teen movies have affected pop culture like Clueless. The Beastie Boys, Radiohead, and The Muffs all make an appearance on this storied retelling of Jane Austen's Emma. Says my colleague Taylor, "Just hearing [this soundtrack] makes me think of carefree childhood days and fun '90s montages." Iconic.
10 Things I Hate About You (1998)
This is not only the very best teen movie soundtrack but also the very best teen movie ever... according to me. Starring Heath Ledger, Stiles, and Joseph Gordon-Levitt, this high school movie is a retelling of Shakespeare's Taming of the Shrew. The soundtrack is a mix of indie classics like The Cardigans and Save Ferris and '90s pop icons like Semisonic.
NYLON uses affiliate links and may earn a commission if you purchase something through those links, but every product chosen is selected independently.