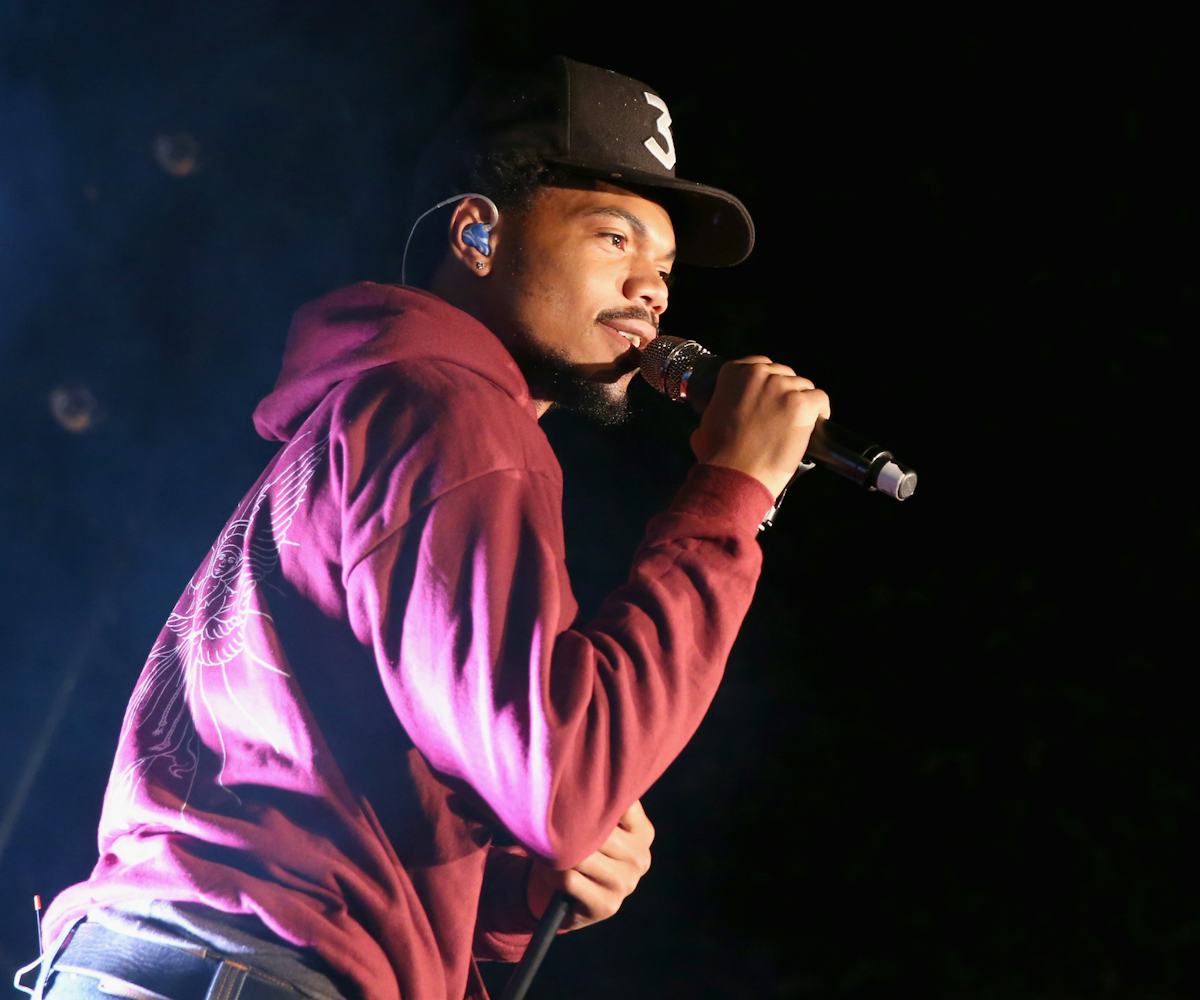 Photo by Jonathan Leibson/Getty Images
The 7 Best Moments From Chance The Rapper's Magnificent Coloring Day!
Kanye, Common, and oversized puppets
Over 40,000 music fans descended on Chicago's U.S. Cellular Field on Saturday, for Chance the Rapper's Magnificent Coloring Day! festival. Featuring performances from the likes of Alicia Keys, Skrillex, John Legend, Lil Wayne, Young Thug, 2 Chainz, Tyler, The Creator, and of course, Chance himself, the festival was a euphoric homecoming for the rapper, who's had a breakout year thanks to the success of his near-perfect Coloring Book mixtape. And to help celebrate, Chance deftly combined some juggernaut performances with a variety of social activations that proved once again that Chance is a rapper with a conscience. Below, some highlights. 
1. The surprise Kanye set
People legitimately lost their collective minds when Kanye made a surprise appearance during the festival, hours before he was set to perform in Nashville. In fact, several attendees managed to capture the exact moment people realized it was Kanye on stage, leading fans to bum-rush security in order to get a closer look at the hometown hero. He then did a medley of hits including "Black Skinhead," "Can't Tell Me Nothing," "Touch The Sky," and "Gold Digger," before Chance joined him for their The Life of Pablo collab "Ultralight Beam." 
2. All the Chicago celebrities, really
Chance used every opportunity to show off his love for Chicago, and it didn't stop with Kanye. Other surprise appearances from Chi-town faces included comedian Hannibal Buress, Bulls player Jimmy Butler, and Common, who joined John Legend on stage to perform and raised a fist in memory of Chicago shooting victims Laquan McDonald and Rekia Boyd.
3. Watching Chance enjoy Magnificent Coloring Day!
Fans excitedly started screaming and looking up toward the box seats when Chance was spotted, having a good 'ol time during both John Legend and ColleGrove (2 Chainz and Lil Wayne).
4. The puppet choir and Chicago Children's Choir
Chance already has the Chicago Children's Choir on three of Coloring Book's songs, so it wasn't an entire surprise that he brought them out. However, flanked with an additional choir made up of oversized, Muppet-like puppets, the moment was sent over the top with cuteness and feels, especially when the entire stage sung to "Blessings (Reprise)," a song the choir had not orignially contributed to.
5. Chance wants you to vote
The upcoming presidential election might just be the most important one of our lifetimes, a fact not lost on Chance, who teamed with the National Association for the Advancement of Colored People to register concertgoers at Saturday's show. It's an initiative he plans on keeping throughout the entirety of his upcoming Magnificent Coloring World Tour. "Chance the Rapper is an artist whose music praises and lifts up our common humanity, and whose call for action speaks to the yearning of this moment," said NAACP President and CEO Cornell Williams Brooks. "This year, more than it has in a generation, we must use the power of our voices and our votes to exercise our sacred right to vote."
6. The unveiling of Social Works
Few things mean more to Chance than his hometown of Chicago, a city that's been torn apart by gun violence. In an effort to help heal his community, Chance unveiled Social Works, a non-profit organization that made its debut at Saturday's festival in the form of a booth that featured "human-size chess, supershot basketball, a photobooth, a DJ, merchandise, and more."
7. Chance revealed his latest collaboration
In a Twitter Q&A during the soundcheck for Saturday's show, Chance confirmed the release of "They Say," an upcoming single with production from none other than Kaytranada, the Canadian phenom who recently took home his country's ultra prestigious Polaris Prize. "So, 'They Say' will be released for sure," Chance told a fan. "I gave it to my homie who produced it, Kaytra. Kaytranada produced it a minute ago for the third mixtape in its early stages, and he's gonna release it soon, I think."