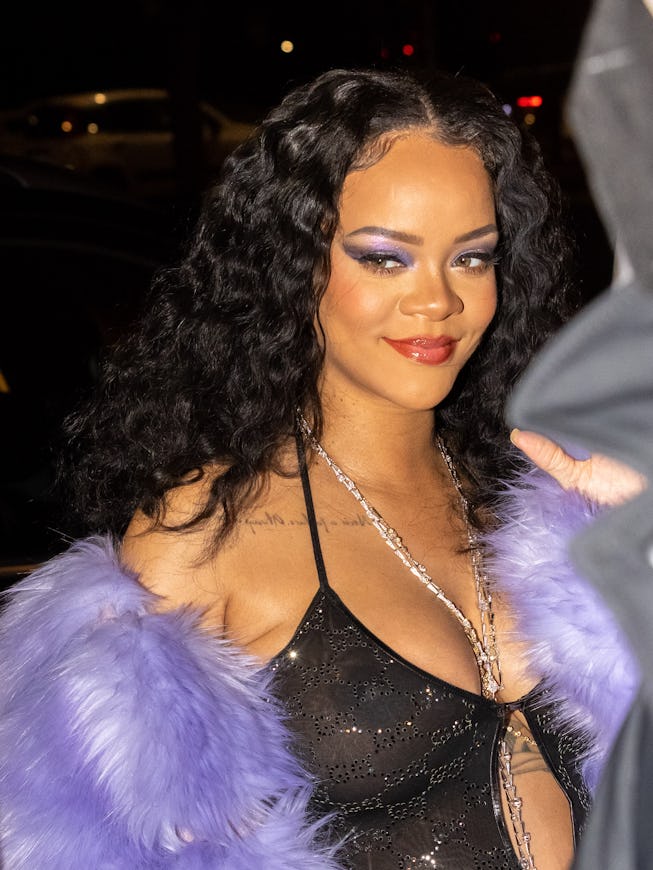 Arnold Jerocki/Getty Images Entertainment/Getty Images
10 Great Rihanna Covers That Prove Everybody Loves Rihanna
The Barbados native has undeniably influenced generations of artists.
Over her two-decade career, Rihanna has built a catalog that can rival the best of them. With hits like "Umbrella," "Stay," "Diamonds," "Love On The Brain," "We Found Love," and many more from every era, the Barbados native has influenced generations of artists. As the global superstar prepares to grace the stage on Sunday at the 2023 Super Bowl for what will surely be the live performance to seal her legacy as one of pop music's greatest acts, we thought it would be fitting to explore just how widespread Rihanna's reach truly is by rounding up the best covers other artists have done of her songs. As one can gather from the list below, her impact goes beyond the barriers of age, genre, and everything else, with everyone from Patti Smith, Tom Holland, Machine Gun Kelly, and Griff each offering their own incredible tributes to the one and only, Rihanna.
10. The Maine covering "Bitch Better Have My Money"
Sometimes it's fun to get a rock-ified version of a pop song, and this Maine cover of "Bitch Better Have My Money" is fun! It's a bit wacky and over-the-top, but ultimately The Maine makes it work. The riffs are lively, the reworked lyrical structure is fitting, and most importantly, there's discernible passion in the delivery. No complaints here.
9. Harry Styles covers "Wild Thoughts"
"Wild Thoughts" is technically a DJ Khaled song, but who really remembers it as such? Harry Styles' cover of the arguably Rihanna hit for BBC Radio 1 turns the smoky anthem into the hard-rock banger it wants to be, and to pretty great effect. His husky tone sounds at home against the guitar, and he even adds his own little flair to the melody. It's too bad he didn't incorporate all of its naughty lyrics.
8. Jorja Smith covering "Man Down/Be Careful"
Props to Jorja Smith for not only choosing an early Rihanna hit to cover, but also merging it with Cardi B's "Be Careful." The R&B singer's soulful voice is perfectly suited for the reggae groove of the track, and she sounds marvelous here — her crystalline tone curling and curving in an almost gravity-defying way. The switch into "Be Careful" adds a powerful interlude and, in Smith's capable hands, the songs mesh seamlessly.
7. Machine Gun Kelly covering "Love On The Brain"
Out of all the rockified Rihanna covers on this list, MGK executes his the best. His take on "Love On The Brain" sounds like a totally different song, but in a good way; it feels like he's imposing his own identity on the track rather than just throwing a bunch of guitars into the mix. It definitely helps that he changes up the melody of its lyrics, and adds a gnarly guitar solo on at the end, and does it all in his own sullen, punky way. In another universe, it could've been his "Same Ol' Mistakes" on Tickets To My Downfall. It's not too late!
6. Cat Power covering "Stay"
You always know what to expect with a Cat Power cover. The singer-songwriter is a cover master, adept at turning songs into her own moody, piano-threaded compositions. This cover of "Stay" (the first of two on this list) is delicate and whimsical, and she plays with the flow of the lyrics so that it sounds like a jaunty inner monologue. The song, in turn, feels less desolate in the end, and it's a nice feeling.
5. Little Mix covering "Love On The Brain"
Little Mix was a group of remarkably talented singers, and you can really experience their full range of talent in their acoustic and harmonized (but otherwise faithful) rendition of Rihanna's "Love On The Brain." Sometimes in girl groups you can discern when there's a weaker singer in the bunch, but all the girls in Little Mix were powerhouses in their own right, making every line delivered in their very enjoyable cover the very best it could be.
4. Chloe x Halle covering "Diamonds"
Even at 14 and 12 years old, Chloe x Halle were blowing people away with their YouTube covers. Their rendition of Rihanna's "Diamonds" is a marvel, as it has the sisters switching off verses before exploding into a harmonized chorus at the end. All things considered, it's a pretty faithful and straightforward cover, but it's their towering vocal abilities that make it exceptional.
3. Griff covering "Take A Bow"
How haven't more artists covered "Take A Bow," one of Rihanna's greatest masterpieces that opens with the truly game-changing lyric: "You look so dumb right now?" The good news is that London pop star Griff has done it, and does it justice. Her rendition, for BBC Radio 1, is soft and gentle, like a more heartbroken version of Rihanna's blunt and steely original. Her airy vocals soothe the would-be bruises left by lyrics like, "You're so ugly when you cry," yet still manages to hammer its central "goodbye, loser" message home. When she finally lets out the belt during the bridge, you can almost feel the tear in your eye.
2. Tom Holland covering "Umbrella"
I know this isn't a true cover, but I simply couldn't leave out Tom Holland's legendary performance of Rihanna's "Umbrella," one of the greatest performances to ever grace Lip Sync Battle's storied stage. What he doesn't deliver in vocals is replaced tenfold by his utter commitment to the act — the wig, the outfit, the truly chef's kiss choreography. We are all Zendaya with her hands over her face when he first steps out in the ridiculous, incredible getup. Then, when the actual water comes down... it was a cultural reset!
1. Patti Smith covering "Stay"
The most tremendous covers are the ones that force you to see the song with new understanding. Patti Smith's unexpected rendition of "Stay" falls squarely in that category, as it initially leads you down a reactionary path that morphs from Patti Smith listens to Rihanna? to Oh, this is actually really good. Smith's rendition is less song and more melodic poem, as she delivers its lyrics a little off-beat and with her own vocal emphases and sobering weight. She's singing the same words, but her story sounds just a little bit different: more serene and even sensual. The spell breaks briefly as she flubs a bit at the end, but she wins it all back when, after the last note, she throws her hands up and shouts, "Rihanna!"