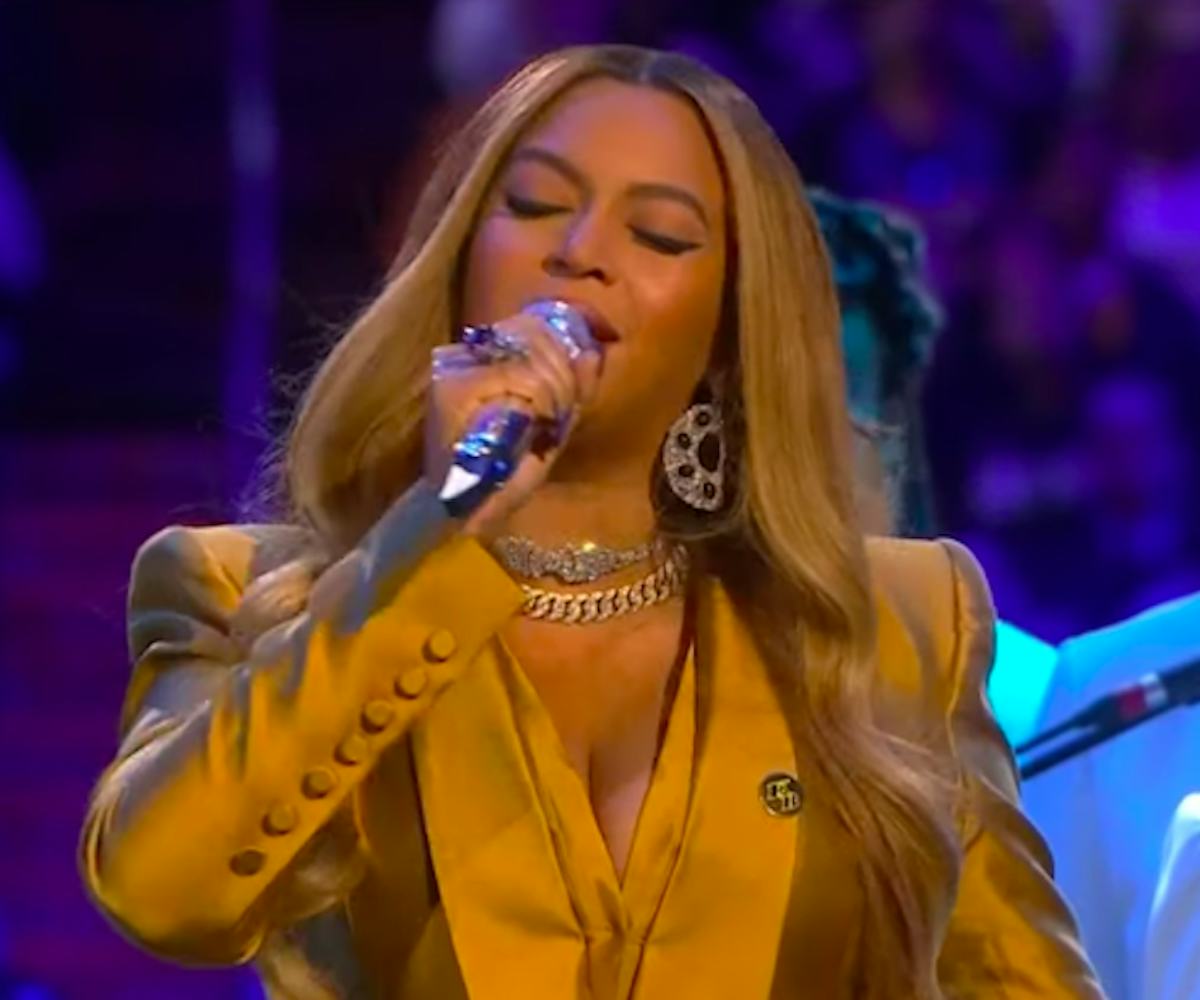 Photo via screengrab
Beyoncé Opens Kobe Bryant's Memorial With "XO" And "Halo"
She sang one of his favorite songs
On an emotional day for fans and family members, Beyoncé took the stage for Kobe Bryant's Memorial, in front of a packed Staples Center crowd on February 24. The memorial, which began at 10AM PST, was streamed live on various news networks, as well as Tidal to honor Kobe and Gianna Bryant. As she held back tears, Beyoncé remarked that "XO" was one of Kobe's favorite songs by her, and she encouraged the crowd to sing along. "I'm here because I love Kobe," she said after singing the first few lines. Pointing to the sky, she continued, "I want us to sing it so loud, they hear your love."
Backed by an orchestra, and a choir dressed in white suits, Beyonce followed that song with a passionate rendition of "Halo." When she finished, the camera cut to Vanessa Bryant, who was applauding and nodding with the rest of the crowd. Beyoncé and Kobe have known each other since they were teenagers. They were both in the music industry in the 90s, with Kobe appearing in two Destiny's Child music videos. Three days after his tragic death, she posted photos of him and his daughter on Instagram, with the caption reading "I will continue to diligently pray for your Queens. You are deeply missed Kobe." At the memorial, she wore a gold outfit and Lakers-purple accessories to honor Kobe's time in the NBA.
Vanessa Bryant then took the stage to give remarks about her daughter, who was 13 when she passed on Jan. 26.