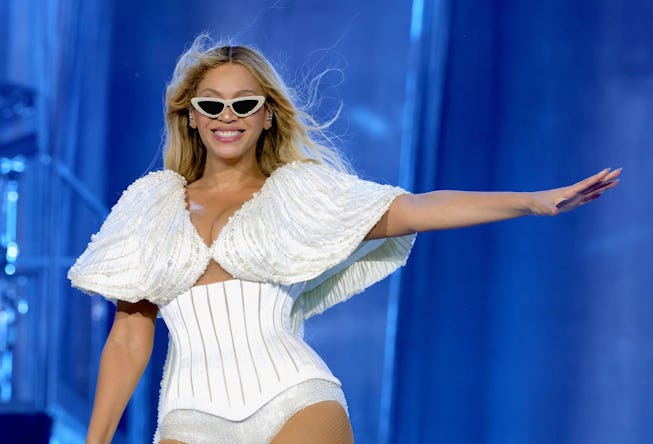 Kevin Mazur/WireImage/Getty Images
Beyoncé's 'Renaissance' Visuals Are Finally Coming
Featuring Blue Ivy Carter.
Since Beyoncé released Renaissance in July 2022, one question prevails: where are the visuals? The superstar always without fail delivered impeccable music videos and/or feature-length films for all of her previous releases, but for Renaissance there was nary even a teaser; she even poked fun at the missing videos during her tour. But now, it seems our wishes have finally been granted. On Monday Oct. 2, in the wee hours of the morning, Beyoncé announced the arrival of the official Renaissance visuals in the form of a half-concert-film, half-documentary, much in the style of her Coachella film, Homecoming. Titled Renaissance: A Film By Beyoncé, the intimate movie will arrive in theaters on December 1, 2023.
The official trailer states that the film will document the singer's full journey creating the Renaissance World Tour, from its inception and behind-the-scenes creative process, to its opening night in Stockholm, Sweden, and its final show in Kansas City, Missouri. "It is about Beyoncé's intention, hard work, involvement in every aspect of the production, her creative mind and purpose to create her legacy, and master her craft," reads an official statement.
The two-minute clip includes footage of her performing tour and prepping at rehearsals and backstage, looking at turns happy, excited, and also exhausted. "I feel liberated. I have transitioned into a new animal," she's heard saying at one point in response to a question about the tour.
But most importantly, the trailer seems to suggest that the film will explore her relationship with daughter Blue Ivy, and features several shots of Blue laughing in dance rehearsals and hanging out with her mom — a very rare look inside the dynamics of the usually private family. Blue, who has become a fan-favorite part of the tour, made her on-stage debut at the Renaissance tour and has already amassed her own fervent fanbase.
Fans had suspected early on that Beyoncé was filming and preparing a concert film. Earlier this year, she cryptically posted an Instagram story asking concert goers to wear "your most fabulous silver fashions to the shows 8.23 – 9.22! We'll surround ourselves in a shimmering human disco ball each night." The rare message from the usually silent singer appeared to suggest to fans that something out of the ordinary was going to go down during those shows — perhaps the filming of a new movie? The dates coincided with her tour stops in Inglewood, California and Seattle — though now it's clear that she'd been filming every show all along.
It's going to be a busy fall for concert films with Taylor Swift's Eras Tour film arriving in theaters in October, and Beyoncé's following soon after. Tickets are already on sale, starting at $22. Get them here.
‌