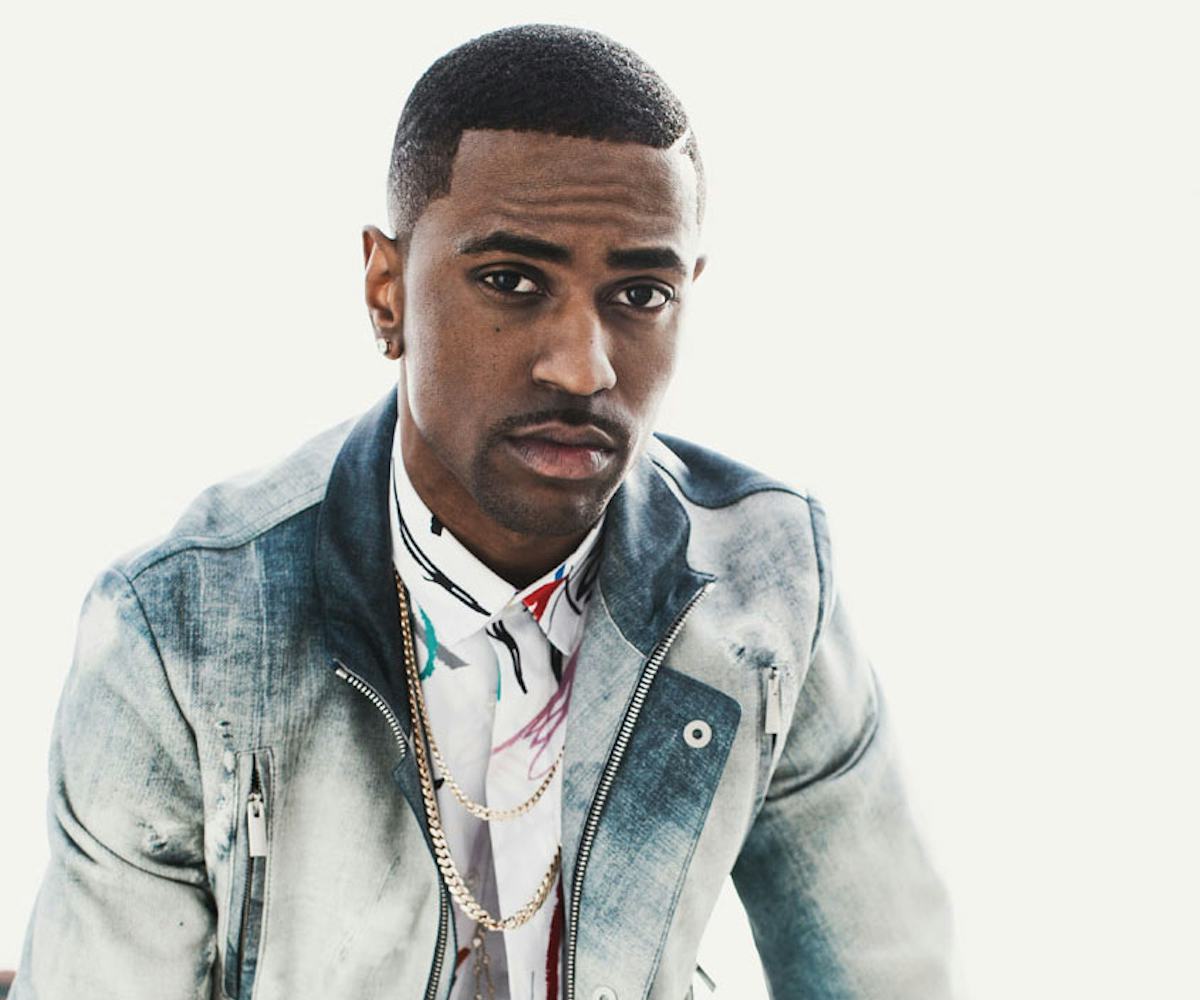 Photographed by Steven Taylor
big sean on his rags to riches story
featuring exclusive photos!
In the greenroom of Revolt TV's Hollywood studio, Big Sean looks down at his Yeezy Boosts and shakes his head. "They're getting beat up really bad," he says of his "little gift" from mentor Kanye West. "I haven't really been taking them off." His large diamond-and-gold Jesus piece chain, on the other hand, has been removed and placed on his barber's side table next to some clippers. Gone are the days when Big Sean (né Sean Michael Anderson) watched tears stream down his mom's face as she stressed over unpaid bills back in his hometown of Detroit.
Now, after the release of his third album, Dark Sky Paradise, Big Sean vows: "I'll never have to go through that again." The record, which took a year to craft, chronicles this very journey from rags to riches. "I was going through so many things within that year," he says. "Creatively, I was just trying to figure it out and take things to the next level. It was a difficult time for me, so that was the dark sky part. I was up late every night. The nighttime sky became damn near daytime for me. Then when I put everything into perspective, how far I still came, that's the paradise." 
Back in 2005, Sean caught West's ear with a freestyle outside a radio station in Detroit. "I thought, 'Maybe I could go to the pros,'" he says, holding his head still while getting his fade edged up. But a year later, he was still living with his mother. "That was a depressing time," he admits. "All I was doing was running up my mom's debt. I'd spent all of the money that my grandma put away for me for college on studio sessions." 
But two years later, West would fly Sean out to Los Angeles to hit the studio and eventually sign him to his Def Jam imprint G.O.O.D. Music. "That's when my whole life changed," recalls Sean. Within the next six years, he rolled out four mixtapes and dropped two major-label albums. But none of them were projected to land atop the charts until the release of February's Dark Sky Paradise.
"It's 100 percent me and 100 percent true, meaning true with conviction," he says of the album, which features West, Chris Brown, Drake, E-40, Lil Wayne, and Sean's girlfriend, Ariana Grande. Subject-wise it tackles loyalty, failed relationships, struggle, and success over gritty, ratchet, and soulful beats. For most of the album, the rapper takes a serious tone, trading his sometimes sarcastic flow for songs that he hopes might be "the soundtrack for people's ups and downs," he says. "I kept it real." Kiss-off track (and lead single) "I Don't Fuck With You," is one of the bluntest on the album. "Bitch I got no feelings to go/ I swear I had it up to here, I got no ceilings to go/ I mean for real, fuck how you feel" he raps. The song was released on the heels of his split from Glee star Naya Rivera, but Sean says he began writing the lyrics before they broke up. "But as time went on, my situation started relating a little bit more," he adds.
The 27-year-old rapper has since moved on to 21-year-old pop singer Ariana Grande. Sean says the relationship evolved naturally. "We was just hanging out, and she was cool," he says. "We were friends for years before anything. That's the best way."
After meeting Sean, it's easy to see why he's the guy who gets the girl. There's an easy warmth to his presence; he's generous with a smile and hug for someone he just met. He also has good taste—he digs Saint Laurent jeans because "a good fit is the most important thing." Plus he's direct. He'll be the first to tell you success has changed him. "Hell yeah," he says. "I feel like people have that concept a little backward. I'm definitely different. I'm a little wiser and more focused, and I know what I want, which is happiness. Happiness is the key to success. But I'm still learning as I go."