Invite Camila Morrone To Your Next Book Club
She's Hollywood's most thoughtful rising actor — and she happens to star in the world's most buzzed-about book adaptation.
Photographs by Makiyo Lio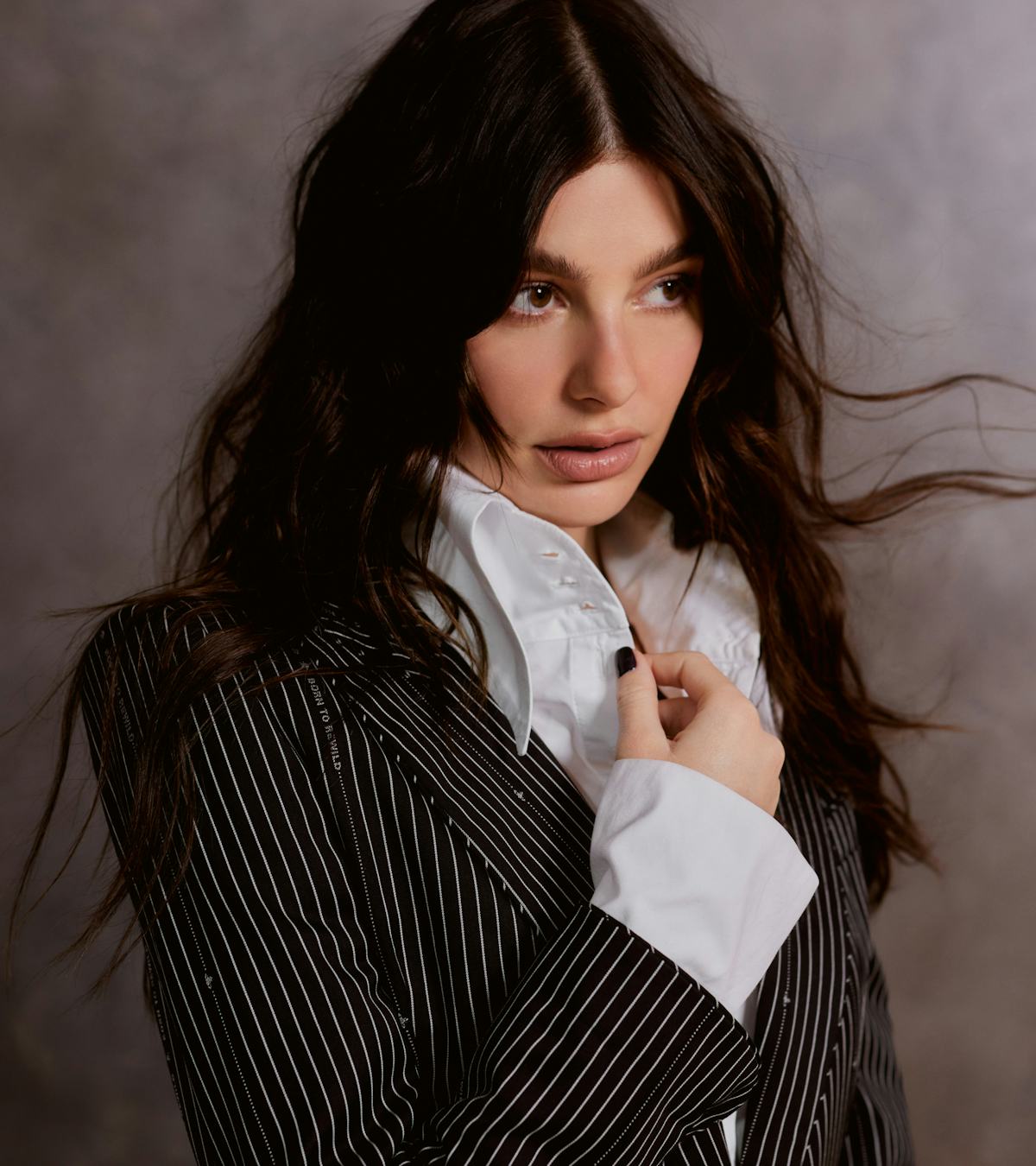 Camila Morrone has a confession to make. Just 48 hours before her audition for the TV adaptation of Daisy Jones and the Six, she still had not read the book. With the clock ticking, she turned to a resource beloved by teenagers and bemoaned by English teachers everywhere: SparkNotes. "I thought I would cram like I did in high school and get the main points on the odd chance that the casting director was like, 'Did you read the book?,' I could say yes," Morrone recalls. "Then I accidentally binged the book. I did not come up for air until I finished the whole thing."
Call it the Taylor Jenkins Reid Effect: Once you pick up one of her books, you're fully absorbed in that world until the very last page, no matter how voracious or passive the reader. "I had not sat down and voluntarily read a book in a very long time," Morrone continues. "I had kind of a bad relationship with reading because of being forced in school to read books that you didn't relate to at all. This was the first introduction into a different type of writing and different style of writing that made me fall in love with recreational reading, as nerdy as that sounds."
Over the last several years, Morrone, 25, has made a name for herself on the indie film circuit, starring in cult hits like 2018's stoner comedy Never Goin' Back and 2019's Mickey and the Bear, a drama that currently holds a rare 100% approval rating on Rotten Tomatoes. Daisy Jones is sure to rocket her into another stratosphere. Morrone stars as Camila Dunne, the wife of Sam Claflin's Billy, a lead singer of rock band Daisy Jones and the Six whose emotional connection with frontwoman Daisy Jones (Riley Keough) fuels the rise and fall of the band. Camila, who we see age from 18 to her late 40s, is the grounding force of the story, with critics already praising Morrone's portrayal as the series' standout performance — even with only three episodes released at press time. A character who in many other stories would be sidelined as a victim of rock-star antics, Morrone brings a quiet fierceness to Reid's character. On screen, Camila says a lot with her silence; in Morrone's performance, it is not a passive act, but one that speaks to the character's security in herself. Watch Morrone's face and you'll see every word unsaid.
It was Keough's agent, a good friend of Morrone, who first brought the character to her. "She called me to say, 'You have to read this book because there's a character named Camila, coincidentally, who is you.'" She wasn't the last one to make the connection. "Suki Waterhouse also says I am this character; my mom says it." Upon diving in, Morrone understood what they were seeing. "It wasn't a big stretch for me to identify with Camila," she explains. "In ways, I had to expand my life experiences and take on someone else's point of view. But I do feel that there is a similar energy between the two of us, a stoic centeredness that I like to think that I also have."
Morrone worked diligently with her acting coach to do the character justice. "I have a hard rule where I will not walk onto a set or an audition or a rehearsal without having thoroughly worked with my acting coach," she says. "[Camila] has a lot of the qualities that I hope to develop as a young woman stepping into my womanhood. I was very worried about her coming off as a wallflower; where I could, I wanted to add a little bit of spice and kick to her because if not, you're just watching this girl kind of get trampled by this guy time and time again. … I would love to handle life in the way she does. I can't say that I have that deep sense of self and belief and faith in life in the way that Camilla does."
Bringing a beloved character to life is no easy feat, but on set, Morrone focused on each day as it came. She's described the set as "adult summer camp." She previously met Waterhouse years ago at her 21st birthday, where they became fast friends, but the rest of the band members were new acquaintances. She met Keough for the first time at the chemistry read; Keough and Morrone were the first two cast members booked, and together they helped vet their leading man. "I was absolutely intimidated and terrified of Riley because I think she's one of the best actresses of my age category. She's so poised and cool and calm and collected, and I was shaking like a leaf." Over the course of production, which spanned nearly three years, the entire cast grew incredibly close. "Anyone who sees our dynamic together is like, 'Oh, you guys actually do like each other,'" she says. "Riley and I have a very deep kind of sister soulful relationship, and Suki and I, we're inseparable. When the day ends, we jump into bed and we kind of talk and gossip and run down the day. I was an only child, and now it feels like I've got these built-in family members and cousins and siblings."
When we speak, it's the morning before premiere day, and Morrone is trying to process that, in a matter of hours, viewers will be invited into the cast and crew's "special world." "I'm in this place where in 24 hours this baby that we've all raised from the start and loved and nurtured and thought about and gave everything to, it's about to be out in the world," she says. "I'm feeling incredibly good, excited, nervous, vulnerable. I have so many contradicting feelings."
Not that she's had that much time to think about it — over the past few weeks, the cast has embarked on a global press tour that has taken them from a grand London premiere to the top of the Empire State Building, with many, many TikToks in between, as well as some incredible red carpet looks from Morrone, courtesy of her stylist Sandra Amador. Morrone did her best to mentally prepare; in January, she took time off to focus on her well-being, doing therapy and enjoying her daily routine of being at home. But you can only prepare so much for the mindf*ck of fame.
"It's an interesting job and life and a career," she says. "There's so much interim downtime [between projects], then you are thrust into a month's work of incredibly long and hard days, where you're 'on' at all times, and then you go home and you're off. There's this switch that you turn off between your personal life and your professional life. ... I try to find the happy medium."
That involves celebrating the wins, like appearing alongside Tom Cruise on Jimmy Kimmel. "Those are the moments that your inner voice in your head is like, 'Holy sh*t,'" she admits. "All of these moments where you're feeling defeated and rejected, that leads you to beautiful moments where you're on the same couch that Tom Cruise was just on. I don't often give myself a pat-on-the-back moment, but that was definitely a moment where I was like, 'Good for you, Cami. This is pretty awesome and pretty epic.'"
And as for the down moments, she's got a brand new hobby to keep her company: reading. She's planning to binge My Year of Rest and Relaxation on her way home to Los Angeles, but she's taking recommendations on what to read next. Her only criteria? "I like youthful female characters struggling in a world; I feel very identified in that coming-of-age type of story, because I feel like it's happening IRL for me," she explains. Plus, "Since I now love reading, I definitely have my eye on finding the [books] that I think would be a great story and bringing them to someone who has much more experience and talent in that department of developing something off the ground. I think that's the next stage of my career. Now, I've got my eyes open. Every time I read a book I'm like, 'Could this be an adaptation?'"
Photographs by Makiyo Lio.