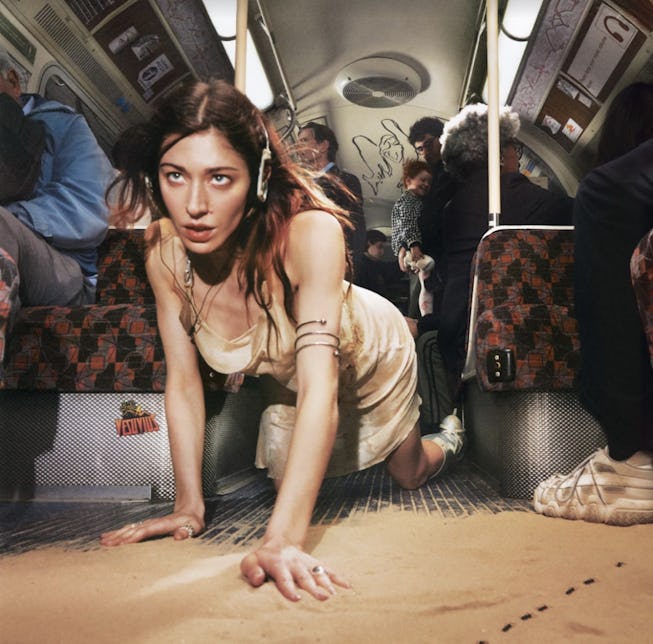 Perpetual Novice
Caroline Polachek's 'Desire, I Want To Turn Into You' Is Maximum Pop Fantasy
In an era when music is all about being more vulnerable than ever, Polachek is delivering drama, intrigue, and performance on a dressed-up platter.
When I interviewed Caroline Polachek in 2019, she said she saw herself on the fringes of pop music. "I kind of think about myself not up or down, but sideways," she said. "I'm trying to just broaden the spectrum rather than think about what I'm doing in a hierarchical system." This was just after she'd released Pang, the first studio album under her name that formally introduced the world to her left-of-center sensibilities, and when the best way to ID her was still to say, "Remember Chairlift? She's the singer."
In the three or so years since, Polachek's place in the pop landscape hasn't changed much, but her clout has veritably ballooned. Her ascent began in 2020, when her exaggerated pouty love romp, "So Hot You're Hurting My Feelings," began making the rounds on TikTok. The next year, she toured and opened for Dua Lipa, releasing the one-off saucy and whistling "Bunny Is A Rider," which became somewhat of an indie hit. Then, suddenly, her live shows — visceral and beautiful performances — were getting written up in theas New Yorker and New York Times magazine, positioning her as a sort of pop artist palatable for high-culture, coastal elites. She released collaborations with Charli XCX and Christine & The Queens. In December 2022, she announced her sophomore album, Desire, I Want To Turn Into You, with the new caveat that she was only doing select press.
Despite the new attention, Polachek nestled herself further into music's stretchy edge. In recent years, her eccentricities and esotericism have emerged more than ever before (she defiantly released her new album on Valentine's Day, a Tuesday). With Pang, one could trace its lineage back to PC music and what would become hyperpop. Her work with Danny L Harle and other collaborators this time, however, feels untethered. She leans into the archaic and mythological, renders strange constrasting sonic palates that feel simultaneously ancient and futuristic, like aliens have somehow entered RuneScape, as on the baroque glitchy ecstasy of early single "Billions." She flips rich, coastal Spanish guitar into a chic, warbling serenade on "Sunset." The rest of her gorgeous, captivating sophomore album is equally as idiosyncratic, a breathtaking practice in bending the boundaries of pop to her wills. But what sticks out in the foray is a tantalizing embrace of nonsense, one that makes her conspicuous as a true auteur in a landscape of pretenders.
When I say "nonsense," I don't mean illegibility. It's more contradiction, chaos, choosing to be obscure when all other paths are telling you clearer is better. Polachek told Vulture that making Desire was about "unlearning technique," and you sense this looseness throughout the record. Things that wouldn't otherwise go together suddenly do, like the rich new age-y organ backdrop and her almost artificially smoothed-out voice on the ballad "Butterfly Net;" or the merging of Grimes and '00s British electro-pop singer Dido on the transcendent album standout "Fly To Me," a weightless d'n'b dream. With the songs on Pang, you could nearly see Polachek and Harle painstakingly placing every drum, synth, snap, and distorting layer. On Desire, Polachek is just running with her whims, embracing the weird. That's how you get "Welcome To My Island," an exuberant electronic rock song that opens with her yodeling through an orgasm that sounds like she's faking it, except she means it totally genuinely, and slightly off song titles like "Pretty In Possible," and "Hopedrunk Everasking," conjuring meaning out of incoherence.
Making pop music comes with a lot of unspoken rules: write simply and generally but specific enough. Build your songs to a climax and deliver maximum sonic payoff. Polachek's music has always skirted these rules, but does so with concerted intention on this record. The windswept "Pretty In Possible" sounds like she listened to Suzanne Vega's hook-less hit "Tom's Diner" on loop before she entered the recording booth. The anticipatory Max Martin-esque thumps on "I Believe," a would-be '90s boy band anthem, instead accompany a chorus that barely builds to anything bigger than a gently sloping hill — a feature that is refreshing. Her lyrics are deliberately shaded in: "Bunny Is A Rider" ostensibly centers on a bunny, who's actually a lady, who might be Caroline, but is really anybody who's flighty when the temps warm up and is notoriously hard to pin down (everyone knows a Bunny).
As a songwriter, Polachek's pen feels almost Shakespearean, wordy and rife with metaphor. It takes time and several listens to break apart and glimpse the gems inside. It's the most lovely on the exquisite old-world ballad "Butterfly Net," which likens a new person in her life to a seasonal apparition: "Earth went silent/ London fell asleep/ She dreamed of winter/ Where you appeared to me/ Perfect timing as new petals in November/ A tender creature/ A fever/ Disarming, fluorescent." But much of the record is also just tightrope vocal undulations from Polachek herself. (Half of "Smoke" is her going "na nanana.") What lyrics you can decipher will more often than not end with her falsetto flinging itself up into the heavens.
In an era when pop music is all about stripping things down, making things bare, being more honest, open, and "vulnerable than ever," Polachek is delivering drama, intrigue, performance, and all the other shiny accoutrements on a dressed-up platter. Desire is all about the show, and what a show it is — whisking you to Spain and ancient Greece, '90s rave warehouses, the voyeuristic corners of hotel rooms. (The lustiest song on the record, "Crude Drawing Of An Angel," is about nude charcoal sketches, or filming a sex video, or both, but the song's intense invocation of desire is palpable enough to make you sweat.) Who cares about vulnerability when you can have maximum fantasy, and isn't that really what great pop music is supposed to deliver? I imagine if, today, I asked Polachek about her position in the pop landscape, she'd still say the same: she's pushing at its edges. But if you tilt the camera 90 degrees, you'd also find that she's at the front of the pack.
Caroline Polachek's 'Desire, I Want To Believe In You' is out now.