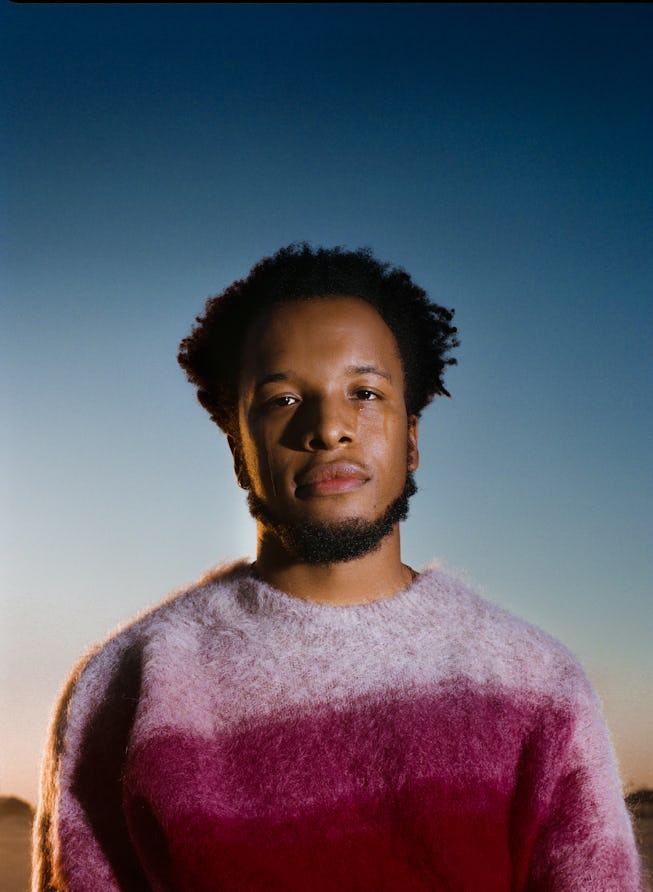 Leeor Wild
Cautious Clay On 'Deadpan Love' & Unpacking The Human Experience
The Brooklyn soul singer and producer goes deep on his long-awaited debut album.
Three years after releasing his first EP, Blood Type, in 2018, Joshua Karpeh, better known as the prudent producer and soul singer Cautious Clay, is finally readying his debut album. Deadpan Love, which will be released independently on June 25, has been prefaced by three singles — "Agreeable," "Dying In The Subtlety," and "Roots" — intricate love songs that dig into the nuances of love and relationships. On Thursday he shares his fourth: the spiky and richly-textured tune, "Karma & Friends."
Karpeh, who calls a Brooklyn mansion with 12 other roommates home, has come a long way since his days working in real estate in 2017, before he quit his day job to go all in on music. His colleagues have upgraded drastically: John Legend, John Mayer, and even Taylor Swift, who sampled the beat of one of his earliest songs for "London Boy." Karpeh's even made his way onto the small screen, taking a role on the upcoming second season of the Forest Whitaker-led drama Godfather of Harlem, and creating original music for the show.
Catching up with NYLON over the phone, Karpeh gave us the details around Deadpan Love and got deep about psychology, his evolution as a producer, and the satisfaction of putting out an album.
You put your debut EP out in 2018. What made you feel like now was the right time for your debut album?
I don't know if now's the right time, or if it was like now I have enough experience and a knowledge base of what I like and what I feel like is a staple of what I am, and who I am as an artist. I don't think you have to have tons and tons of experience to put out amazing, incredible music, but I think this time that I've taken to put out a bunch of different types of stuff allowed me to think about what type of statement I want to make for my first 12 to 18 songs. In a lot of ways, the musical landscape has changed, obviously, but I still think that it's nice to listen to a set of music that you hopefully won't skip, and you kind of go on a journey. That's fun to me, regardless of what people say. "We're a playlist culture, we're a singles culture." I'm totally aware of that, and I could just do that, but I also feel like whatever, f*ck it. I wanna do what I wanna do.
When did you start working these songs?
A lot of the songs are new, and then there's also a set of songs that are old, almost two years old. I would say 40 percent of them are old, 60 percent are new songs.
Did you work with anyone?
I definitely worked with a few different other producers and a writer or two as well on some of this, which was kind of a new experience for me. Overall, I definitely executively produced it in a way, where I took bits from people and ideas from people, and I think that's such an important part of making really great music is getting that sort of creative input. I did a feature with Saba. He's a rapper, he's on a song called "Strange Love." I love his rapping, I think he's super talented. I just reached out to him and we just kind of connected.
A lot of your previous singles, like "Agreeable" and "Dying in the Subtlety," really focus on the complex parts of relationships. What draws you to honing in on these specific ways we interact with people in your songs?
I think I've always loved psychology and I love unpacking the human experience in meaningful ways. I think that's why I kind of gravitate towards that kind of concept and that sort of overall emotional reflection. I guess even with the title of my album being Deadpan Love, it's like taking that approach. It may be cynical, it may be a little bit hopeful, it's that complexity that comes with the multiple different relationships, loving relationships that you can have with a lot of different types of people and sort of just looking at it in a way where you're breaking down the comedy, the disaster, the hardship.
How is your relationship with love? Do you feel cynical about it?
I mean to be honest, some people have said that they can tell that I'm in love or something from listening to the album. But I think there's definitely parts of me that are cynical. I'm not always super up front about how I feel. Not because I'm trying to conceal anything, it's more like, my personality is I'm just in my head and I don't really like to just splay my feelings or emotions and things out on social media. But I also do, in some ways, like through my music and I guess I'm openly in a relationship on social media. I feel so much more responsible for the world than for myself sometimes, you know. I'm not trying to be altruistic or whatever, but yeah. I just kind of keep myself to myself. It feels like a lot less stressful to me.
You've worked with John Legend, John Mayer. There's that crazy time Taylor Swift sampled one of your songs. How do you think your instincts as a producer and musician evolved over the years?
I think I have just become a better producer. I [recently] got this brief for a thing where it was like, "Oh, can you make a song that's somewhere between Amy Winehouse and Travis Scott" and it's like, "um, what?" But then I'm like, "Ok, I can sort of hear that in a way." I can sort of embody a perspective and the nuance of connecting or making things a little bit more connection driven. When I first started making music, if you listened to some of the music I was making in 2014, it was extremely abrasive. People have a hard time believing that I used to make really technical electronic music that was cool I guess if you were a nerd and really into sonics and stuff. I'm gonna sound like an asshole. It's good, but it's just my perspective changed. I can really make something, or I can be like, "Hm, where am I sitting while I'm listening to this, or what am I trying to convey here?"
How do you imagine your album being listened to by people?
Hm. I don't know. Maybe in people's cars? I sort of imagine it being a listening experience that people will have differently. I think that's also a thing: if you want to dig deeper into what I'm doing, you can obviously do that. And I hope that people do that, but I also know there's a lot of people who just are passive listeners.