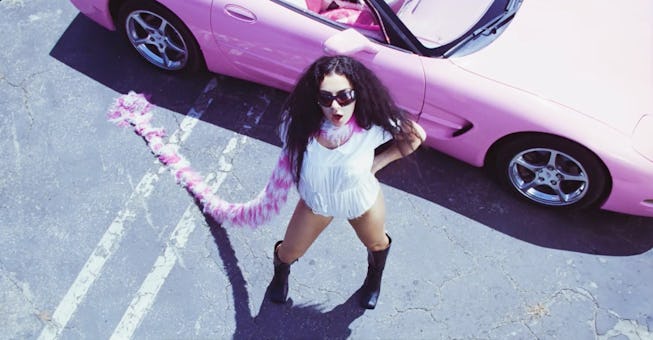 YouTube
Charli XCX Goes Drifting With Devon Lee Carlson In "Speed Drive" Video
Starring a hot pink Corvette convertible.
Of all the original film soundtracks released in recent memory, none have reached the same level of success as the Barbie original soundtrack. The album, executive produced by none other than Mark Ronson, is one of the best there is; its fizzy, bubbly, and diverse range of pop songs encapsulates everything fantastic (or not) about life in plastic, not to mention its eye-popping list of pop star collaborators. That list includes Charli XCX, whose hyperpop frenzy "Speed Drive" is one of the album's (and film's) highlights. On Wednesday, Aug. 16, the singer finally unleashes its music video, which lives up to the adrenaline rush of the song, and contains not one but two major cameos.
"Speed Drive" has become an unexpected hit for Charli, as it became her fifth ever song to break into the Billboard Hot 100 charts, so she obviously pulled out all of the stops for the video. The visual is directed by Ramez Silyan and includes major cameos from It Girl and Wildflower Cases Co-Founder Devon Lee Carlson and pop star Sam Smith, who video-calls in during a not-so-subtle Samsung Galaxy Flip product placement and teases an upcoming collaboration between the two artists.
But the real star of the video is arguably the sleek, hot pink (and just hot) Corvette convertible that Charli and Carlson ride around in (Carlson driving, with help from a stunt person no doubt), streaking doughnuts and burning rubber in an abandoned Los Angeles parking lot. Barbie really can be anything, including a car drifter!
Charli XCX has been all over films recently, with a song in A24's Bodies, Bodies Bodies, and the upcoming teen queer comedy Bottoms, starring Rachel Sennott and Ayo Edebiri. She's also signed on to co-executive produce the musical score for Mother Mary with Jack Antonoff; the movie is about a fictional pop musician and stars Anne Hathaway and Michaela Cole, set to come out in 2024.
Maybe an album will also arrive in between all of that? In the meantime, watch "Speed Drive" below.