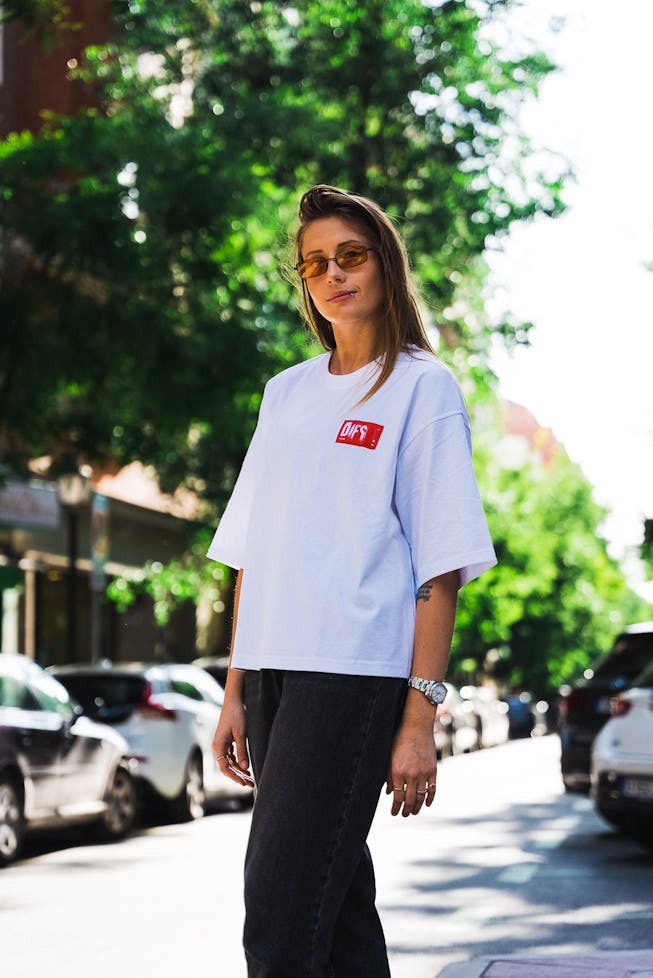 Charlotte De Witte Shares Her Primavera 2023 Photo Diary
The techno titan discusses her getting ready routine, must-haves on tour, and more.
If superstars exist in techno music, then Charlotte de Witte is definitely one of them. The 30-year-old Belgian DJ and artist has experienced an ascendent few years, crossing over from a niche underground genius to a mainstream musical titan. Over 2.5 million people follow her every move — whether she's flying to New York to ambush Soho with a surprise street set, or Miami to take over Ultra music festival's main stage — and for good reason. Her ground-shaking sets, full of highly technical, hypnotizing trance, are like no others out there right now.
This past June 3 and 10, de Witte put on her biggest productions yet, incidentally at Primavera Sound, where she closed out both weekends of the festival in Barcelona and Madrid. It wasn't just a DJ set — it was a full-on immersive show, complete with floor-to-ceiling graphics, strobe lights, and the punishing beats of her latest release, Overdrive.
Below, de Witte exclusively shares her photo diary from those incredible two nights, and breaks down how she gets ready for her sets, her on-stage wardrobe, and more.
Courtesy of Charlotte De Witte
Courtesy of Charlotte De Witte
What is your typical getting ready process for shows?
Lots of preparation. I think I spend a lot of time looking for unreleased tracks or new music out there. I think the biggest amount of time goes into preparing my sets, which is something I think is very important. On the day itself: get a little nap, wake up, have a vodka pineapple, I go.
Describe your on-stage looks for Primavera.
For Primavera shows, and by extension all the Overdrive Tour shows that we do, I am quite lucky because I am being dressed by Glenn Martens who is also from Belgium, and now is the creative director for Y-Project and Diesel. I do feel that for these shows, even what I'm wearing is something more special. I feel very comfortable and strong and empowered wearing those clothes.
‌
Courtesy of Charlotte De Witte
Courtesy of Charlotte De Witte
What are the must-have items you need when you are on tour?
A pillow, comfortable pillow, and noise-cancellation earplugs or headphones. You cannot do without any of those.
As a DJ, what are you paying attention to in the crowd when you're playing?
I think the most magical thing is the connection between the crowd and myself. It's always a very intense experience because, in the end, I'm just standing there by myself in front of thousands of people, so it's a very overwhelming and hard-to-put-into-words experience. From time to time, when I watch the crowd, I can see people coming to my shows often, I can see their facial expressions. That's the thing that drives the whole thing: it's the whole connection.
What was the most memorable moment playing Primavera Barcelona/Madrid?
It was the first really, really big show that we put on. It wasn't just me playing a DJ set, it was me playing a DJ set with a crew consisting of more than 20 people. To see it all grow and come to fruition was incredible. It was a fantastic day and I feel that the whole team just put in so much effort, and we made each other so much stronger and happier.
‌
Courtesy of Charlotte De Witte
Courtesy of Charlotte De Witte
Courtesy of Charlotte De Witte
Courtesy of Charlotte De Witte