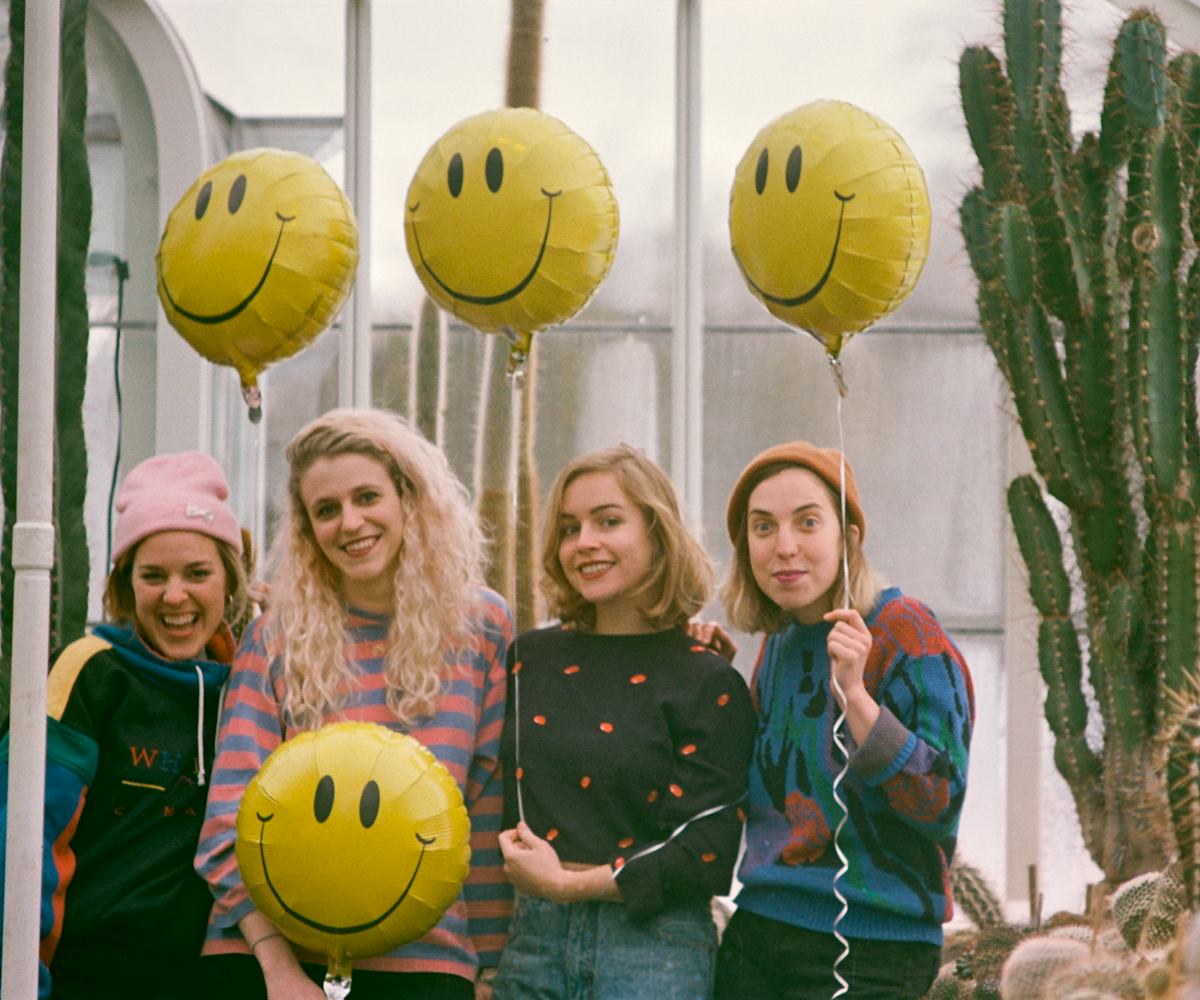 Photo by Conner Lyons
Chastity Belt Made The Perfect Soundtrack For Your Quarter-Life Crisis
If there's one thing that Chastity Belt has figured out at this point in their young lives, it's that honesty will get you far. The Seattle-based indie rock band thrives on openness, and their willingness to be vulnerable is what has captivated many fans since the group broke out with their college anthem, "Time To Go Home," in 2015. Since then, the four-piece has been on the road and shredding all over the world.
Chastity Belt's third album, I Used to Spend So Much Time Alone, is a coming-of-age record that takes a darker turn as the band unleashes their grievances about growing up. There's a sinking feeling hanging in the air on every track as they gloss over inner turmoils like heartbreak, depression, self-doubt, feeling trapped, and the recurrent process of losing and finding yourself again. The result is a powerful and polished body of work that is both mellow and melodramatic. 
Chastity Belt isn't nostalgic for the past, but that doesn't mean they're not anxious about what the future holds. If you're in the midst of a quarter-life crisis, this album was made for you. Pour out your favorite drink, throw on a blanket, and get comfortable with your thoughts because I Used to Spend So Much Time Alone is out now via Hardly Art. 
Learn more about the making of this record in this exclusive interview with lead singer Julia Shapiro, below.
What is different now compared to when you put out your last record, Time To Go Home?
Those songs feel so old for some reason. Before we put out that record, we recorded maybe [for] more than a year before that and wrote those songs like a year before, so a lot has happened since then. Mainly with this album, we're more experienced making music together and playing shows. Also, in terms of life experience.
When that album came out, you guys had only just gotten out of college, so now you're deep in post-grad life.
Yeah, we're more mature now. [Laughs]
Where did the album title come from, I Used To Spend So Much Time Alone?
It's a line from one of the songs, "Used To Spend." It truly was this feeling of not being alone and not being totally supported, but knowing that you're totally capable of being alone at the same time. And I did spend so much time alone. Part of me misses that because I don't really have much alone time anymore, but it's just like a little reminder that at some point in my life, I will be alone again.
How would you describe the mood of this album?
I would say darker than past albums. I think we all kind of go into some shit with the songs on this album. It's also more in the direction of what I like to listen to and relate to and feel a lot from listening to. In that sense, I think we're moving more in the direction of the kind of music we want to be making. 
Are there any particular themes on I Used To Spend So Much Time Alone?
I would say growing up is a big theme. Making mistakes, trying to learn from them, trying to grapple with being comfortable alone, feeling stuck...
I feel like I'm definitely going through that right now; I just hit the quarter-life crisis so the timing is perfect.
When I wrote those songs, I was going through that.