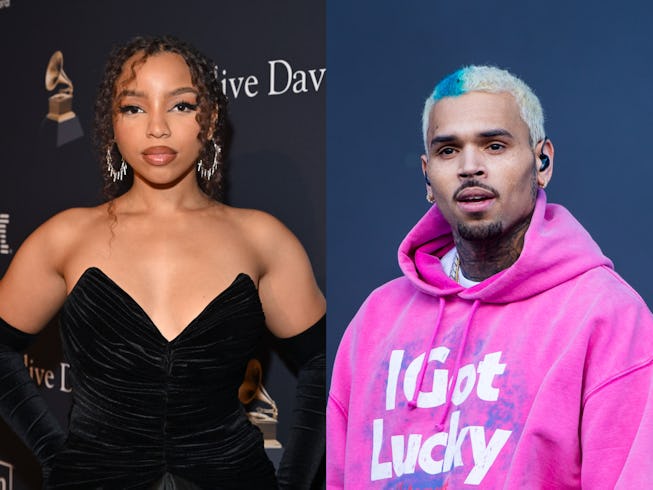 Getty Images
The Chlöe & Chris Brown Controversy Is Bigger Than The Immediate Backlash
The singers' recent collaboration is once again testing the real-world efficacy of "cancel culture."
Chloe Bailey has found herself in hot water. Over the past week, the singer, and one-half of the beloved duo Chloe x Halle, has experienced a near 180 degree turn in public opinion online. It was largely sparked by her latest release, "How Does It Feel," a collaboration with the controversial Chris Brown. Announced on Feb. 16, news of the single immediately stirred up feelings of shock, betrayal, and incomprehension among her fans. In recent days, that outrage has morphed into a larger question for writers and fans: Why artists — specifically. Black women artists and musicians — continue to work with Brown. Below, we break down the entire controversy, from specific grievances from fans to why the incident goes beyond the immediate backlash.
When did the controversy begin?
The controversy began on Feb. 16 when Chlöe announced her new single with Brown on social media. "2ND PIECE. HOW DOES IT FEEL @chrisbrown. 2/24," she tweeted. Almost instantly, fans flooded the tweet replies and quote tweets with their shock and disappointment in the singer.
All of the complaints alluded to Brown's very public history of violence toward women. Perhaps the most well-known physical abuse incident he was involved in was with Rihanna in 2009. On Feb. 8 of that year, photos of the pop star with bruises and blood on her face surfaced on the internet, as news slowly trickled out that Brown had repeatedly punched her in the face while they were driving in a rental Lamborghini. (Brown was later arrested and sentenced to community service and domestic violence counseling.)
Years later, Brown appeared to show remorse over the incident, saying in a 2017 documentary that afterwards he "felt like a f*cking monster." But that's far from the only instance of violence (specifically, violence toward women) that Brown has found himself in since then. He's been accused of stealing women's phones, pushing them to the floor, and threatening to punch them in the face. In 2017, his ex Karrueche Tran filed and won a five-year restraining order against Brown, citing multiple threatening text messages and voicemails from the singer. Given his past extreme antagonism toward women, Chlöe's collaboration with Brown seemed out of character and baffling to her fans.
"We're failing Black women in music if they feel like they have to collaborate with a known abuser in order to chart," wrote journalist Ernest Owens in response to her tweet. "We will absolutely not be streaming. catch you next time tho," tweeted Drag Queen Eve 6000.
Fans defending the collaboration argued that Brown and Rihanna had long reconciled over the incident and it was time for fans to move on. "The man literally took accountability for his actions and y'all still hanging on to it," one user tweeted. "Mean while you in relationships with abusers but want people to accept him cuz you do get real."
For Chlöe's part, she has not directly addressed any of the criticism or backlash, and has kept both the replies and quote retweets option to all of her posts open. Brown, on the other hand, took to his Instagram stories to push back on the critics and say that he was "tired of yall running wit this narrative." "If yall still hate me for a mistake I made as a 17year old please kiss my entire *ss! Im f*cking 33," he wrote.
What other questions is the controversy raising?
Amid the backlash, former Cheetah Girls member Kiely Williams chimed in to illuminate a wider, troubling trend that this specific incident highlights.
"Let him come out with his own record — so genius, so captivating that it makes us all forget HE BEATS WOMEN. He can't so he wont. So what does he do? He slowly creeps back into the mainstream by getting small nods for features on Black Women's merit. Black women who are more talented, more worthy, but give him the okay," she tweeted.
As a recent Refinery 29 article points out, Black women singers are primarily the ones coming to Brown's defense (and being used to ostensibly rehabilitate his image). Since the release of Chlöe and Brown's collaboration, singer Cassie appeared in a music video with Brown for his Jack Harlow-featuring song "Psychic." At the 2022 AMAs, Kelly Rowland admonished the crowd for booing Brown after he won an award, telling them to "chill out," and then thanking Brown for making "great R&B music [...] and being a great performer." Brown has also recently released songs with H.E.R. and Ella Mai. (And let's not forget the men he's also worked with: Metro Boomin, Drake, Gunna, Future, Jack Harlow, Rema, Rauw Alejandro, and T-Pain.)
As writer Hanna Phifer states, "There's not just one simple reason why Black women continue to support men like Chris Brown." But internalized misogyny and the impact of living and growing up in a society that normalizes and overlooks the actions of abusers can also be explanations for the support.
On a wider scale, this controversy continues to push against ideas of cancel culture and the real-world efficacy of such buzzwords. Does cancel culture truly exist when Brown can still net awards at a ceremony as big as the AMAs? Does cancel culture exist when Brown is still having his full choice of collaborations, men or women? Does cancel culture exist when the "How Does It Feel" video hit one million views in less than 24 hours? Can cancel culture exist if the people and structures of power make it impossible for it to be?
On an even grander scale, the controversy can be distilled even more simply to the decades-old inquiry: Can one separate the art from the artist? The jury is still out on any clear answer — but the Chlöe fandom is being tested.