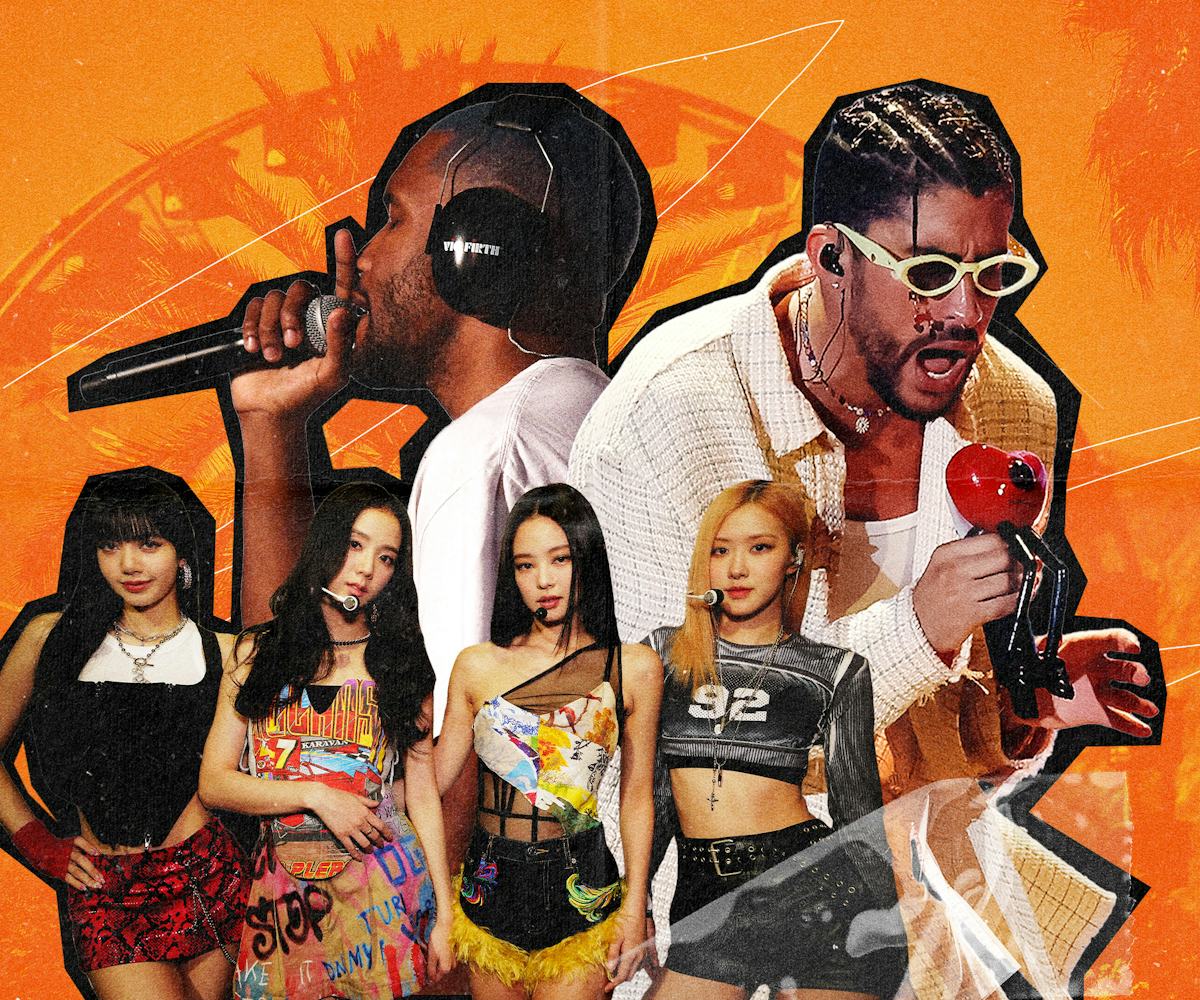 Lindsay Hattrick/Nylon; Getty Images
The Coolest Things We Saw At Coachella Weekend One
From surprise appearances by Ciara and Billie Eilish to the DJ that stole Frank Ocean's headlining show.
As sure as the seasons turn another Coachella is once again upon us. On Friday, April 14, thousands descended onto the glamorous desert plains of the Coachella Valley to kick off the first weekend of the music festival, this year headlined by the megawatt combination of stars Bad Bunny, Blackpink, and Frank Ocean. After days of rain, the sky opened up to an uninterrupted expanse of turquoise, the wind diffusing the dry heat into a warm breeze. It was the perfect condition for anything and everything to happen.
At this point Coachella is more than just about the music; it's an arena to see and be seen, for artists to put on performances of a (and their) lifetime, tote out surprise guests, and for celebrities to transform into fans themselves. Last year, Harry Styles brought out Shania Twain, K-pop legends 2NE1 reunited, Megan Thee Stallion debuted the explosive "Plan B" for the first time.
This year, we kept tabs on the biggest happenings on the festival grounds, from surprise appearances by Ciara and Billie Eilish, to rekindled romances in the desert, to the DJ that stole Frank Ocean's (now controversial) headlining set.
Day three.
Forget Frank Ocean: DJ CRYSTALLMESS stole the show
This is not a post to discuss the merits or non-merits of Frank Oceans now controversial headlining set, a topic that in the less-than-24-hour-window since the show has devolved into what feels like a pointless and endlessly circling conversation. This is, instead, to talk about one of the show's more mind-boggling, standout moments: DJ CRYSTALLMESS's unhinged rave interlude.
Appearing seemingly out of nowhere to ostensibly remix the end of Frank Ocean's "Chanel," she ended up taking the audience on a full 10-minute deep space rave excursion that began in familiar territory with "Chanel," and slowly deteriorated as she live-mixed the track into weirder and wilder sonic territory. No one knew who she was: the woman who suddenly appeared on the stage's massive LED screen, calmly, and almost nonchalantly, twisting at the knobs on the boards on the biggest headlining stage at Coachella. And to say her appearance and where her DJ set ended up going — to a full-on Berlin basement rave — was unexpected would be a massive understatement; And yet, it was the moment I kept thinking back to throughout the night because for all the shock value it delivered, the mix was also mind-bogglingly good and so utterly outside of the perceived boundaries of a Frank Ocean show, it ended up being was thrilling and exciting.
So who is CRYSTALLMESS? The Parisian French Caribbean DJ and producer is Christelle Oyiri, and those who listen to Frank Ocean's Homer Radio will already be familiar with her; she was the featured on its first episode. The emerging star in the underground dance scene has played sets at legendary DJ series like Boiler Room, NTS, and Rinse France and has manned the decks at iconic locales Säule/Berghain and at the Parisian party series Concrete. Her shows are known to be eclectic and experimental, hopping between U.K. jungle, dancehall, zouk, trance, Detroit techno, and more. Like the small taste the Coachella audience received on Sunday, her sets thrive on unpredictability, and stretching her ability to stitch seemingly disparate sounds and textures together cohesively.
It's not clear when or how CRYSTALLMESS came on Frank Ocean's radar. Following her set he mentioned, as an explanation for why he decided to include a 10-minute DJ set into his otherwise acoustic show, that he got really into DJs around 2019 and 2020 as he began throwing his PrEP+ party series. It's possible Ocean stumbled across her work during his planning period for that, or, maybe he just met her at party he himself went to. Either way, he was very clearly impressed with what he heard — and so was I.
There's already been a litter of complaints about her set from fans online: about how they didn't "get it," or maybe they did get it, but they felt it just wasn't appropriate for a show that was marketed to be solely about Frank Ocean. But even if CRYSTALLMESS hadn't played, those fans likely would've still been disappointed; Ocean clearly never intended to put on a show that only revolved around himself. "It's not always about me," Ocean even told the crowd following her set. "I just wanted to shed light to that." I'd rather look at her inclusion in the context of what it did offer and help us gleam about Ocean's ever-evolving tastes and ideas about what, and who, he thinks is cool. He's evidently leaning into the experimental, and finding dance to be a fertile, unexplored new ground for him. And, not insignificantly, to show us this part of himself, he prominently ceded the spotlight to a Black woman DJ on the main stage during the most prominent headlining set of weekend one at the world's biggest music festival. That in and of itself is unprecedented — and surely worthy of much more conversation than the ghosts of songs that weren't even played.
Kali Uchis calls in so many guests
The surprise guests just kept coming during Kali Uchis' momentous set at the Coachella main stage on Sunday. The late afternoon show marked the star's first time performing on the festival's biggest stage, and she made her time on it count by bringing out not one but three guests including Tyler, the Creator, Omar Apollo, and Don Toliver, for live duets of "See You Again," "Worth The Wait," and "Fantasy," in quick succession. All of the appearances were very brief (and were still somehow affected by technical difficulties) but it was enough to make it the weekend's most star-studded set.
Ciara gives surprise performance at Jackson Wang's set
One of the day's most random but exciting surprise appearances came from Ciara, who came out to perform a medley of her own songs during Jackson Wang's set at Coachella's Sahara stage. The early-aughts legend took over the stage to perform her feature on the Missy Elliott hit "Lose Control," as well as her original songs "Level Up" and "Goodies." Wang then joined her on stage for "1, 2 Step," and then a somewhat bizarre performance of XG's "LEFT RIGHT," remixing it up with new lyrics. Finally, at the end, the pair revealed the real impetus of Ciara's appearance: their new song together, "Slow," which they later released that night.
"I just wanna say, thank you so much. You inspired me. You inspired everybody here tonight," Wang told Ciara as she was preparing to leave the stage. "On behalf for everybody, I wanna thank you, we wanna thank you for who you are, and thank you for being such a big part of our lives. We're too blessed to have you."
Day two
Blackpink Supremacy
The brilliance of high-production pop show is that you don't have to be a fan to enjoy one. They're intentionally designed to be irrefutably entertaining. A K-pop show is like that but on steroids, and for thousands at Coachella on Sunday they got their first true taste of one, a world-class and historic example set by BLACKPINK.
The roughly 90 minute set was a neatly abridged version of the classic K-pop concert format with three distinct acts. Following a dazzling (and slightly technologically terrifying) drone show that featured hundreds (thousands?) of tiny airborne machines orienting themselves into the shapes of a caterpillar, butterfly, hippo in an astronaut suit, and more — the group opened with their biggest numbers: "Pink Venom," "Kill This Love," "How You Like That" and more. Next came dazzling solo performances from each of the members, each serving a distinct aesthetic and mood, and then: the blowout finale, which involved nine more high-energy songs and a floating platform at the end. (Sadly, as I, and surely many others, had hoped, they did not bring out Selena Gomez and perform "Ice Cream." Will that song ever get a live performance? The future is looking dismal.)
It almost feels unnecessary to say how extremely cohesive, disciplined, and pure, unmitigatedly talented, their performance was. They've all been training since teenagers, and have been running the game as professional idols going on seven years now. Obviously, they are better than perfect at their craft. And yet, I still feel the need to stress just how incredible and nearly stupefying it was to watch them deliver this near machine-like excellence non-stop for almost 1.5 hours straight (give or take some minutes for the outfit changes).
For the uninitiated, the extreme quality of a K-pop show is hard to understand unless you witness it for yourself. It's unlike anything most Western pop shows deliver (save, perhaps, concerts from the most upper-tier popstars). It's visual visit to the candy store. It's pure entertainment, injected with a booster of entertainment, designed to make you simultaneously want to adore, support, and become each of the members on stage. Jennie, the cute! Rosé, the artistic! Lisa, the fierce. Jisoo, the soft yet powerful. Which one am I stanning, wanting to become, emulate, next? It is an active fan-creation machine — and I, along with many other journalists and thousands in the crowd on Sunday, underwent that transformation willingly.
Boygenius and The Linda Lindas speak out for trans rights
Both boygenius and The Linda Lindas used their sets to speak out against the recent spate of anti-trans and queer community-targeted legislation being passed in Missouri and Florida.
About halfway through boygenius' set at the Outdoor Theatre on Saturday, Lucy Dacus introduced the band — whose members all identify as queer — and its first proper live show in five years before pivoting to address the recent news: "I'm sure you guys have seen whats going on in Florida and other places. We just wanna say trans lives matter, trans kids matter" she said. "We will fight it and we will win." Bridgers chimed in with a more succinct message: "And abortion rocks. And f*ck Ron DeSantis."
The Linda Linda's also took a pause during its show to address the issue. "There is a lot of crap in the world right now. Gun violence is terrible, and anti trans legislation is terrible. We need to do something about it," vocalist and bassist Eloise Wong said after performing punk song "Fine."
Missouri lawmakers announced new limitations to who would be able to receive gender-affirming care in the state, while Florida's Ron DeSantis recently encouraged the state's medical board to completely ban gender-affirming care, including gender-affirming surgery, puberty blockers and cross-sex hormones, to new patience under 18.
Cutest couple: Rosalía & Rauw Alejandro
Music's most adorable couple striked again on Saturday when Rosalía brought her bae and fianceé Rauw Alejandro out for a boisterous and sensual performance of their sexy nocturnal serenade, "Vampiros," and their single "Beso." The two exuded chemistry as they weaved around and played off of each other on stage (at one moment, Rauw bent down on one knee just to watch Rosalía shake her ass during "Vampiros"), palpably, clearly enamored with one another. And as if their obsession for one another wasn't obvious enough, they kept sneaking kisses on stage. We love love!
Elsewhere during her set, Rosalía covered Enrique Iglesias and performed her "Blinding Lights" remix, incidentally, with The Weeknd watching along and vibing (and Bad Bunny) in the audience.
Labrinth brings out Billie Eilish
...after the crowd mistakes her for Zendaya.
The hitmaker and Euphoria composer and producer brought out last years headliner as his surprise guest — right after playing an extended version of "I'm Tired" the show's hit track featuring Zendaya, to the crowd's credit. As Eilish, with her face covered not only by her massive grey hoodie but also a hat, emerged on stage, the crowd immediately started screaming for Zendaya. Alas, it was the "Happier Than Ever" singer instead, an equal-or-better alternative. Together, they emotionally debuted their new collaboration, "Never Felt So Alone," released just the day before. Sometimes you don't get what you want, but you get what you need!
You need to know South African DJ Uncle Waffles
If you aren't familiar, South Africa's afrobeats-meets-deep-house-and-jazz sub-genre amapiano has been sweeping the globe for some time now. A major player in the movement is the energetic and endlessly charmping Swazi-born DJ Uncle Waffles, who made her debut at Coachella on Friday at the Sonora stage, becoming the first amapiano act to perform at the festival, and emerged for a surprise encore performance at the EDM DoLaB tent on Saturday.
Where other DJs vibe and maybe occasionally fist pump but largely stay standing behind the boards during their sets, Waffles dances, twerks, and jumps from behind the boards to dance for the crowd during hers. She is the physical animation of amapiano, and her movement, jubilant and joyous, combined with her endlessly expressive facial expressions make you want to move even harder. "Say Waff-les, we want to par-ty," her hypeman repeatedly called to the crowd throughout her set. Nearby my spot at the DoLaB tent, a middle-aged hippie couple exuberantly frolicked barefoot in the grass, and everyone from jersey-wearing frat boys to face-bejeweled ravers were all feeling the coursing waves of amapiano.
Ethel Cain's sonorous, gothic live show is a treat
Ethel Cain's set took over Coachella's sole indoor tent, Sonora, a fitting venue: the circular structure with its wooden floorboards and intimate stage felt like stepping inside a western barn where in another location and time we would all start square dancing. The transportive effect when she started her gothic country set was immediate — but it was her voice, deep, sonorous, Earth-shaking, that stole the show.
"She sounds incredible," someone next to me said, stunned, as soon as she — dressed in a custom red and white Givenchy varsity jacket and cheerleading set —opened with her opening dark ballad, "Family Tree." But incredible barely captures the live effect of her voice, which sounds exactly like the studio recording, and even that feels like an insufficient enough qualifier to the full-body goosebumps it induced. Her huskily textured vocals are the blood that animates all of her songs and it is especially vigorous and alive in person, where every sigh is a release and every belted yodel a sonic geyser. "American Teenager" and "A House In Nebraska" were especially luminous displays of its power that fomented her midwestern melancholies into a tangiable fog (additionally aided by the gorgeous Super 8 footage of Cain herself standing in fields of wheat). No one left the tent unimpressed or unconvinced of her star-level abilities. Among my cohort, we all unanimously agreed her set was one of the best of the day.
Day one
Rumor has it: Camila Cabello & Shawn Mendes are back together
The two reunited in the artist pit and even shared a kiss under the stars. Is it desert thirst or true love? Only their publicists know.
Song of the night: Kaytranada somehow made Beyoncé's "Cuff It" even better
You'll forgive me if I perhaps preemptively declare Kaytranada's undulating, sensual flip of Beyoncé's "Cuff It" the song of summer 2023. The whiz-at-the-boards producer and DJ debuted his remix of the Renaissance cut at his evening takeover of the Outdoor Theatre stage and it's everything you could want from a sunset serenade: slowed down, sparkled up, the smoothest apertif for a successful night out.
Spotted: Blackpink rocking out
By now, Blackpink are regulars at Coachella; Rosé and Jennie were famously seen in the artist pit at Billie Eilish's performance the same year the K-pop group made its festival debut in 2019, and its members have made the trek out to Indio, California in the time since. Now, as the group prepares for a history-making performance on Saturday, the members deservedly took the time to catch some R&R the night before; Rosé, Jennie, and Jisoo were spotted jamming out at multiple sets on Friday from YungBlud to Bad Bunny.
Jisoo attended both the YUNGBLUD and Gorillaz shows and shared footage of her time there on IG Stories. Fans also caught candid shots of her nodding along and dancing to the music. She wore a mask — likely for health and identity reasons — a light black jacket with a grey sports bra underneath, and a Hello Kitty-charmed purse, while her hair was left natural in beachy, relaxed waves.
Jennie and Rosé were seen later at night at the Bad Bunny show. Jennie was with her two friends, model Shin Hyun Ji and actress Lee Ho Jung, and she also opted for an all-black fit (clearly the color of the night) dressed in an oversized jacket, dark wash jeans, and black retro-styled sunglasses; her hair was lightly styled in casual braids. Rosé meanwhile was snapped entering the venue, and also wore black, her signature Packers leather jacket, and her hair casually down. She might still be riding out the waves of a scandal, but she was clearly unbothered and enjoying her time doing normal twenty-something activities (as she should).
Blink-182 still has the juice, and the dirty jokes
Blink-182, in its original formation, made its return to the stage with a barrage of curses: "Shit, piss, f*ck, c*nt, c*ck-sucker," yelled Mark Hoppus into the mic for "Family Reunion."
It's been decades since they last played together, but the Blink-182 energy is still the same: rambunctious, mischievous, delightfully, giddily dirty. The music was as good as old times but perhaps it was their crowd work - and incessant jokes - that took the cake.
"I love to eat it from the back," declared Hoppus to the crowd to applause before —"Otherwise the balls get in the way." "What are balls even for?" chimed Tom DeLonge. (There was also a perhaps too-soon one about a Dalai Lama kissing booth.)
When they played the crowd-favorite, "All The Small Things," Hoppus introduced it as the "song from the Alvin and the chipmunks movies."
It's clear they are comfortable enough in their legacy to make fun of it, even trash it. If there was a question of whether the crowd of mostly Gen Z would really pick up what they were putting down — or perhaps it was a question of whether the shtick would still stand in the context of 2023 — after the bands 45 minutes on stage, it seems that they undoubtedly still got the juice.
MUNA brings out boygenius
Boygenius is set to play Saturday but they made an early pit stop at MUNA's Friday afternoon set at the Mojave stage. The trio barged out at the end for fan-favorite and queer anthem "Silk Chiffon," with Phoebe Bridgers joining for the second verse, and then Julien Baker and Lucy Dacus emerging for the chorus.
It was a set full of surprises for the dynamic trio, who also debuted a new song, "One That Got Away." Lead singer Katie Gavin introduced the guitar-pop anthem as a track about "someone fumbling the bag." The song will officially drop on streaming services Monday.