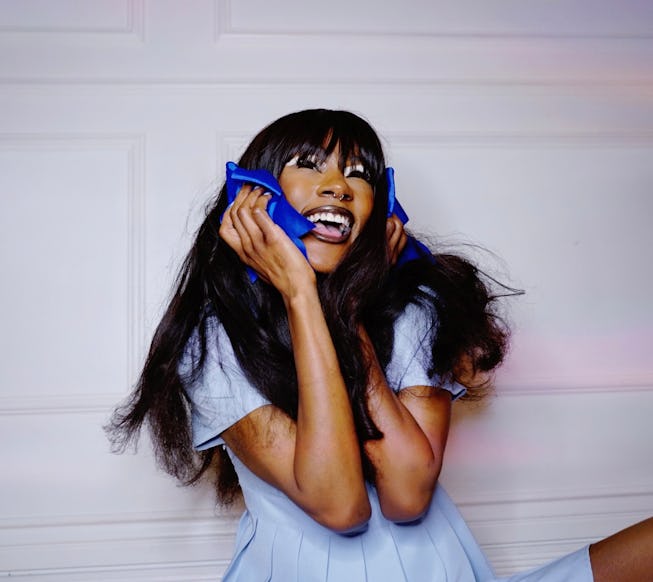 T Melvin
Cydnee With A C's Heart-Racing Songs Merge Dance & K-Pop
Get to know the L.A. singer, and watch the video for her playful track "Thotty."
Cydnee with a C makes songs that are like a jolt of caffeine. The Los Angeles singer's latest EP, Confessions of a Fangirl, out now, is a heart-racing collection of tunes that merge drum and bass, Jersey Club, R&B, and glossy pop into a glittery swirl of going-out bops that race through your veins and fizzle out, barely exceeding three minutes.
As the title suggests, the project pays homage to Cydnee with a C's fangirl identity — which you can start to detect the shape of through a Joni Mitchell "Yellow Taxi" sample on opener "Don't We Always," and an OutKast sample on "As Long As You Love Me." But get to know Cydnee more, and you'll know the well of her music inspiration runs far wider and deeper, encompassing K-pop (she runs a popular YouTube channel reacting to K-pop videos), Sade, Coldplay's Chris Martin, and more. On the project, those influences blend and play against each other to form melodic, attitude-driven songs like "Jealous," pitting her soulful, heart-filled vocals against shuffling, BPM-racing beats; or the blingy, bed-squeaking standout "Thotty," whose playfully raunchy video is out today. The carefree anthem featuring model and singer IV4 is a mirthful taunt to an ex, per Cydnee, and a dancefloor-ready banger all in one.
"IV4 hit me to make a record and we have a lot in common," she tells NYLON of the track. "Like having records with Trippie [Redd], being alternative artists, and we're both fire signs! I showed her the demo of 'Thotty' with the pre hook and hook, and explained the song is a break-up song about acting naughty and hoping your ex is watching."
Like Pinkpantheress and fellow rising peer Keltiey, Cydnee with a C is part of a wave of alt-pop artists putting traditional dance beats into a blender. Watch the music video for "Thotty," and read on to learn more about the singer.
You're serving looks in the "Thotty" music video. Which was your favorite outfit to film in and why?
Thank you! I was like, we both bout to be blonde! I wanted a cute but sexy aesthetic so I asked my good friend and artist f3nndii for help styling me and she showed up with the looks. My favorite outfit was the Dolls Kill pink matching set with the fur in the hallway scene. But I love the black lace thigh highs too.
You recently released your EP Confessions of a Fangirl. What's the story behind the title?
My YouTube subscribers and anyone who knows me knows that I'm the ultimate fangirl. I love K-pop and K-dramas so much, I wouldn't wish my obsession on anyone. But I love being passionate and learning from what inspires me. Fan girls and boys are a community of like interests and we relate through music and entertainment. Every song is relatable.
Who would you consider yourself a fangirl of?
Chris Martin from Coldplay, he's my hero. And then there's Sade, that's my foundation. And I love watching and studying G-Dragon and Hyolyn from Sistar. I fangirl over these artists' music and live performances.
"In K-pop, every detail matters. It's quality and addicting. That's what I aim for when I'm creating."
How does K-pop inspire you as an artist?
I've completely accepted my obsession thanks to the K-pop community, we just get each other! I used to be embarrassed to love K-pop and turn down my headphones so nobody would know what I was listening to haha, but accepting my obsession helped me stay inspired as an artist. K-pop inspires my melodies and concepts in my records and visuals. In K-pop, every detail matters. It's quality and addicting. That's what I aim for when I'm creating.
Drum and bass is having a moment in pop music right now and it's the foundation of your EP. What do you like about the genre?
It's addictive and just sucks you in. I introduced my producer to K-pop and in return he introduced me to drum and bass. I like that drum and bass is versatile like me too. We add in a little R&B, a little pop, a little K-pop, a little Jersey Club!
What do you hope people do while listening to your EP?
I think the EP is perfect for everything and every setting—working out, cleaning, driving, everything. I've listened to it in every setting and it just works! I hope it's something listeners will want to hear over and over.