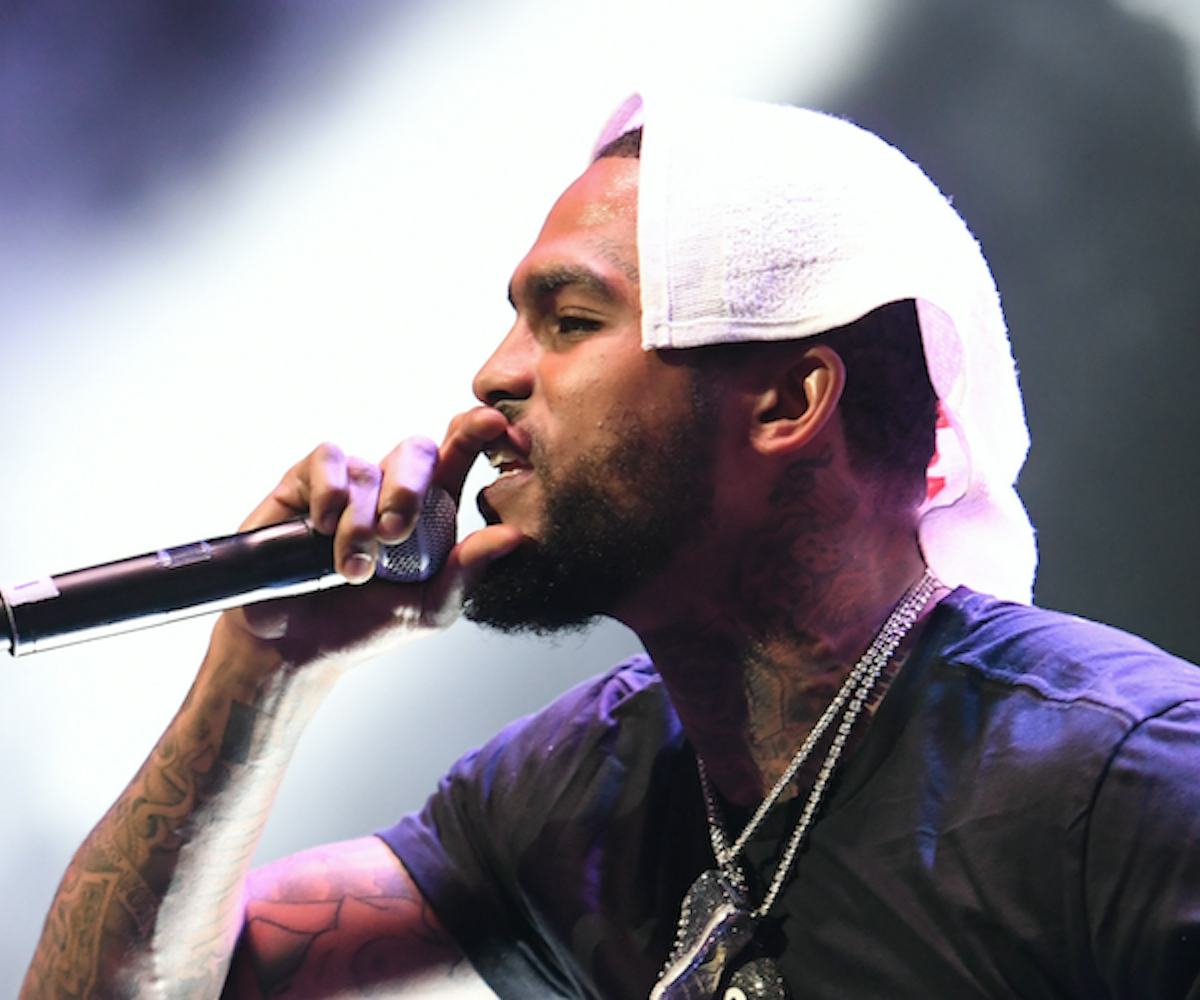 Photo by Paras Griffin / Getty Images
Dave East Talks About Why He Cried On Stage During A Recent Show
You can stream his latest, 'Paranoia 2,' now
If Nas fucks with you, hip-hop fucks with you.
On the last Tuesday of January, Dave East's #P2Tour came to El Rey Theater in Los Angeles. I had seen East perform live once before—at the Mass Appeal stage at SXSW in 2017—but, this time around, I was given the opportunity to sit down with him one-on-one for an interview. Somehow ending up on stage during his one-and-a-half hour set, I was as close to the action as physically possible. I noticed right away the number of fans who had come out to see him, a rapper from the opposite coast, perform. And if they saw the same show that I saw that night, their expectations were more than exceeded. East laid his heart out on that stage.
Following the show, I entered a jam-packed room on the second floor of the venue. There sat a shaken East, still catching his breath from the hour-plus performance. He was extremely emotional, as the day marked his late cousin's birthday. I greeted the East Harlem native by congratulating him on the release of Paranoia 2. "The reception on P2 has been crazy," East says. "Every show on the tour has been sold-out. I didn't think people were gonna catch on to it that quick because I started the tour the same day it came out. So it's going crazy right now."
I came into the interview with a list of questions, but then made a last-minute decision to scrap them. I had to address the pivotal moment of the show that evening, when East broke out in tears while on stage. During "Grateful," East knelt down, with his head facing the ground. A moment of silence passed before Marsha Ambrosius' vocals froze the room. The heartbreak was inescapable."My cousin, Freaky, that I always talk about. He's really the one that told me to rap. Today's his birthday, so that kind of… I ain't never cried on stage. That shit was…," Dave says before pausing over a loss for words. "A little different. But it was dope. Marsha killed it. Came out and killed it. I had fun tonight."
To ease the tension in the air, he flicked the lighter and sparked a blunt—but not without asking me for permission first. East embodies an artist who has a story to tell. With this in mind, I ask him, "If you could pick one song from your catalog that best tells the story of Dave East, what would it be?" "Probably 'It Was Written.' Or 'Numb,'" he replies.
While East sufficiently tells his story through his music, it is also narrated in another form: television. Just a couple days prior to the show, Mass Appeal announced its new show Rapture on Netflix, which dissects hip-hop from the perspectives of some of the game's hottest artists. True to his character, East is seen wearing his heart on his sleeve, this time on the big screen.
"Each artist got their own different episode," he explains. "My episode is with Nas and really just me and him in the studio. Just speaking on the parallels of me and his life and our career. It's just really me and him going back-and-forth in the studio, but it's dope."
I immediately thought of East's short film, "The Hated," which also features Nas. "That was a little more like a story, something that actually happened. We just reenacted it. The Netflix thing with Nas is more of a documentary, where we kind of... talk. We go to my neighborhood. You get to see where I'm from and all that. And then, I'm in the studio with Nas. And a lot of people haven't really got to see me and him together. You see us in pics, but not really in the studio and stuff like that. So I think it's dope. And I think it's something people would be looking forward to seeing."
It's not every day you get the co-sign from one of hip-hop's greatest. With a mentor like Nas, I ask East about the best piece of advice Nasir has ever given him.
"Keep the same people around me and remember what I got in the game for," he said without hesitation. "Like all the reasons when I was in the projects trying to get here, keep that in my mind. No matter if I'm at the Grammys, no matter how big it gets, that'll keep me grounded if I keep that in my mind. Like where it came from and what my initial plan was."
Signed to Nas' Mass Appeal label, East is no stranger to that gritty East Coast Hip-Hop sound. But he also creates his own lane, providing vivid imagery of firsthand experiences from growing up in Harlem. Overcoming those obstacles and struggles is the exact hope the listeners receive through his music.
"I stand out. I don't really think I fit in with the "what rap is" today. I feel like I stand out because I'm talking about me and my homies and stories from my life. I ain't really trying to have you turnt up all day. I'm trying to kind of talk some real shit."
This made me wonder what he would be doing if he wasn't rapping. "Honestly, I don't know. I would hope that I wouldn't be in no trouble, but I would probably be… I don't know. What would I be doing?" Dave thinks, then laughs. "I might have tried to get into some type of coaching, for like the younger dudes in Harlem. Or Queens. I'd probably put together like an AAU team or something. I used to play ball, so I could have probably did something like that. But I don't know. This was the last strike. If it wasn't this, I don't know what I would be doing."
On this note, I asked him to reveal his dream collab. Without taking a breath, he answers, "Jay Z and Nas on the same record. All three of us." Hopefully, we'll see this on his debut album to come.