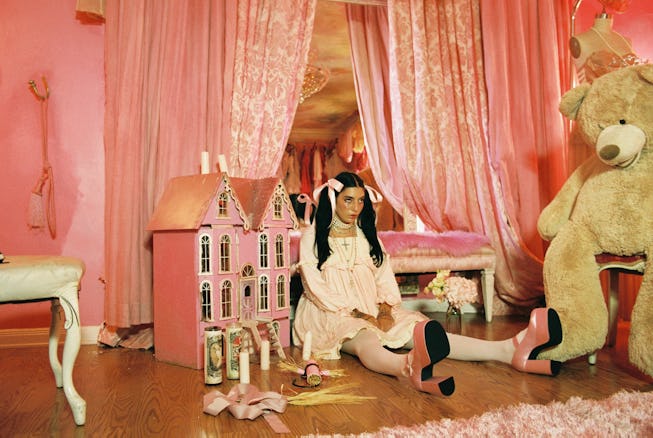 Ella Flores
Premiere: DeathbyRomy's "Fiending For A Lover" Video Is A Pink, Harajuku Dream
Hear the young Los Angeles pop artist's new single now.
Los Angeles' DeathbyRomy makes dark, gothic pop with a theatrical edge; the 20-year-old's debut album, 2018's Monsters, is filled with brooding electronic beats as she waxes poetic about her many failed loves, complete with features from Lil B, Yung Bans, and Cuban Doll. DeathbyRomy's most recent single, "Fiending For A Lover," though, shows the young artist making a pivot into brighter, more straightforward pop with its upbeat, maximalist production and an intro that feels like a nod to the TikTok famous "Lalala."
Here, NYLON premieres the song's video, a quarantine-filmed visual that includes a Mean Girls-esque burn book, and the singer dressed to the nines in Harajuku fashion. Lounging in the maximalist pink interiors of her room, the young artist fantasizes about wanting to be tied down again, even if it ends up kind of toxic: "Something in the way you hurt me/ I love it though it's quite unnerving."
"This song was inspired by feeling locked up during this quarantine," Romy writes of the song in an email. "An overall sense of lingering mania and being the hopeless romantic I am; I've been fantasizing more than ever about my imaginary boyfriend. There may also have been a crush or two who inspired the song….(sneaky smile)."
Watch the video below and read on to learn a bit more about the singer.
What are you up to right now — describe your surroundings.
I'm currently with my sister Ella & my manager JJ at LadyByrd Cafe in Echo Park. The weather is perfect. I am sitting outside & the breeze feels lovely. We just got finished filming a live performance of "Fiending for a Lover" and I'm starving — can't wait for my food to arrive!
How was filming the music video during quarantine?
Filming the music video during quarantine was made very easy thanks to my lovely crew who were willing to make our team super small and work super hard to create something beautiful despite the circumstances.The location was such a dream & we decided to base all my looks on each individual room for full aesthetic value. I'm a huge fan of world building & with the cutesy dark vibe of this song, I wanted to show more duality of myself and my creations so we went with a soft creepy vibe. All the looks were very Japanese Lolita inspired as well.
Besides making music, what else have you been doing to pass the time during lockdown?
During this lockdown I've been between my home in Mid-City LA and Palm Desert. I've been doing a lot of decompressing and creative work of conceptualizing the world I want my next project to live in. I've also done a little bit too much online shopping but have become a much better chef than I've ever been before!
What's a weird and easy snack you've been making, and how do you make it?
I'm not much of a snacker but my favorite quarantine recipe has got to be this peach-glazed salmon my mom and I made up together:
Ingredients: Peaches, serrano, garlic chervil, cilantro, salt, pepper, and honey
Blend all that together
Glaze it over the salmon
Wrap it in foil
Put the salmon on the grill
And voila! So summery, easy, and fresh.