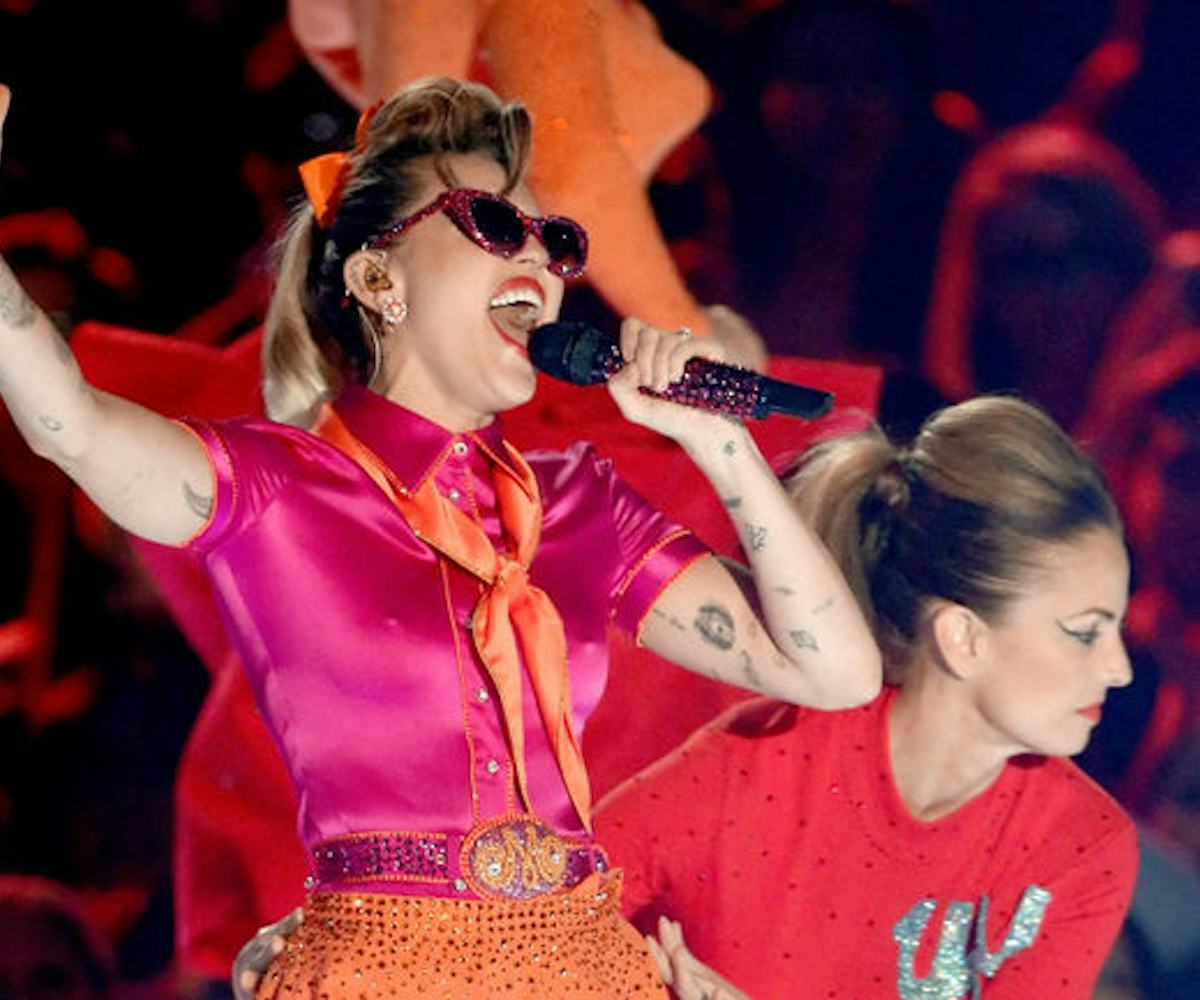 Photo by Frederick M. Brown / Getty Images
Miley Cyrus Is Trying To Reinvent Herself, But Can It Work?
For pop stars, is reinvention just backtracking?
To grow up is to make peace with the many people you used to be. Old photos become less embarrassing, an era defined by a particular denim cut is tinged with nostalgia instead of regret, and we chalk up our misadventures to immaturity instead of tragic character flaws. This is where Miley Cyrus seems to be as she gears up to release her new album, Younger Now, on September 29. Using a recent interview to publicly embrace her former personas, she's taken a step back from condemning her "Wrecking Ball" era to recognizing that it played a pivotal role in her creative and personal evolution. "Now I can be proud of all the Mileys that I've ever been instead of trying to run away from the 11-year-old one, or feel like I'm not Hannah Montana," she told MTV. "I am stoked that that was a part of my life. I'm not afraid of who I used to be. No one stays the same."
And that's arguably the mark of a bankable pop star. Artists like Beyoncé, Adele, and even Harry Styles have moved through their careers without shading their former selves, while icons built on reinvention—like Madonna—tend to marry past hits with their current manifestations. But then there are artists who don't; artists who reinvent themselves only to dial it down and scale it back and, in turn, raise questions of whether backtracking on one's new image represents creative stagnation or an even more pronounced sense of humanness.
In 2006, Christina Aguilera released "Candyman," a '40s-era pop jam that accompanied her pinup-style reinvention in the wake of 2002's Stripped. Stripped, of course, was the "Wrecking Ball" of Aguilera's career: Following radio-friendly singles like "Genie In A Bottle" and "I Turn To You," the teen star began shifting toward more "adult" themes, going on to work with P!nk, Mya, Lil Kim, and Missy Elliott on "Lady Marmalade" before releasing "Dirty," a single steeped in raunchy sexuality. With her leather chaps, bikini top, and use of overt sexual references, Aguilera departed from her squeaky clean pop persona, eclipsing even Britney Spears' ultra-provocative "I'm A Slave 4 U" phase. Soon, it would be Aguilera's hyper-sexual persona that would define her work, despite the artistic complexity of Stripped on the whole. Eventually, in order to continue growing as an artist (and a grown-up), Aguilera had no choice but to reinvent herself again with a traditionally feminine, '40s-inspired aesthetic.
But it didn't last; years after embracing this new persona, Aguilera went through another transformation. In 2010, she scaled back to a mix of her teen and Stripped selves, leaving her homage to the '40s behind.
It was a tactic even more pronounced with Jewel. After Pieces of Me defined the last half of the '90s, the singer-songwriter ditched her guitar for high heels and mini dresses, reinventing herself as a pop singer who'd dance in the street instead of performing in a flower crown. It didn't last long. Following her foray into mainstream pop, Jewel released an album of children's songs and moved into country music in 2010, which is the sound she began with and continued to explore with 2015's Picking Up the Pieces.
We tend to talk about reinvention in limited terms. Masters of reinvention—Madonna, Nicki Minaj, Lady Gaga—go beyond a creative and aesthetic evolution to create characters they embody during album cycles and press tours. Their reinventions are concepts, separate from their private selves. Meanwhile, when Aguilera, Jewel, and Cyrus used rebranding as a means of kickstarting a new life phase, they've evolved in the way most of us tend to: They try a change-up of clothes, of perspective, of a preferred sound. They were never characters, but grown women experimenting with who they were and wanted to be. They were still growing, and scaling back their images or returning to their roots didn't signify stagnation, but an embrace (and bigger understanding) of self.
While music is a business, an artist's relationship to that business is subjective and hugely personal, which means that to see any aspect of reinvention signals a willingness of an artist to change and to grow. Stagnation exists upon refusing to change or attempting to bury the past. So returning to and embracing who you were once is a powerful step in anybody's trajectory, musician or not.