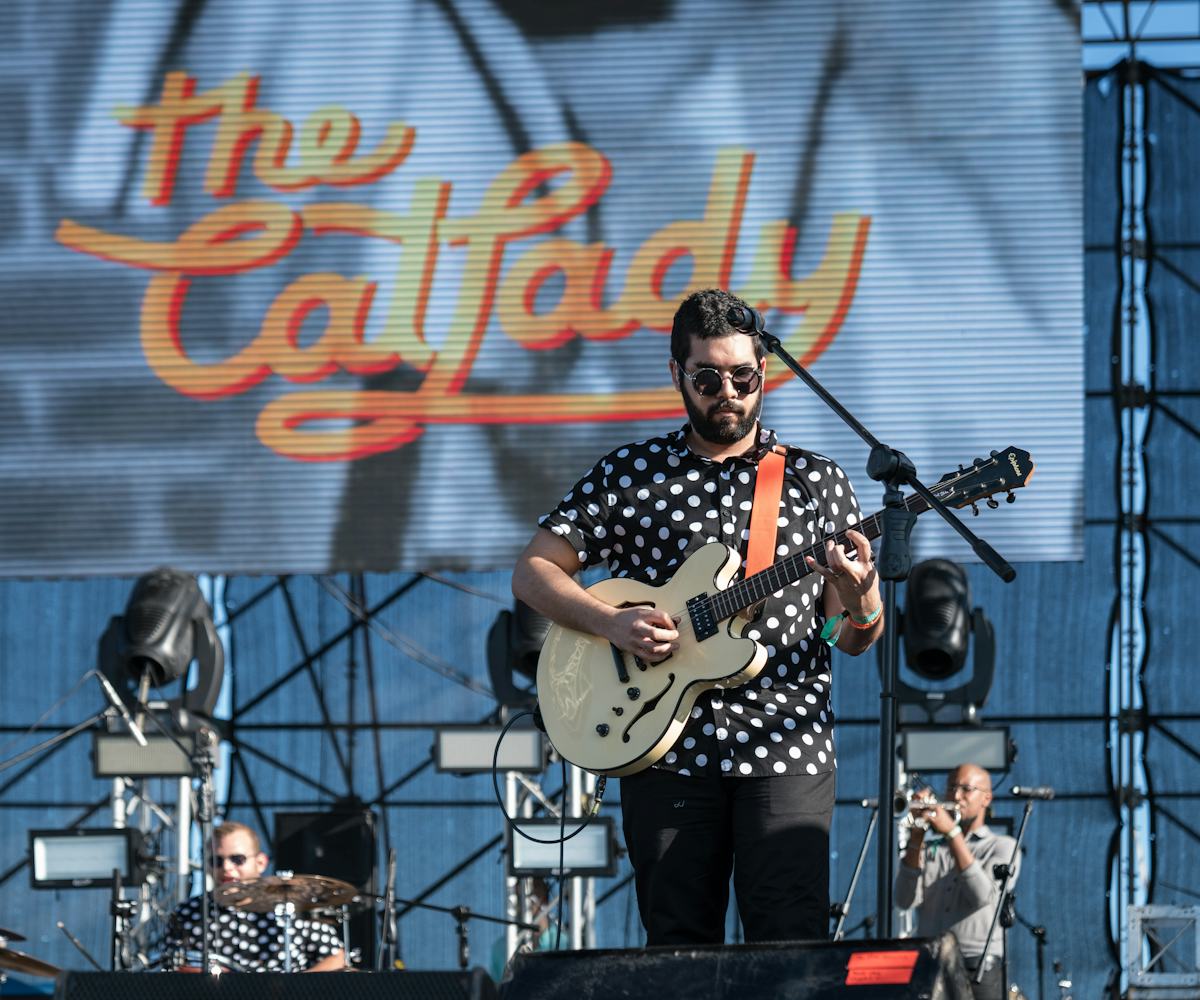 Photo by PHIVES photography
5 Dominican Musicians You Should Be Listening To Right Now
Taking in the sounds at Isle of Light festival
It can be exhausting hopping from one festival to the next when they all seem to bank on being bigger, brighter, and better. There's only so many LED panels and jumping DJs one can see before they all start to run into each other. It's the festivals with a point of view that now win, the ones that have a story to tell. And, on April 1, the sunny, rocky shores of the Dominican Republic told the story of the sounds of the island at Isle of Light.
Held in Santo Domingo, Isle of Light is a showcase that not only pays homage to their history's biggest names (like headliner Rita Indiana), but upcoming artists defining the DR's modern musical footprint. Showing it's both possible to lean into your heritage while looking beyond borders, Isle of Light oozed Dominican culture through every layer of the fest. When we weren't rocking out in the crowd, we found groups playing with oversized dominoes (a game taken quite seriously in the DR), bunches of locally grown bananas hanging from trees for patrons to grab, and fresh quipes, a fried, small football-shaped Dominican staple made of bulgur and seasoned beef to snack on. And it was all on a compact, beautifully grassy strip surrounded by crashing azure waters.
In years past, festivals and events here were only friendly to artists in "traditional" Latin-focused genres, but tastes have evolved and changed. There's a new charge of musicians, and they dot the musical map from vaporwave to dance-rock, breaking all notions about what it means to be an artist from these shores. Though some festivals view locals-centric lineups as risky business, Isle of Light embraces it. In the process, they demonstrate that paying attention to what's going on in your backyard can pay off big time. Below, get to know five of our favorite performers from the festival, who kept us dancing and showed us how they redefine Dominican music.
Bacayne
Stereoptico crew member Bacayne brought an intricate DJ set to Isle of Light that strung together everything from hip-hop to minimal house to trap. Though he's an impressively diverse DJ, it's his original productions that really catch our ear. Gennaro De Santis has a tidy catalog under his belt, and his last EP, 2016's impressive Azure Magic, is a journey into what he's truly capable of. Bacayne's touch includes a bit of everything: hip-hop nostalgia, but also lo-fi, trap and, ambient overtones. It's all tied neatly together; beats don't wander here, but instead, breathe within the constraints of impeccably tight rhythms. His sound lies within the warm zone of both feeling like faint remembrance and encountering something new. Of particular favorite is "Crying," a piece of longing that's grounded with trap-inspired percussion.
Rita Indiana
Rita Indiana is a Dominican treasure. Not only is she an alternative merengue singer-songwriter, she's written several novels, from poetry to sci-fi, and frequently uses her art for activism, covering platforms like social injustice and queer issues (Indiana is queer herself). She's a bona fide pop star in her home country, and her appearance at Isle of Light was, to put it gently, a big deal. Seven years ago, at the height of her music career, Indiana announced she was retiring from the stage in order to concentrate on writing. As recently as two years ago she said she wouldn't perform live again; "ni por un millón de dólares." So, when she took the stage at Isle of Light, it was with purpose. Holding up a green bandana in support of the DR's current #LaMarchaVerde anti-corruption movement, she launched into "El Castigador," her war cry single released just days before the fest. That night, Indiana also announced she would be returning to the stage to use her voice against corruption, so more new music could be on the way.
Volt Phonic
Taking a browse through Volt Phonic's imagery, especially on YouTube, there's a particular aesthetic, or rather, *~AeSthETic~*. Borrowing from vaporwave, there's glitch art, Grecian busts with neon sunglasses, and fuzzed-out cyberpunk tropes, all dunked in oversaturated color. Their sound deviates from classic vaporwave, though, taking on a bit more crunch and electronic pop than their counterparts in the same genre. If you're a fan of the likes of Brian Eno, Daft Punk, or Air, then you'll feel right at home with Volt Phonic. "S K Y F I R E / スカイ火災," below, beautifully showcases their particular POV with plodding, electro synths, breathy, vocoded lyrics, and trickling keys that feel like a '60s throwback. Throw this on the next time you read some Philip K. Dick and contemplate the meaning of life.
The Cat Lady
Born in September of 2015, Giancarlo Simó (vocals/guitar), Alberto Bustamante (bass), and Richard Ball (drums) formed The Cat Lady in order to create music that wasn't available on the local scene. If you're a fan of Franz Ferdinand, The White Stripes, or The Libertines, The Cat Lady will be up your alley. Taking alt-rock and mixing it with a touch of punk, jazz, swing, and even country, they're a rowdy good time live, embodying their personal motto of "fuck yeah!" If you're wondering about the band's tag, it's a flip on the pejorative feelings usually associated with the term. They wanted the name to pay homage to women who don't need anyone else in their life to feel complete, and that has us saying "fuck yeah!" as well.
Original Juan
Though hip-hop/rap artist Original Juan currently lives in Spain, he's from the Dominican Republic, and so it was only fitting to see him at Isle of Light. No matter where he resides, though, his music pays homage to his home country. Juan's 2016 album was titled Dominican Most Wanted, and the video for its resulting single "Callejero Music" was shot in La 42, a popular neighborhood of Santo Domingo. (If you like, also check out this unofficial behind-the-scenes video, which gives a raw look at the Santo Domingo streets.) Originally pulled in to the genre by Spanish rappers like Sharif and Rapsusklei, Juan completely fell in love once he discovered the American scene; it's this unique, hemisphere-blending style he's learned to hone and build a cult fan base around.