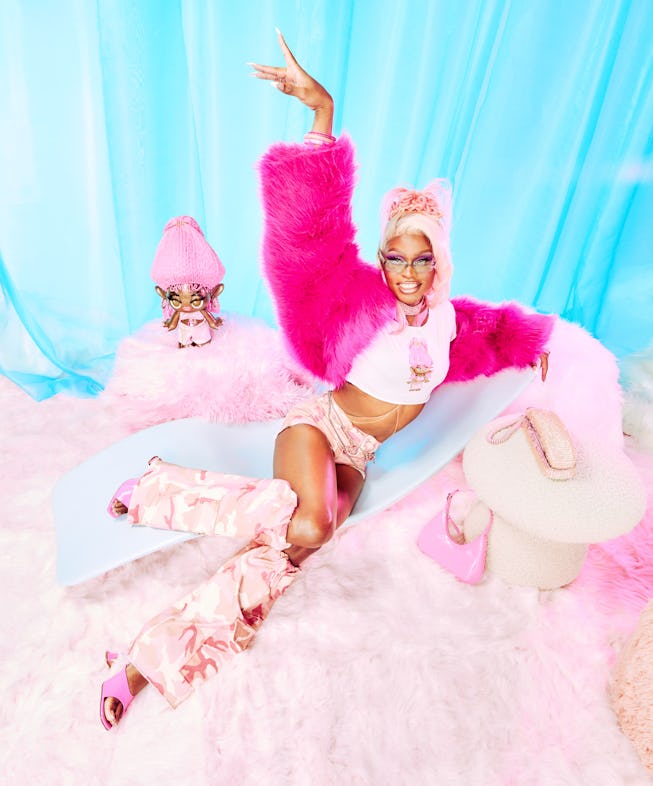 Drag Superstar Symone Creates Her Own Good Luck
The artist is officially a Good Luck Trolls doll, advocating for kindness, joy, and inclusivity.
If there's one thing Symone's fans have learned from following the celebrated drag performer, it's to expect the unexpected. From head-turning red carpet appearances to a groundbreaking out-of-drag film role, the self-proclaimed Ebony Enchantress continues to prove that even with an instantly recognizable personal brand, she's full of surprises. Case in point: You probably didn't have "Symone becoming a Trolls doll" on your 2022 bingo card, but it kind of makes perfect sense, doesn't it?
Record scratch. Freeze frame. If you're wondering how Symone got here, here's a quick bit of context: Before developing a drag persona, Reggie Gavin was a kid in Conway, Arkansas, combing out the already-wild hair of a Trolls doll to see just how crazy it could get. So when Trollify by Good Luck Trolls — a campaign celebrating diversity, expression, and individuality — asked Symone to become an ambassador and create her likeness in the first collector's edition doll of the purpose-driven project, she was fully prepared.
"Of course we did braids, which is a really big staple in my drag."
"They were literally like, 'This is a blank canvas. You can do whatever you want to do,' I was like, 'Oh! Okay!'" Symone explains. She approached the creation of the doll the same way she approaches the creation of all her drag looks: by starting with the hair. "It's a part of my drag that's really important. It's kind of how I'm telling the story of the outfit. Of course we did braids, which is a really big staple in my drag."
Symone sees the doll not only as an extension of herself, but as a symbol of joy, acceptance, love, and fun, brought to life with vibrant pink hues and statement jewelry inspired by the adornments her mother and aunts have always worn — now key elements of her own signature style.
"It's something everyone could see a piece of themselves in. It's a very joyous doll," says Symone.
In celebration of Trollify, Forever 21 is launching a capsule collection featuring a limited-edition crop tee inspired by Symone's doll, among other key pieces. The capsule is available September 29 at Forever 21.
The Trollify ambassadorship focuses on kindness, inclusivity, mental health, and the importance of community. With a firsthand understanding of the fight to pull oneself out of a dark headspace, Symone is using this moment as an opportunity to be a light for those who need it most.
"I know what it's like to be on the other side of that," she says. "I know what it's like to not have that love, that joy, and that inclusivity, so it's really important for me to be an ambassador of that and to make sure people always know that hey, you may be feeling down, you may be feeling out, but I'm here."
"The power you have in drag, you also have out of drag."
Symone doesn't take the responsibility lightly, noting that it's humbling to be in a position to inspire people in the same way others have impacted her. "There's a plethora of people you can look at and say, 'Hey, they were able to get through it and come out the other said, so why can't I?'"
Symone draws inspiration and motivation from a number of icons who have both influenced her drag persona and helped shape her into the kind and giving person she is today. In fact, the best advice she's ever received comes from a very famous drag superstar and mentor: "He said, 'The power you have in drag, you also have out of drag,'" Symone shares. "That has helped me a lot, especially with being more confident and seeing myself as worthy."
Symone has certainly found an impactful way to harness her power — full Drag Superstar regalia optional. In celebration of her partnership with Trollify, NBCUniversal has made a sizable donation to Lucie's Place, an Arkansas-based nonprofit handpicked by Symone that provides LGBTQIA+ young adults experiencing homelessness with resources from toiletries and clothing to housing solutions including rental and utility assistance programs.
"It's always been an organization close to my heart because I was lucky, but many people aren't. Any way I can help, especially with youth and homelessness, I am 1,000 percent here for it," says Symone. "Gaining this platform and having people connect with me is something I hold dear to me because I know how I am with the people that I love. Being that for someone else is really cool."
As she continues to soar to new levels of success, Symone proves that her greatest strength is her ability to not only remember, but honor, where she comes from. From her personal style to her sense of humor, everything Symone does is a love letter to her roots.
"I'll be honest, it took me a while to get to where I was like, "Okay, this is who I am.' I had to wear the tights and realize, 'Oh, that's not for me.' I had to wear the big pageant hair and go, 'Oh, that's not necessarily the direction I want to go in.' Try it. If it works for you, you'll know. And if it doesn't? You'll definitely know," she explains.
"If it makes you happy and you ain't hurting nobody, go for it. Because it's there for you."
Just a few years ago, Symone was only performing on the weekends. Now, drag is not only her full time job, but a career in which she's able to call all of the shots, fully expressing herself on her own terms. The future is limitless for Symone, and she's got her sights set on more unexpected opportunities, such as red carpet hosting gigs, exciting acting roles, and more collaborations that will allow her to tap into her creativity as she has with Trollify.
"Whatever you want to do, you can. Nothing is out of reach for you. Nothing is impossible for you, no matter where you come from, no matter your circumstances," Symone says. "If you want to do it, and it makes you happy and you ain't hurting nobody, go for it. Because it's there for you. You just gotta want it. You just gotta work for it. You just gotta be brave enough to allow yourself to have it."
Photographer: Bronson Farr
Wardrobe Stylist: Law Roach
Makeup Artist: Ernesto Casillas
Hair Stylist: Malcolm Marquez
Prop Stylist: Ali Gallagher
VP of Branded Content Design: Jill Sabato
Art Director: Angela Poccia
Production: Allie Kolb & Kat Fry
Branded Entertainment Editor: Hannah Chambers