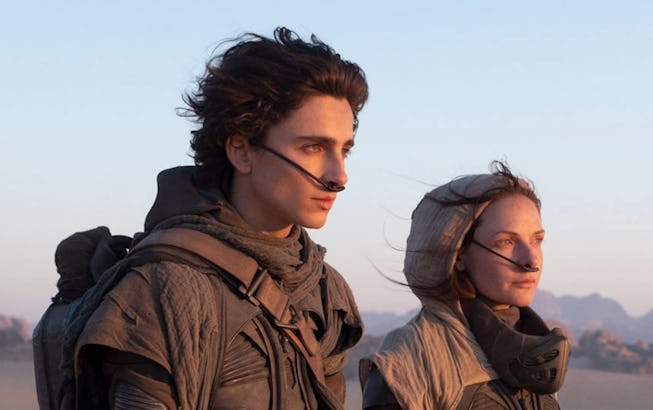 Warner Bros
'Dune' Starring Timothée Chalamet & Zendaya Got An Early Release Date
The reboot of the 1984 David Lynch film is out this month.
The Dune remake, the highly-anticipated sci-fi adventure movie and reboot of the 1984 David Lynch film of the same name, is coming soon. The film, directed by Dennis Villeneuve, hits HBO Max a day early, on October 21, and features a star studded cast with intergalactic drama.
With Timothée Chalamet and Zendaya leading the reboot, Dune is already getting early rave reviews from critics. Here's everything we know about Dune so far:
Timothée Chalamet and Zendaya will lead the Dune cast.
As mentioned, Chalamet and Zendaya were aptly chosen to lead this adaptation of the saga, based on a book of the same name (written by Frank Hubert). In 1984, David Lynch directed the first film, but this revamped, modernized, version is expected to take the story to new heights.
Dune will follow a similar plot structure as its film and novel predecessors.
According to the synopsis, Dune is set in the distant future and follows Paul Atreides (Chalamet) as he "leads nomadic tribes in a battle to control the desert planet Arrakis," also known as Dune. Zendaya's character, Chani, is from Arrakis and struggles with the colonization of her home.
Chalamet's character Paul is also heir to House Atreides and son of Duke Leto (Oscar Isaac) and Lady Jessica (Rebecca Ferguson).
Director Villeneuve has mixed feelings about David Lynch's original Dune film.
While celebrated director Lynch's 1984 version of Dune, which starred Kyle MacLachlan in the lead role, has something of a cult status, Lynch himself has disowned the critically panned film as a failure. Back in August, Villeneuve praised Lynch, saying, "I'm a big David Lynch fan, he's the master." But of Lynch's Dune adaptation, Villeneuve added, "When I saw (Lynch's) Dune I remember being excited. But his take… There are parts that I love and other elements that I am less comfortable with. So it's like, I remember being half-satisfied."
"There's still a movie that needs to be made about that book, just a different sensibility," Villeneuve said at the time.
The Dune release date has changed several times, but will now be October 21-22.
Dune was originally expected to be released in November of 2020, but it was delayed due to the pandemic. Now, the film will be released on HBO Max at 6:00pm EDT on Thursday, October 21, and in theaters on Friday, October 22. Some predict this will hurt the film's box office success, but fans are happy to get to stream Dune even sooner than expected.
Two full Dune trailers are here.
The first trailer for the film opens from Zendaya's character's point of view. "The outsiders ravage our lands in front of our eyes. Their cruelty to my people is all I've ever known," she says. What follows appears to be an epic battle of class and ethics, as Atreides struggles to fulfill his duty as a leader.
The second trailer appears to hint at an already highly-anticipated sequel.
Watch them both below: