Eartheater Is In Full Control
The NYC art renegade and high-fashion darling is now the mentor behind Lola Leon's burgeoning music career.
Photographs by James Emmerman
Styled by Stephanie Sanchez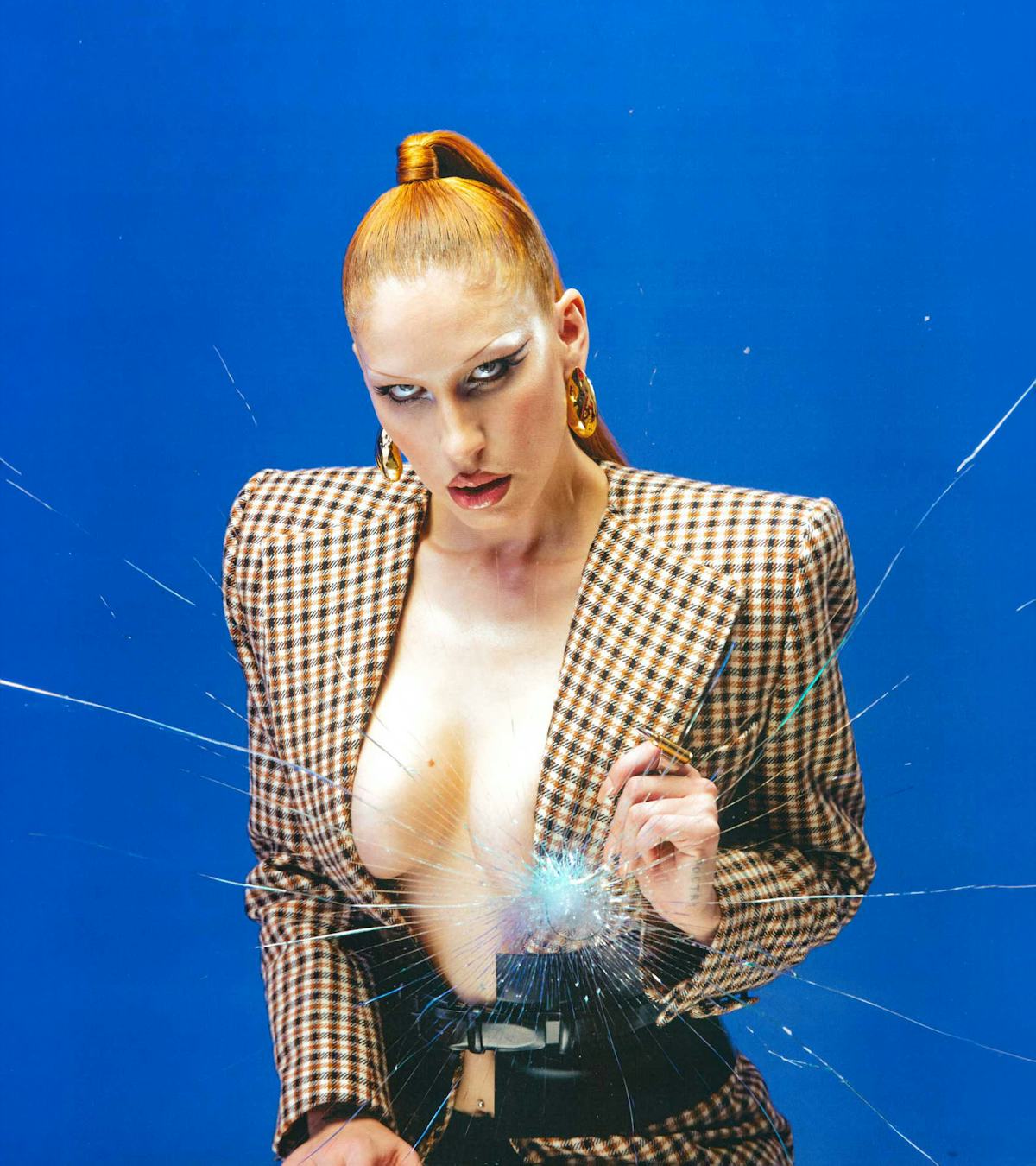 Fifteen minutes late to our appointment at Perfect Nail and Spa salon in Ridgewood, Queens, Eartheater sweeps through the doors and immediately alerts me of a crisis. The song she just released today, "Chop Suey," her cover of the System of a Down classic, is possibly being held up by clearance issues. "I sent it months ago when they could have flagged it and they could have figured this out," she says, sounding more peeved than she looks. "But the album comes out in less than a week and we have to clear it before I put it out." She sighs. "It just sucked the wind out of my sails."
Anyway, there's no point worrying about it now. She's invited me to get our nails done.
As we walk up to reception we're notified that two nail technicians are not actually available right now, so Eartheater will be getting a manicure alone. She shoots me an apologetic look and says she thought her publicist had specified we'd be doing our nails together on the reservation. I settle into the seat next to her.
The interior of Perfect Nail and Spa is a pleasing but bland gray. Sitting in the middle of it, Eartheater attracts your eyes like a flame. (The technicians even comment on this in Mandarin.) Today, her mid-back-length, perfectly-auburn hair is pulled back under a black cap that reads "SEKS," and she's dressed in a body-hugging orange marbled mesh dress and stomping black heeled boots. She has little makeup on which, for her, also means no eyebrows. "I've been trying to do cunty librarian in the day and then grunge Jessica Rabbit at night," she says. It's the middle of New York Fashion Week so her outfit makes sense for Tuesday at 1 p.m. But you'd imagine she'd dress like this even if it wasn't.
NYFW has become one of the busiest weeks for Eartheater, who has long held a career on the fringes of NYC as one of its most eccentric and experimental artists, songwriters, and performers. Lately she's emerged as somewhat of a high-fashion darling, too. In 2022 and earlier this April, she serenaded and writhed on the runways at Acne and Mugler; Chanel opened its Spring 2024 show with her song "Pure Smile Snake Venom"; and, of course, she's a staple at all of the afterparties, photographed often with her BFF Lola Leon, Madonna's daughter.
"It gets overwhelming. I didn't sleep at all," she tells me of her previous night attending shows by Anna Bolina and Dion Lee. "It's all a blur, to be honest. I'm just like, what can I wear on tour?"
In the midst of all this, Eartheater is putting out her fifth studio album, Powders, the one "Chop Suey" is on and that was released on Sept. 20 via her own record label, Chemical X. Since she founded it in 2019, it's served as an incubator for what the cool kids of the art and music scenes are doing right now. It's also become the home for Leon's musical career, an unexpected twist for those who were expecting a major label debut.
Eartheater's name has been circulating around the city's art scene since as early as 2016, when she was regarded more simply as a cutting-edge renegade putting on intensely physical but beautiful contortionist performances at studios and museum spaces. Her music, encompassing the two LPs Metalepsis (2015) and RIP Chrysalis (2015) at that time, were vivid ambient-pop experiments, cold and crystalline one second and harsh and jarring the next. And it was her music, Eartheater says, that eventually caught the attention of Puppets and Puppets designer Carly Mark's ear. "It's the music that made it all happen, really," she says.
Eartheater walked her first runway for Puppets and Puppets' debut show in 2019. The connection then dovetailed into meeting Hood By Air fashion designer Shayne Oliver, and stylist Haley Wollens, who's dressed the likes of Miley Cyrus and Drake. "And then [Wollens] swooped me into Mugler," she says.
Rick Owens clothing and gloves, Brandon Blackwood shoes, ChrisHabana necklace
Eartheater feels it was largely out of her control. "I feel like I definitely got plucked," she says, but concedes she's also just… cool. "I feel like that scene has so many thirsty, vampiric people coming up and trying to be part of it, so they're also looking for someone that's the most naive and aloof and far away to bring in," she says, shrugging. "It's better energy."
Aloof could be one way to describe Eartheater as a person, but she's definitely far from naive. Her passion and dedication to her craft is compelling enough to make her a fashion muse on the level of FKA twigs, but she also exhibits a creative shrewdness that makes you think she's in full control of the career she's building.
During the appointment, I see a perfectionist, order-oriented side of her come out as she shows the technician pictures of dice on her phone for the design of her nails. "Like this, but can we try to make the circle perfect? See how the sizes change here?" she points out. "I want to try to make the circle perfect. Each one."
It's that part of her brain that helps govern the careers of Lola Leon, Houston rapper Ish Couture, and other signees under her Chemical X label. Less like a boss, Eartheater sees herself more as their mentor and protector. "Lola is fighting the limelight. She was born in the limelight. She wants to be in the shadow, so I shade her," she says, describing their working dynamic, her voice softening. "And then Ish was born in the shadow and all he wants is the lime. So I'm just try[ing] to turn that light on him whenever I can."
Over the phone a few weeks later, Couture describes Eartheater as an encouraging figure who gives him the space to be who he is. "There would be performances, and I thought I f*cked up the whole vibe, but she [would be] like, 'Yo, that was sick. That was you at this time,'" he remembers. "Keep going.'"
But it's her relationship with Leon that's captured the intrigue of those watching from the outside, perhaps wondering who it is finally coaxing the music out of Leon. They met years ago at a mutual friend's variety show when Leon was still working largely as a dancer and choreographer. Per Eartheater, it was Leon who came to her first with a demo "that I thought was beautiful," she says. "I could feel the soul."
Despite any nepotism comments, every part of Leon's musical career is a feat of independent label scrappiness, she says, including the $5,000 budget for the "Lock&Key" music video.
Does she feel protective over Leon? "Absolutely," she says, calling her "so misunderstood" and "prolific" as a budding musician. "She's been sending me a song every week," she adds. "But that's my sis. She will stand up for me. She's so true to herself. I just call her a book. I'm like, 'You're a book ass b*tch.' Every day is a crazy page with her because since the moment she was conceived, she's had culture compounded into her."
Weeks later at the photo shoot for this story, Eartheater, mid-jewelry change, will suddenly realize it's Lola's birthday and request loudly to her young and attentive manager that she needs to text Leon, post on Instagram, and that "we need to send them flowers in London," she'll say. "Black calla lilies."
Back in February, Leon and Eartheater walked the Grammys red carpet together. It was Eartheater's first time at the huge institutional event and she found the experience to be hilarious. "It is just funny to see the cardboard," she says. The experience did put it all into perspective for her, though. Being there and seeing the cardboard made her realize that she could be there too, one day, among the suits. "The industry is force-feeding the world this reductive sh*t," she adds. "I think it is a dream of mine to infiltrate that. But with the nutrients."
That sonic supplement just might be Powders, her album of sirenic and sighing esoterically-minded pop songs inspired by everything from Korean face masks and snakes and a horny Mona Lisa painting (and yes, the "Chop Suey" sample was eventually cleared). It's an album that pushes her bodily craft to its most extreme and refined degree; in the music video for "Crushing," she uses her voice to literally shatter a wine glass (the proof is on Instagram). Maybe that's her nutrient: the realness of her craft. It's a realness that's slowly being depleted in our world of AI and tech.
After the appointment, her nails resembling the faces of a black dice, we head a few blocks away to her favorite juice bar where she orders a "Vitamin C," extra lemon and ginger. It's sunny and her sunglasses have come out. She contemplates that part of her a little bit more.
"Performing to me is not acting, it's not lying, it's not pretending. It's siphoning, discovering, alchemizing, what is there to make sure it's beautiful and that's exhausting. And also sometimes it's just impossible," she says. "I am allergic to feeling like I have to fake something."
Top Image Credits: Area coat, Alexis Bittar earrings, Austin James Smith ring, Max Mara belt
Photographs by James Emmerman
Styling by Stephanie Sanchez
Hair: Luisa Popovic
Makeup: Mark de los Reyes
Video: James Emmerman
Associate Creative Director, Video: Samuel Schultz
Photo Director: Alex Pollack
Editor in Chief: Lauren McCarthy
SVP Fashion: Tiffany Reid
SVP Creative: Karen Hibbert