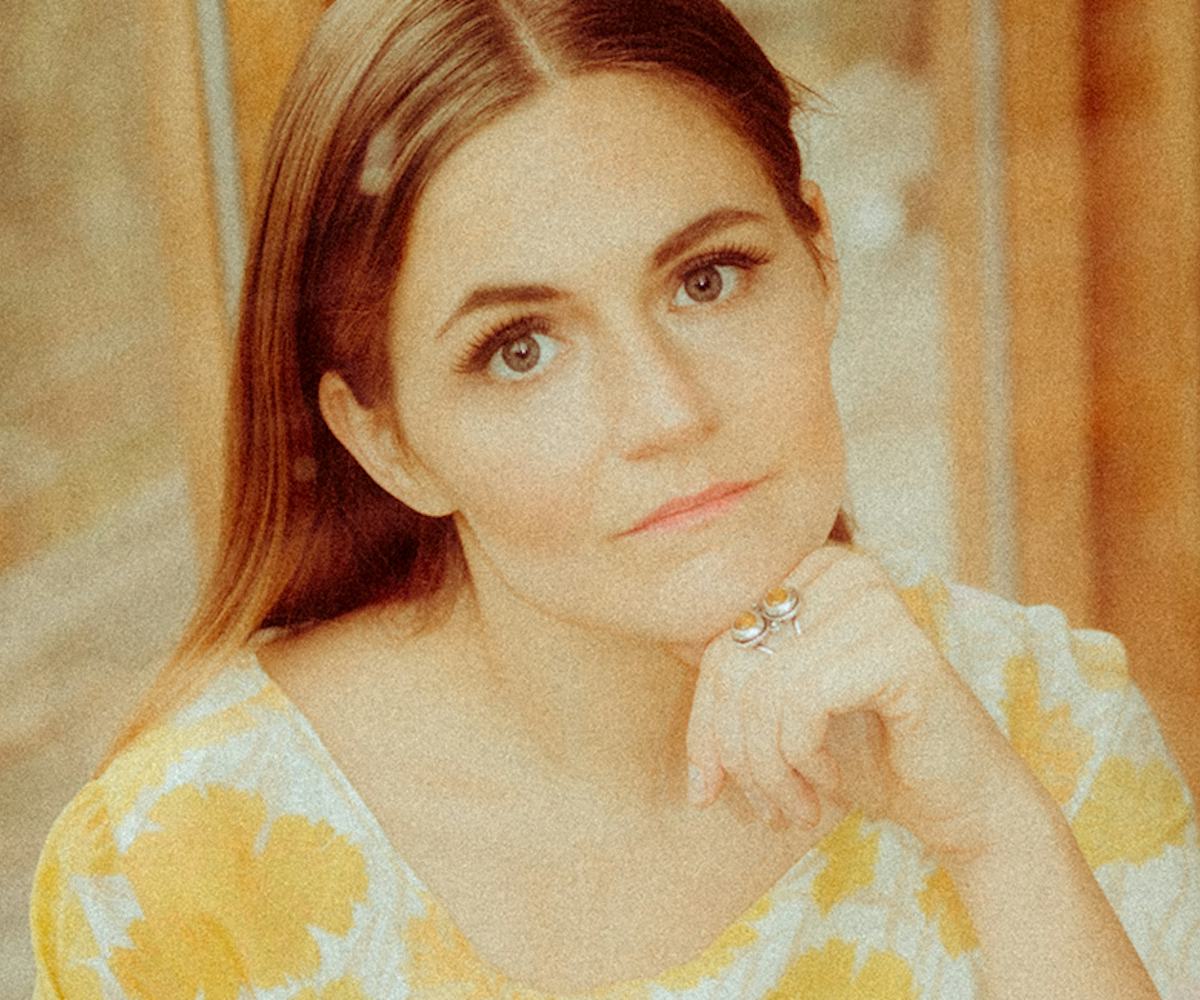 Photo by Marcus Maddox
Erin Rae Is Part Of A New Wave Of Feminist Country Musicians
"Drop the 'female' songwriter descriptor. Just say 'songwriter.'"
When Erin Rae was 18, she was given a guitar for her high school graduation. Imagine an alternate timeline in which she gets a duffle bag, or a laptop, or a mini fridge. Now be thankful you don't live in those timelines, and instead live in the one where she is readying to put out her second album, Putting on Airs.
"I started messing around with songwriting at my first semester in college, then I quit going to school," Rae tells me down the line from Chicago, where she was finishing up a run of three nights opening for The Mountain Goats. "I dropped out and started learning guitar and taking voice lessons. Every week, I'd write a song and go play it at open mics around Nashville."
Nashville breathes out country music. Johnny Cash gets played out of speakers tucked into the street lamps. The city's most hallowed venue, The Ryman Auditorium, began its life as the Union Gospel Tabernacle. The genre's relationship with the city is more akin to religion than music. However, musically, there's more to the city than the slick, varnished pop-country coming out of Music Row, and Rae is one of many from Nashville's edges whose classic songwriting, combined with a broader production palette, is helping her push toward the mainstream. "I don't think I'm a pop-country songwriter," she says, "I wanted to try it out a little while ago, but it wasn't my thing. You kind of realize there's room for a lot of different ways to be successful."
Where Rae's country influences most clearly lie, other than the Southern lilt present in her voice, is in the depth and narrative quality of her songwriting. On her track "Bad Mind," she addresses an experience in her own childhood when, in 1996, an Alabama court ruled her aunt to be an unfit mother solely because she was gay. This could be the roots of a country song by itself, but Rae weaves it with her own experience growing up in the South in the '90s and beginning to understand her own sexuality. "I don't wanna have a bad mind," she sings in the chorus, trying to reconcile her feelings with this family trauma. "For a lot of people growing up in the South, but also in general, there's still a lot of work to do as far as people getting to be who they are without a ton of judgment. There are certain crowds where sometimes I'll say more about clearly what it is, like, 'This is a song about growing up in the South and being afraid to be who you are.' Or sometimes I'll say, 'This song's about anxiety, ha ha ha.' I don't wanna force people to go on this emotional roller coaster with me if they don't want to."
It's a song that is staggering both in its detail and its directness. A narrative that so many will understand and connect with, but one that hasn't really been sung about all that much, particularly in country music. "I grew up in an environment where I was encouraged to process things emotionally, and not everyone has that experience," Rae explains. "The responsibility for me is on a personal level, for each person to connect to their own experience so we heal whatever gets in the way of us bringing good into the world, y'know?"
Throughout our conversation, Rae is keen to mention fellow songwriters in and around her scene whom she is able to count as collaborators and friends. "A few years ago, we started getting together and having these women's songwriter nights. So we'd have snacks—must have snacks!—swap songs, sing on each other's stuff. It'd be like 20 to 30 women who are all incredible. That's been super-special." In listing the names of the people involved in this scene—Lily Hiatt, Margo Price, Brittany Howard of Alabama Shakes, Liz Cooper, and Becca Mancari—it becomes clear just how fertile it is. "To see Margo Price on SNL a couple years ago, and seeing her do her three-night stands at The Ryman where she had a bunch of us girls up to sing with her. It's inspiring to see that it's possible for this to go well!"
There is a sense that this strength in numbers is partly a reaction to country's issues with misogyny, and harassment, too. "I got introduced at this festival by a radio DJ one time a couple summers ago," Rae says. "He was like, 'Up next, let's hope her voice is as pretty as she looks in that dress!' It's like, Jesus Christ. Thank you, sir!"
In addition to stories like this, earlier this year, Nashville-based Rolling Stone journalist Marissa Moss published an expose of the history of sexual harassment and misconduct in country music radio. If anything could be said to mark the beginning of country getting its house in order, that article is surely it, but plenty is still to be done for the industry at large to properly reflect the reality on the ground; Rae says, "Where I would like to see it go is: Book more women and drop the 'female' songwriter descriptor. Just say 'songwriter.' I was talking to somebody who runs a festival, and there's still this belief that female musicians won't make as much money for the venues. But I just don't think that's true."
It used to be that country music defined itself through the mantra of "three chords and the truth," but with this new wave breaking, it might be time to broaden that definition out. As well as channeling the influence of The Carter Family, Doc Watson, and Nashville's storied history, the genre now seems to be pushing on its edges, testing its limits, and going beyond them. It still sounds like country, but it's looking forward, not back. They say a rising tide raises all boats, and Erin Rae is sailing in a particularly strong fleet right now—you feel this is her time to crest.
Below, see the exclusive NYLON premiere of Erin's new video for her album track "June Bug." Directed by respected filmmaker Josh Shoemaker (Hurray for the Riff Raff, Shovels And Rope, Alabama Shakes) the film is the perfect visual for Erin's unique psychedelic folk rock/country sound.