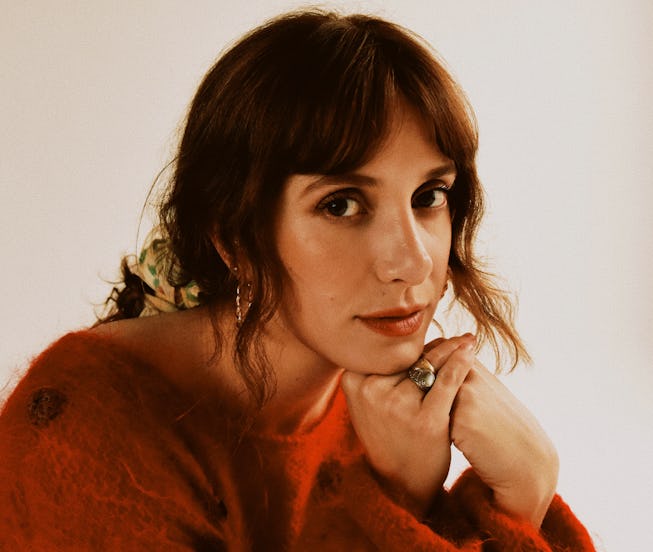 Shervin Lainez
Meet Evangeline, The Indie Musician About To Star Alongside Jenna Ortega
And hear her new song, "Mystic."
When Evangeline finished "What Are You Doing Later?" she knew she'd written a song that belonged in a movie. The L.A.-based singer-songwriter met a music supervisor at one of her shows years before, so she sent him an email.
"I was like, 'This needs to be in a movie. I don't know what to tell you,' as a joke, kind of," she tells NYLON. "And he was like, 'Actually, I'm working on a movie and I really like this song.'"
Fast forward to now, and not only is Evangeline's song featured in a film, but she also plays herself as an indie touring musician alongside none other than one of Hollywood's brightest ascending stars: Jenna Ortega. The upcoming film, Winter Spring Summer or Fall, also stars Percy Hynes White (Wednesday), Marisol Nichols (Riverdale), and Adam Rodriguez (Criminal Minds).
Films have always been big bolsters for new musicians (think: Rooney in The OC; Letters to Cleo in 10 Things I Hate About You) and, for Evangeline, the film is just the beginning. The singer will release her debut EP, Fuzzy on May 19, which she's been working on for three years.
Our first look? "Mystic," a breezy indie pop song that's premiering exclusively on NYLON below and rooted in the zeitgeist of our current moment surrounding love and how to get it — or, at least, how to outsource understanding in the absence of our own whether it's through tarot, astrology, or connecting with something bigger than yourself.
"I was just thinking about how grief or heartbreak are avenues for spirituality," she says of writing the track. "When you're going through those things because you don't have answers and you need to find answers."
NYLON spoke with Evangeline ahead of the release of her music video about her role in Winter Spring Summer or Fall, what it was like to work with Jenna Ortega, and how it feels to play another version of herself.
I've been rocking out to "Mystic." What inspired that song? It feels very current, especially in terms of our obsessions around astrology and tarot and CoStar and all the things that we try to use to help us understand ourselves and other people.
One of my favorite things is really trying to challenge myself to write about a feeling, but then also include the perspective on it within the song. I like having a sense of humor about stuff. The main thing of this song is that it's really laughing at yourself in a moment of feeling absolutely absurd about a feeling and just totally haunted by somebody and reaching the point where you're like, "Why?" It's about that point of missing someone where you've officially exhausted talking to anybody about it, and you're like, "I just wish that I could be over this. It's not fun anymore. It's not a cool part of my personality anymore."
What can we expect from the EP?
What's nice is that I started writing this project in 2020 and then recorded it in 2021 and 2022. When I set out to make it, I didn't really have any intention of even putting it out. That's why it took so long. It felt like just an exercise and making stuff me and my producer Dillon Casey wanted to hear. A bit afterwards it was like, oh, I want to put this out, and actually, this sounds more like me than anything ever. I think the rest of the EP is all in the same world and personality of "Mystic." The word "fuzzy" embodies all of it. I wanted it to sound really kind of carefree and fun and warm and soft like that word is.
How did your role in Winter, Spring, Summer or Fall come about?
Three years ago, I was playing every venue in L.A., all the time. At one of my shows, I met this music supervisor who had come, and then for the next few years, he was just so kind to me all the time and would kind of keep up. I never had the confidence to make any sort of connection beyond the fact that he was nice.
He ended up showing it to the director and she was like, "Oh, this is the song for the movie.? And then I met with her just to have that song in the movie, and she was like, "Actually, do you want to be the [musician] in the movie?" And I was like, "Yeah." She was like, "You act?" And I was like, "Yes. All the time. Act, me? All the time." I've never acted, but I was just like, "For sure." Totally lying on the resume kind of vibe, and then a month later, we filmed it.
It was so fun. And what's cool is we filmed it before Wednesday came out, and so the vibe when I signed on was indie film. It's a Paramount film, but the energy was indie film, summer camp, let's all hang out, and then within a month it was a different vibe.
What was it like to play a touring indie musician?
The funniest part about is that I'm playing myself, but the venues that I'm playing in this film are so much bigger than the ones I play. I was like, I am so much tighter in this film.
No one knew that I hadn't acted before, and I think that that gave me a weird sense of confidence. I didn't feel like everyone was looking at me as the new person. I just felt like myself. When I read the script, it all felt like things I could say. It was really fun. Every day I would be there and just be like, are you guys kidding? This is so much easier than touring.
What was it like working with Jenna Ortega?
She was so smart and kind and easy-going that I just didn't understand at the time her scope. She's just so cool. She's the same in every room. It was just super easy to be around her, and she's just super smart and funny and super dry.