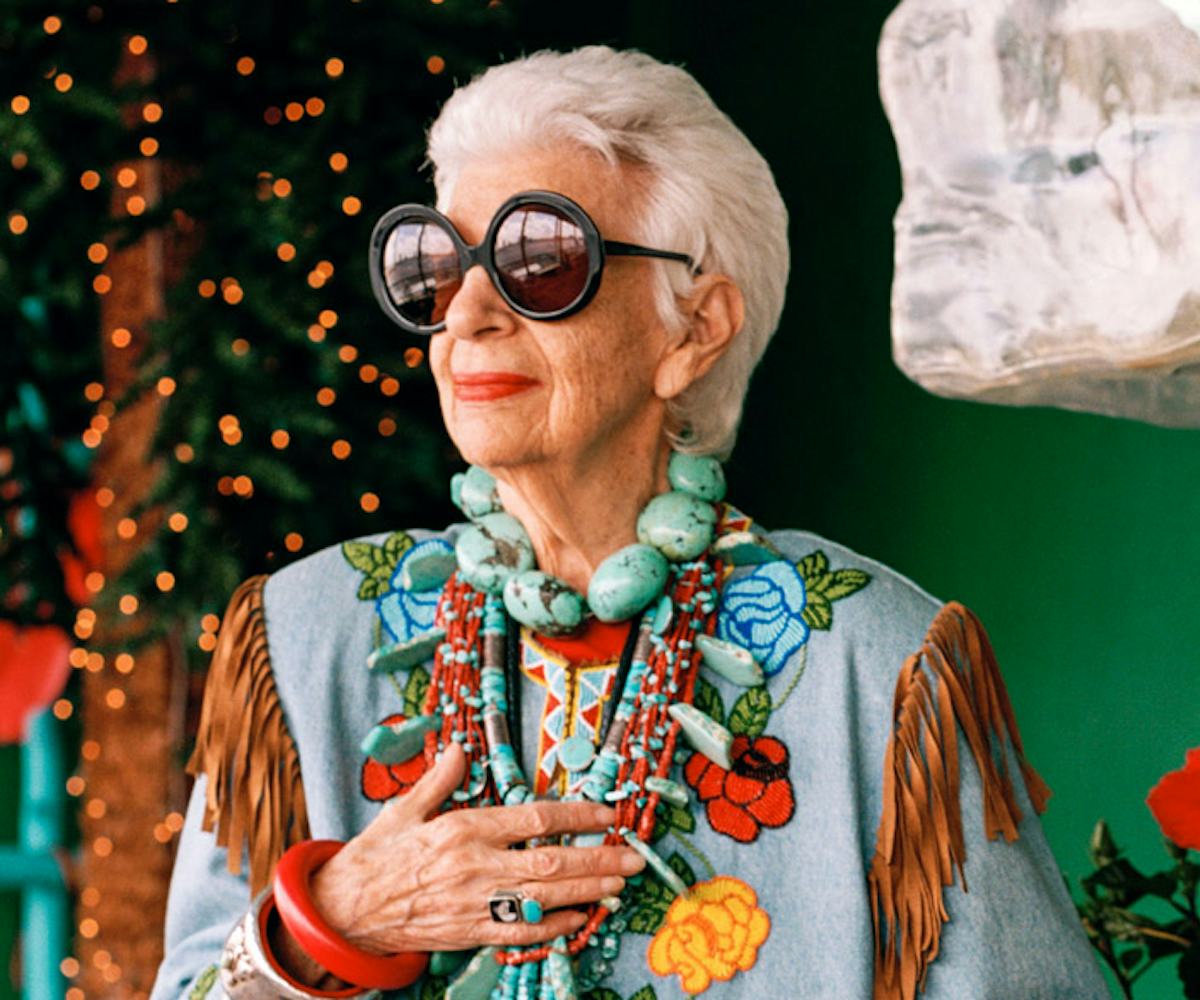 Photo Courtesy Of Netflix.
The 10 Best Fashion Films To Watch On Netflix Right Now
Queue them up before Fashion Month starts
New York Fashion Week is two days away. For those in the industry, the madness likely already started, with Men's Fashion Week just having wrapped up last week. But for those not yet running around wearing four-inch heels in 30-degree weather with no tights, you have time to prepare yourself both physically and mentally by way of some fashionable films.
Unsurprisingly, a good number can be found on Netflix. Some might help inspire your wardrobe, others your career. All are worth carving out some time for in the following days. At the very least, they'll give you things to discuss with your fashionable peers while you stand in line, after line, after line. Get your small talk talking points ready!
Iris
What would fashion be without Iris Apfel? A lot less colorful, that's what. This documentary follows the 93-year-old legend while she shops, shows off her incredible collection of accessories and clothes, and discusses the quirks of life.
The First Monday in May
The title of this documentary refers to the biggest fashion spectacle of the year, the Met Gala. The film goes behind the scenes of 2014's magical China-themed event and brings us beyond the red carpet and inside the glitzy black tie extravaganza.
Yves Saint Laurent
This fictionalized account of the life of legendary designer came out at the same times as another (non-Netflix available) biography of Saint Laurent (called, appropriately, Saint Laurent), but it's this version that was officially authorized by Saint Laurent's partner, Pierre Berge, which gives it clout, yes, and also tons of original clothes from the Saint Laurent archive. So, basically, it's fashion eye candy.
Dior and I
A fascinating look at the work that goes on behind the curtains of fashion shows, Dior and I features the then-designer at Dior, Raf Simons (he's since gone on to head Calvin Klein), as he navigates his first couture collection for the storied fashion house.
The True Cost
This isn't a feel-good film by any means, but it's the most important on this list. Exposing the impact fast fashion can have on the people who make the clothes and planet, The True Cost reminds viewers that their affordable clothing actually comes at a steep price.  
Fresh Dressed
Hip-hop clothing has been copied and recycled time and time again. Fresh Dressed explores the origins of the black-led style and outlines its evolution into mainstream territory.
Inside British Vogue
British Vogue editor-in-chief Alexandra Shulman recently left her post at the magazine after 25 years and, when you watch the documentary, you'll see why that's such a blow for the publication (but good for Shulman, who expressed a need to "experience a different life"). Think September Issue but British.
Jeremy Scott: The People's Designer
Jeremy Scott is king of pop culture fashion fusion. Those McDonald's phone cases everyone was carrying around a couple of years ago? That was him. And last season he pulled inspiration for his Spring/Summer 2017 from Valley of the Dolls. His self-titled documentary chronicles the fashion designers rise from Missouri to Moschino. Also, prepare for a litany of guest appearances from Rihanna, Miley Cyrus, and Lady Gaga who are all fans of the designer.
Everybody Street
There's no better way to make sure you're the subject of every street style photographer you pass this season than by learning about the OG street photo takers.
The Crown
Yes, yes, this isn't technically a fashion film per se (it's a TV series based around the British monarchy!), but the extravagant clothing featured makes it a qualifier in our book.