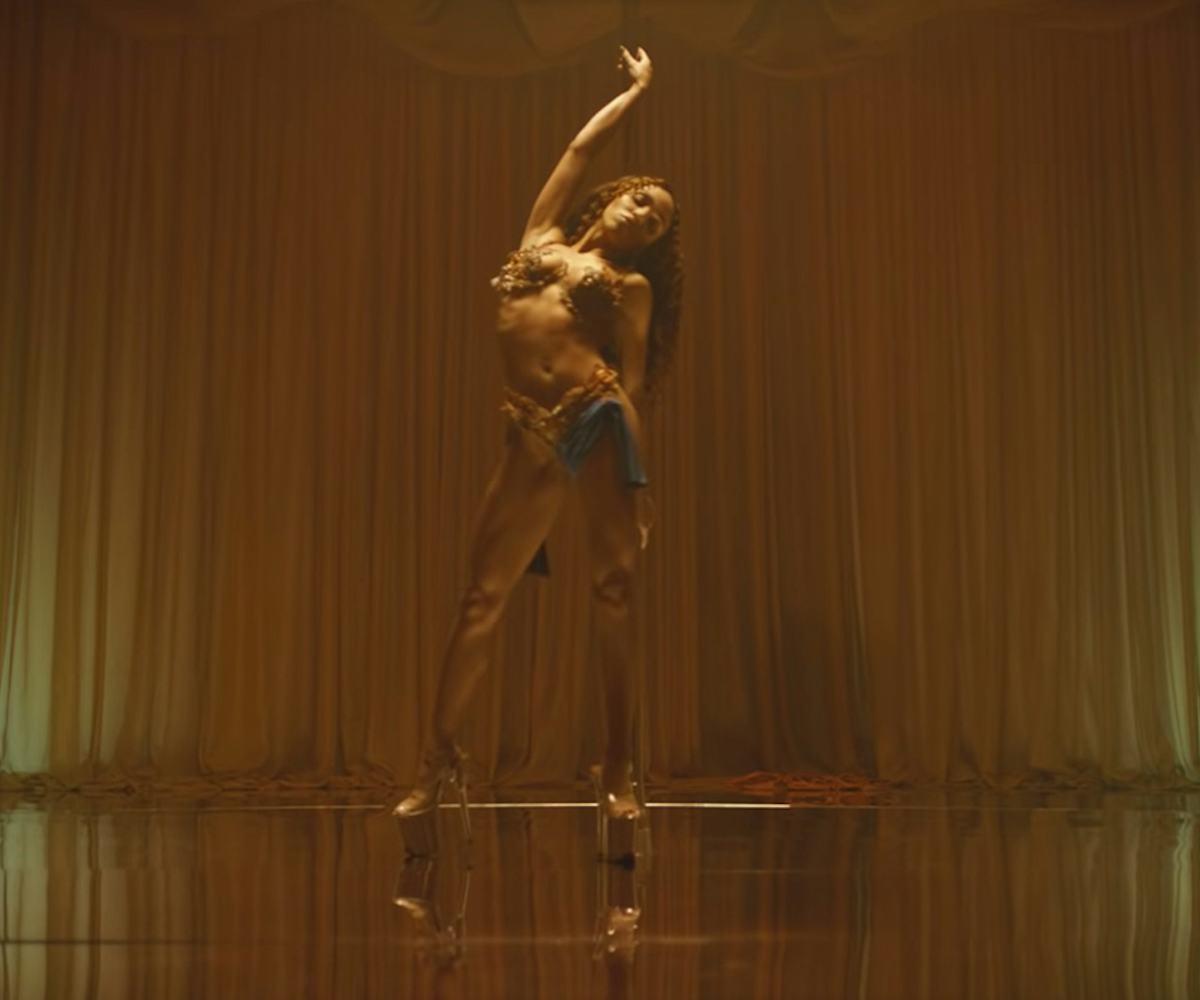 Screenshot via Youtube
FKA Twigs' Pole Instructor Explains Why The Singer Is "A Pole Dance Prodigy"
Kelly Yvonne takes us behind the scenes of "Cellophane" and explains why pole dancing is an art form
The video for FKA Twigs' "Cellophane" opens with the singer dancing on a pole. Well, the word "dancing" doesn't do the act justice. Twigs glides, seemingly floating, up and down and down and up the shiny column. Contorting her body in different positions as she twirls—slicing the air with her sky-high heels—she somehow manages to hold herself up, defying gravity. Twigs makes it look easy, but as the behind-the-scenes short film Practice shows, it's anything but.
"The concept for 'Cellophane' came while I was writing it, more than a year before we shot the video," Twigs explains. "So I had to go learn pole dancing, which is one of the hardest things I've ever done. I wanted to show that process—the practice, the training, the moments when it isn't quite working. The journey." She practiced pole dancing for at least two hours a day while doing cardio and cross-training in between. The seven-minute-long video shows her moments of success, but also her times of frustration. In between it all, you'll find her teacher and "Cellophane" choreographer, Kelly Yvonne, acting as her encouraging guide.
Yvonne started pole training in 2009, "after a bitter breakup," she tells us. She was a professional dancer for a while, but after sustaining a foot injury which forced her into "early retirement," she landed on pole dancing "because it was primarily aerial." Today, she's the studio director for The Choreography House in L.A. and has worked with everyone from Mya to Serena Williams. She was connected with Twigs through a contact and began training her in 2016, an experience that she refers to as "an explosion of creativity and productivity."
Ahead, we chat with Yvonne about training Twigs, pole dancing misconceptions, and why she sees the sport as a means of empowerment.
How long have you been working with and training Twigs on pole dancing?
I've been working with her off and on since December 2016, but the total cumulative training time has only been the equivalent of one year. Most dancers would train for five-plus years to be able to do what she's performing. It's incredible what she has accomplished in such a short amount of time. She's definitely a pole dance prodigy.
What was her initial reasoning for wanting to start learning how to pole dance?
Twigs initially wanted to learn to pole dance for an ad campaign she was directing. Once immersed in the discipline, however, she began envisioning a variety of ways to integrate pole into her visual narrative. "Cellophane" was one manifestation of that.
How did you approach coming up with the choreography for "Cellophane"?
Twigs described her vision, and we began playing with pole dance movements that would convey both the concept of the song and the video. I then created choreography "stems"—or, little segments of pole tricks—that she would rehearse to different parts of the song. Together, we flushed out the articulation of the movement on the pole, delicately straddling the line between sensuality and vulnerability. Director Andrew Thomas Huang would join us at the studio to observe rehearsal and provide feedback from his perspective. In the end, the sequences were combined to create the full routine.
In the Practice clips, you see the work and training that Twigs endures to get ready for the video. Was it as intense as it looked?
Absolutely! Pole dance is a unique performance art that requires the focus, discipline, and resilience of any athletic sport. Training can be painful and requires a tremendous amount of strength to execute the movement properly. The body adjusts over time, but it takes time and repetition. Ultimately, the sensation of "floating" through the air is a very worthwhile trade-off, and Twigs fully committed to all aspects of the experience.
What are some things required of you for pole dancing, aside from exceptional upper body strength?
The main thing required is core strength. Most people think it's arms or upper body—which it is, also!—but the origin of most pole movement is the abdomen. Another thing required for pole is bare, oil-free skin. Dancers have to avoid wearing lotions and body creams on "pole days" otherwise it will be a slippery and frustrating experience!
This is purely my own curiosity, but what are the benefits of wearing high heels?
Great question! The benefits of wearing stilettos are akin to dressing up in any garment that makes you feel incredibly sexy. The stiletto is designed to exaggerate the length of the leg for both the dancer and the viewer, so you feel a million miles long in them. Pole dancers use their bodies, including both feet, to express their unique version of sexy so, for some, the taller and more dramatic the stiletto, the better!
What are some things you think people misinterpret or don't understand about pole dancing?
People see it in the same way most overly-sexualized things are. Yes, there are undeniably sexy aspects, but there are also a variety of ways to move on a pole. It can actually be interpreted through the lens of any form of dance, including contemporary and hip-hop. It can make you cry, laugh, or reflect. "Cellophane" fully embraces the potential for pole dance and provides the first platform to begin a new conversation about the art form.
Do you think the skill that it takes to pole dance is underestimated?
Absolutely! I often tell people that I do sit-ups for a living because of the amount of core strength required to execute pole tricks and transitions. Dancers have constant bruising and develop blisters from the repetition of training. We use products like arnica for muscle pain and Nu-Skin for broken callouses. We employ nutritionists, massage therapists, sport medicine professionals, acupuncturists, and chiropractors for pre- and post-training rehabilitation. Like any sport or performance art form, pole dance is only mastered through careful discipline over time.
Do you see it as a means of empowerment?
Yes! Because it is an activity that requires the encouragement of the mind, body, and spirit. As a result, pole dancers begin to experience the world differently as their bodies transform. Specifically for women, it begins first with the body and then radiates out to other aspects of life.
When I "came out" as a college-educated, professional pole dancer that did not strip, it was not received well by my relatives and friends. For me, it took great courage to create my own professional path, trusting that I would find my alignment. Pole dance training taught me how to navigate discomfort and confront fear in a way that no other sport or art form—dance or otherwise—could. It began first with conquering "new heights" in the studio, and then it began to spill over into my personal relationships, spiritual practices, and career choices. When I started, I expected the physical rigor of pole dance, but I didn't anticipate the incredible growth spiritually, mentally, and emotionally.
What about teaching pole dancing brings you joy?
Watching pole dancers build their confidence in class brings me joy. As an active teacher, I am also a casual observer, often just giving them permission to be amazing. Class provides a platform for many small victories as a new trick is mastered or even attempted. As these victories accumulate, dancers develop a tremendous sense of pride, some for the first time in their adult lives. It's an incredible journey to observe and one of the highlights of my profession.