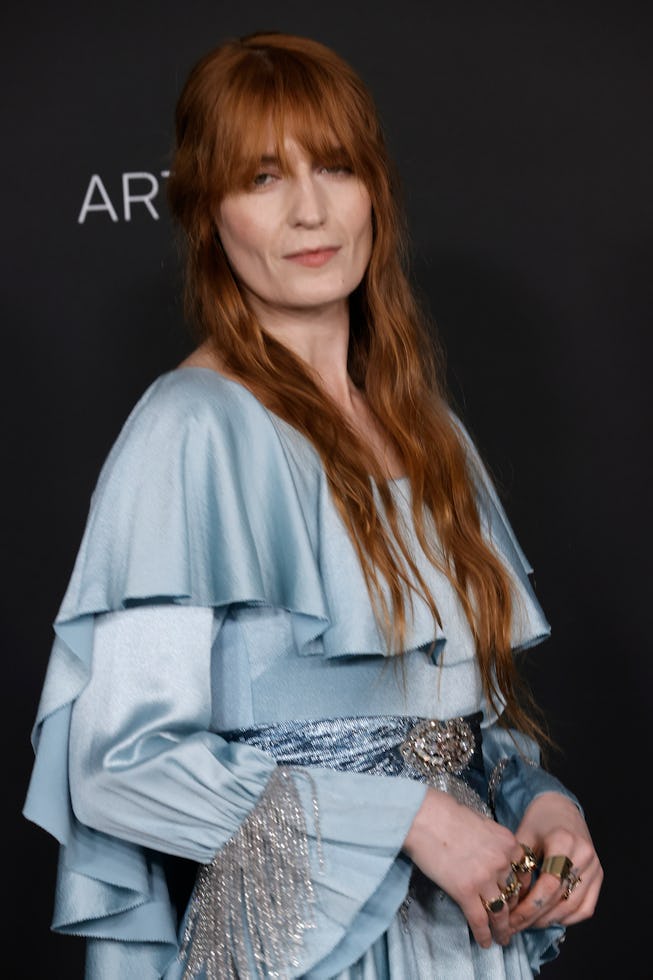 Frazer Harrison/Getty Images Entertainment/Getty Images
Florence + The Machine Confirm New Album, 'Dance Fever'
The band also released a new single and video, "My Love."
Florence + The Machine is officially back. After a four-year absence, the beloved indie band helmed by former NYLON cover star Florence Welch has made its return, with new billboards and fan merch teasing the group's long-awaited and anticipated fifth studio album (title below) and three new songs.
The surprise rollout began on Monday, Feb. 21, when sharp-eyed fans spied new billboards of Florence Welch dressed in medieval garb dotted across London. Simultaneously, fans on Twitter began posting photos of surprise gifts they'd received from the band via mail, including what looks to be medieval trading cards featuring the same billboard photo of Welch, as well as the word "King" printed on the bottom. On the corresponding pink envelope, the phrase, "Chapter 1," was also printed.
The band's website also got a noticeable makeover with a new medieval-themed design and a teaser stating, simply, that "Something's coming." Alongside the option for fans to sign up for new updates, the website also shows 15 additional playing cards with only one of them flipped around, the "King."
The band will also make its live show return in summer 2022 with a slate of already confirmed European festival headlining appearances, including at Norway's Øya, Finland's Flow and Madrid's Mad Cool.
Florence + The Machine released their last album, High As Hope, in 2018. Since, the front-woman has released a few standalone singles, including 2020's "Light of Love" and "Call Me Cruella" from Disney's 2021 live-action Cruella movie. In 2021, Welch also revealed that she would be writing the music and lyrics to a Great Gatsby musical adaptation.
"This book has haunted me for a large part of my life. It contains some of my favorite lines in literature. Musicals were my first love, and I feel a deep connection to Fitzgerald's broken romanticism. It is an honor to have been offered the chance to recreate this book in song," she said in a statement.
But, before then, it looks like we'll be getting the next Florence + The Machine album. Below, here's everything we know about the band's new era.
The album will be called Dance Fever
While fans first theorized that the album would be called Chapter 1, on Thursday, March 10th Florence confirmed it will be titled Dance Fever.
According to a release, "Dance Fever was recorded in London over the course of the pandemic in anticipation of the world's reopening. It conjures up what Florence missed most in the midst of lockdown—clubs, dancing at festivals, being in the whirl of movement and togetherness—and the hope of reunions to come. Just before the pandemic Florence had become fascinated by choreomania, a Renaissance phenomenon in which groups of people—sometimes thousands—danced wildly to the point of exhaustion, collapse and death. The imagery resonated with Florence, who had been touring nonstop for more than a decade, and in lockdown felt oddly prescient."
The release notes that the album contains nods to "dance, folk, '70s Iggy Pop, longing-for-the-road folk tracks a la Lucinda Williams or Emmylou Harris and more, ultimately arriving somewhere that Florence describes as 'Nick Cave at the club.'" Lyrically, the album draws on inspiration from "the tragic heroines of pre-Raphaelite art, the gothic fiction of Carmen Maria Machado and Julia Armfield, the visceral wave of folk horror film from The Wicker Man and The Witch to Midsommar."
Ultimately, "Dance Fever is an album that sees Florence at the peak of her powers, coming into a fully realized self-knowledge, poking sly fun at her own self-created persona, playing with ideas of identity, masculinity and femininity, redemption and celebration."
Lead singles "King," "Heaven Is Here" and "My Love" are out now
"King" is a grand ushering into the band's bright new era. Opening on a pounding, drumming beat, the song begins subtly, with Welch's musical voice reflecting on the price of her art: "We argue in the kitchen about whether to have children/ About the world ending and the scale of my ambition/ And how much is art really worth." Later, in the second half, the song suddenly bursts open like a dam as Welch's howl rushes through the crashing drums and guitar, a magnificent cascade. "I am no mother, I am no bride, I am king," she sings.
It's certainly a song fit to kick off a brand new chapter and its Autumn de Wilde-directed music video helps elevate it even more with stark fantastical scenes of feverish dancers, square-looking men, and Welch herself levitating above it all in a maroon cloak like a goddess of death (she does twist a man's neck about 90 seconds in.)
About the song itself, Welch said in a press statement: "As an artist, I never actually thought about my gender that much. I just got on with it. I was as good as the men and I just went out there and matched them every time. But now, thinking about being a woman in my 30s and the future, I suddenly feel this tearing of my identity and my desires. That to be a performer, but also to want a family might not be as simple for me as it is for my male counterparts. I had modeled myself almost exclusively on male performers, and for the first time I felt a wall come down between me and my idols as I have to make decisions they did not."
Joyous second single "Heaven Is Here" was also accompanied by de Wilde-directed, Ryan Heffington-choreographed video, below:
And on March 10th, the soaring dance track "My Love" rounded out the trio with a third de Wilde video:
The album will have 14 songs
Dance Fever will have 14 songs, and will be split into three parts. Tracks 1-4 make up part I, 5-9 part II, and 10-14 part III. See the breakdown below.
Dance Fever tracklist
King
Free
Choreomania
Back In Town
Girls Against God
Dream Girl Evil
Prayer Factory
Cassandra
Heaven Is Here
Daffodil
My Love
Restraint
The Bomb
Morning Elvis
Dance Fever has an early May release date
The album will be released May 13, 2022, just in time for dancing through the summer.
Jack Antonoff has a presence on Dance Fever
Super producer Jack Antonoff, who has worked with everyone from Taylor Swift to Lana Del Rey to (famously) Lorde, is one of the producers on Dance Fever (in addition to Dave Bayley of Glass Animals and also Florence herself). Antonoff also co-wrote first single "King" with Florence, and tweeted about the experience upon its release, writing, "there is nothing i loved more than making this with florence."
This article was originally published on