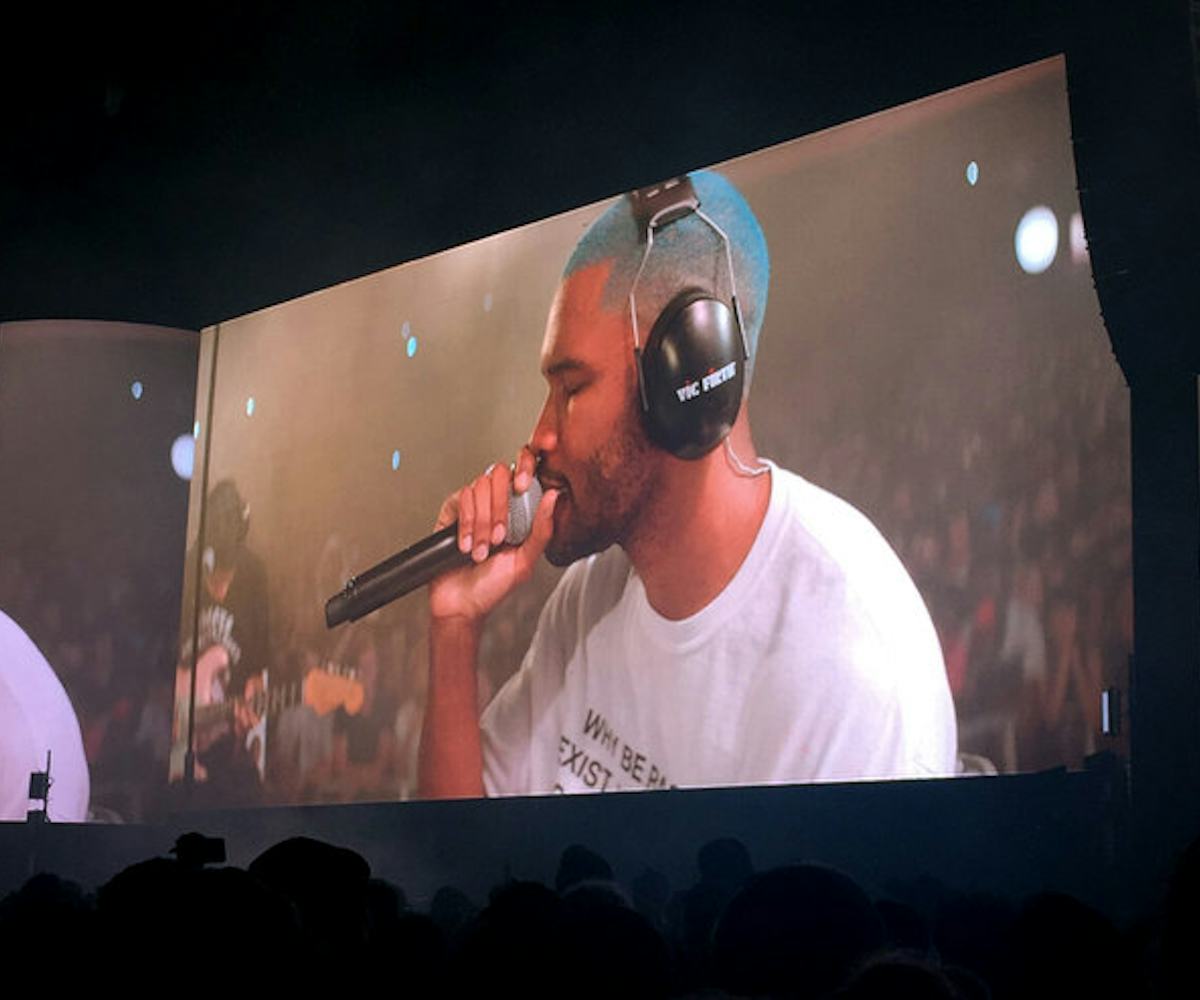 Photo by Keryce Chelsi Henry
How Frank Ocean Made Me Love Festivals Again
His Panorama performance was truly magical
Surrounded by near-darkness, save for the few specs of light reflecting from the disco ball atop a pole on the stage, we wait silently—eerily so, considering that I'm not at a '70s-themed seance but rather at the first night of New York City's Panorama Festival. But headliner Frank Ocean is about to the take a stage in the city for the first time in three years (and potentially last time ever), and who but the reclusive genius of a singer-songwriter could bring hundreds of hyped-up festival-goers to a standstill?
Suddenly the intro of Ocean's "Pretty Sweet" off of his latest album Blonde—"To the edge I'll race/ To the end I'll make it/ All the risk I'll take it"—fills Randall's Island. The screens behind the stage flicker with alternating, almost spinning images. The disco ball turns. The lights reveal a walkway from the main stage to a circular stage further in the crowd, decorated with chairs and equipment. And there was Ocean, headphones on ears, chest covered with a snarky, socially aware T-shirt, blue Caesar-cut hair gleaming in the light. He placed a cassette tape into a player on the stage. "Nike" begins to play. The silence of the crowd was broken. 
Up until a few days before Panorama, I was set on not even going to the festival. In my younger days (i.e. three years ago), such events were the highlights of my summers—instead of blowing the bulk of what little cash I had on a ticket to one concert to see three musicians at most, festivals gave me the opportunity to pack all of my dream show experiences into one long and sweaty weekend. But as eager as I was to see Ocean's rare performance, among others, I don't quite have the endurance for marathon-like festivals like I used to. Beyond that, as someone who takes watching live music so seriously that I once yelled at my best friend for talking to me during a J. Cole show, I've found myself turned off by the overblown festival performances by musicians whose personas don't quite coincide with exaggeration and unsatisfied by the limitations they pose on bigger acts. Case in point: When The Weeknd headlined at Made in America in 2015, I felt betrayed by the pyrotechnics and Michael Jackson-esque choreography of his show, stark opposites of the subdued artist of whom I was a fan. And Beyoncé's set at that same festival didn't provide quite the same immersive experience as that of her solo shows. (Though, let's be real, both headlining acts were still life-changing in their own ways.) But when American Express' AMEX Experience team reached out with guest passes to Panorama ("better than VIP," they said), plus a chance to chill between sets at the brand's Card Member lounge and get a touch-up courtesy of its Milk Makeup bar, I realized I was too bougie to say no. 
And that's how I, a self-proclaimed non-festival-goer, ended up within the throng of fans eagerly watching Ocean's every step, as if we needed them to breathe. 
It was clear from the outset that Ocean's Panorama appearance was no ordinary festival performance, and not just because seeing him in public is so rare. Instead of translating the introverted nature of his music to the over-the-top production that such an event begs for, he spoke his native, reserved tongue on that stage; rather than amplify his songs to emanate outward to us, he used simplicity to draw us in, making the sea of hundreds feel like a small group of dinner guests being treated to a performance in his slightly lavish living room. 
But make no mistake: By "simplicity," I mean nothing along the lines of "plain;" following Ocean's every move was none other than Spike Jonze with a camera in hand, directing in real-time the visuals that displayed on the screens behind Ocean. The images were artful yet improvised as the Jonze's and two other cameras remained steadied on the singer, then cut to the laptop screen of one of his counterparts beside the stage, who pulled up video clips of anime and Soul Train for us all to see and typed messages such as, "Let's fucking goooooo" as Ocean sang. And while the singer-songwriter primarily performed songs from Blonde, he transformed those already-perfect songs into all-new masterpieces. For his Stevie Wonder sampling, "Close to You," Ocean completed his ode to Wonder's auto-tuned cover of the original by The Carpenters by incorporating The Jackson 5's "Never Can Say Goodbye," and for "Good Guy," Ocean transformed one lyric from the minute-long interlude—"To you it's just a late-night hour"—into a keyboard-assisted song of its own. 
Still, just when Jonze's camera angle brought us closer to Ocean than ever before, or when Ocean's voice so flawlessly reverberated through the audience members' bodies that there was nary a swooning face in the crowd, the camera would suddenly drop to the floor causing for a jarring transition in visuals, or the singer would remark with a chuckle that, "My imaginary friend told me I fucked up" and he'd start a song over, or he'd tease his wardrobe team about his broken belt buckle. And in those moments, the intimacy and familiarity of the solo concerts that I constantly crave was delivered to me on a silver—albeit large—platter. But it wouldn't have felt as impactful if Ocean was performing at, say, Madison Square Garden. There's something admirable about a musician who can get hundreds of people with vastly varying tastes (especially those who have spent a whole day bouncing between stages and are probably drunk) to be still and absorb the art being laid out before them. With my jaded perception of festivals, I had forgotten that, no, they're not quite like solo concerts, but they're special in their own way, and it took that one-of-a-kind performance to serve as my reminder. But that should come as no surprise. After all, such is the magic of Frank Ocean.