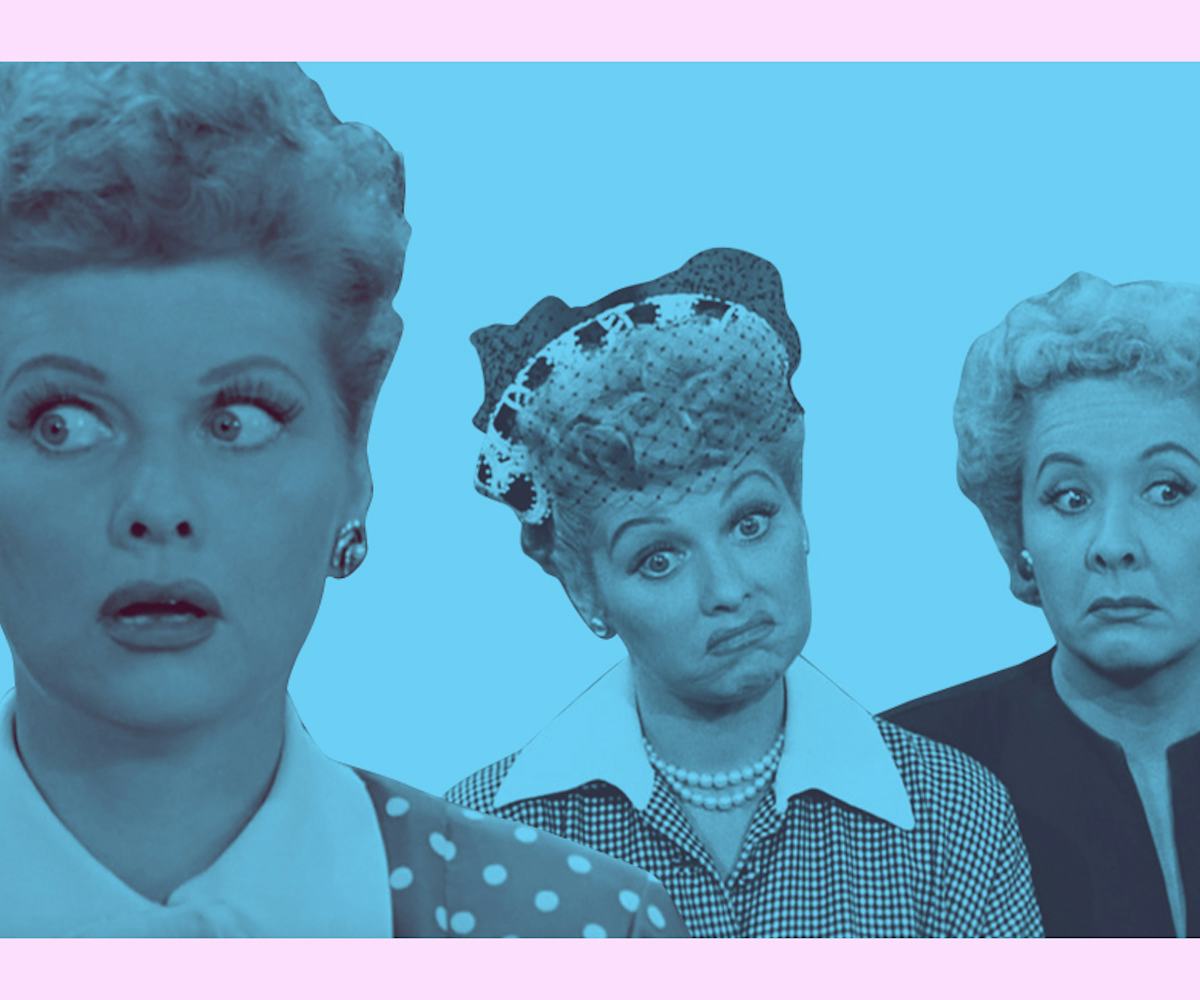 How Lucille Ball Rose To Fame As An Unruly Woman In A Sexist World
Get to know the iconic comedian
In our column "Get to Know," we discuss cultural icons of the past, whose legacy continues to influence art in our world today.
When she was three years old, Lucille Ball was always getting into mischief, and so her mother Désirée tied a leash around her waist and attached it to a pulley on a clothesline. As long as Désirée heard the metal runner moving back and forth on this clothesline, she knew that her rambunctious daughter was close by and not shaking things up. The noise stopped one day, and Désirée went outside, where she saw Lucille talking to the milkman. "Mister, help me," piped the three-year-old. "I got caught up in this silly clothesline, can you help me out?"
This sort of scheming and longing for freedom was a hallmark of Ball's Lucy Ricardo on the classic television series, I Love Lucy, which ran from 1951 to 1957 and then forever after in reruns. Ball was 40 years old when the show started, and she had taken lots of hard knocks on the way up in show business. In her early 20s, when she was down to her last quarter in New York during the Depression, Ball defiantly bought a gardenia with it. She was both a romantic and a realist, a calculating and determined woman with large dreams for her career.
Ball was in Hollywood by 1933 playing bit roles, and she got her first comedy training in a Three Stooges short called Three Little Pigskins (1934), where some seltzer was squirted up her nose for laughs. Ball signed with RKO Pictures and began an affair with married executive Pandro S. Berman, who worked to get Ball a good role in Stage Door (1937), an ensemble comedy where she excelled at wisecracking with funny women like Eve Arden and Ginger Rogers.
Ball made many B movies for RKO, including lots of comedy programmers where she would learn her craft. Like nearly every other actress in Hollywood, Ball auditioned for the role of Scarlett O'Hara in Gone with the Wind (1939), but she did so after getting drenched in a sudden rainstorm and having a few too many drinks to calm her nerves—a situation that sounds very Lucy Ricardo-ish.
Though her career was stalled, Ball's personal life ignited when she fell in lust at first sight with Desi Arnaz when he appeared in the Broadway musical Too Many Girls in 1940. Ball and Arnaz were crazy about each other from the start, and their relationship was tumultuous. Passionate lovemaking would be followed by even more passionate arguments (they were both always getting jealous of others), and touring with his band kept Arnaz on the road far too often for Ball's liking.
The most notable film performance Ball gave in this period came in The Big Street (1942), where she played a scared woman who resorts to a very nasty manner with her adoring admirer (Henry Fonda). In retrospect, The Big Street was probably a mistake for Ball. As good as she is in that movie, it only emphasized the hardness and impassive crankiness of Ball's screen character. She signed with MGM in 1943, and she was promised a star build-up, but that didn't work out. By the late 1940s, Ball was back to programmers, some noir and some comedy.
But her career doldrums started to lift in 1948 when she began doing a radio show called My Favorite Husband, in which she played a wacky housewife named Liz Cooper. Liz is married to a bank man named George (Richard Denning) and has a maid because she can't cook or clean. She has no children, and so we're left to wonder just what Liz does all day. George actually asks her that question on the show at one point, and Liz can't quite answer it.
Ball is painstakingly feeling her way into finding her comic character on My Favorite Husband, but she has no particular chemistry with Denning or with Gale Gordon and Bea Benaderet, who play Coopers' best friends. She starts doing her classic "e-u-ew" noise on this show, which meant "uh oh" on I Love Lucy but is a tentative expression of discontent for Liz.
CBS wanted Ball to do a television version of My Favorite Husband, but she insisted that Arnaz needed to play opposite her. In order to show that they would be accepted by the public as a couple, Ball and Arnaz went on a cross-country tour in a routine written by Bob Carroll, Jr. and Madelyn Pugh, who were staff writers on the radio show under head writer Jess Oppenheimer. Both Gordon and Benaderet had to turn down I Love Lucy due to prior commitments, and so the "best friend" roles of former vaudevillians Fred and Ethel Mertz went to William Frawley and Vivian Vance.
In the third I Love Lucy show to air, "The Diet," we get a glimpse of the act that Ball and Arnaz had toured with in a song number called "Cuban Pete and Sally Sweet," where Ball does some powerfully direct stripper bumps with her hips. This was a first indication that the core of I Love Lucy would be the deep and clearly volatile sexual and romantic chemistry between Ball and Arnaz, something that would be palpable even if you didn't know they were married in real life. That is what gives this beloved show its insistent emotional pull, the feeling that we are glimpsing something real underneath the broad clowning. (Surely, Ricky and Lucy have an awe-inspiring sex life.)
But this expert nightclub routine also raises a tricky question. Does Ball's Lucy have talent? Ball herself does, of course, which would be demonstrated consistently and often staggeringly throughout I Love Lucy. Over the course of this show, in one elaborate physical comedy set piece after another, Ball proved that she was on the slapstick genius level of silent film comedy stars like Charlie Chaplin and Buster Keaton, who very much admired Ball's talent and even gave her some pointers when she was putting together her comedy act with Arnaz. Ball had failed in her film career because she could never find a character type that appealed to audiences. As the childlike but cunning Lucy Ricardo, she embraced an animated low comedy style that made her beloved by millions.
Ball's housewife character is stuck in a small Manhattan apartment at 623 East 68th Street, a fictional address that in actuality would put her right in the East River. Arnaz's Ricky works at a nightclub called the Tropicana, and Lucy always wants to get into his show somehow, but so do Fred and Ethel, in their less clamorous way. The cheerful thing about I Love Lucy is its show business background, and the fact that everyone in it is ready to put on a musical performance at a moment's notice.
Fred and Ethel constantly snipe at each other, but Ethel says at one point that that's their way of "making love." As the show goes on and Lucy's many schemes get more and more destructive, costly, and outlandish, Ricky sometimes makes jokes about how it was a mistake to marry her, and he often sounds somewhat serious. But, at the end of the episode "Return Home from Europe," Ricky admits that he enjoys the chaos that Lucy creates because she makes life more fun, and this is a 1930s screwball comedy attitude that helps to explain the durability of I Love Lucy as entertainment.
Yet the attitudes about women on I Love Lucy place it squarely in the 1950s. In an episode called "Equal Rights," Lucy and Ethel are made to look chagrined at having to do without male "courtesies" to women, like opening doors and having chairs pulled out for them, and then forced to do dishes in a restaurant when their husbands won't pay for their dinners. (This episode originated on My Favorite Husband and was less objectionable there because Benaderet's character is snooty-voiced, and so it's somewhat funny to have her doing dishes.) 
Oppenheimer came up with the basic concept of I Love Lucy, and his comments about it through the years often sound blatantly sexist. Lucy is generally treated like a backward child by Ricky and condescended to. But Pugh was also in that writing room, and it seems to me that Pugh likely found ways to enlarge the context of I Love Lucy so that sometimes Lucy seems aware of being held back and neglected.
In "Ricky's Life Story," Lucy finally resorts to telling Ricky that she wants a career so that their son, little Ricky, can be proud of her and remember who she is. (She would never dare say that she wants a career for her own personal fulfillment.) Ball guest-starred as Lucy on an episode of The Ann Sothern Show in 1959 and appeared very disturbed by Sothern's career woman independence on that series, so much so that she relentlessly tries to set her up with a man, to imprison her as she herself has been imprisoned.
Ball's Lucy can't sing, but she can dance. She is a master of disguise in her own life, but she often freezes in front of an audience. Yet in the Hollywood-set episode, "The Dancing Star," Lucy manages to calm her nerves and get through a song-and-dance routine with Van Johnson. And it's often forgotten that she actually gets offered a Hollywood contract after inadvertently making an audience laugh in "Lucy and the Dummy." This is her dream come true, but Ricky, Fred, and Ethel all guilt her out of taking the contract. Does Lucy Ricardo have as much talent as Lucille Ball? Maybe not, but she might have made her own success as a comic if either her husband or her friends could have taken her dream just a little seriously.
In the episode "The Fashion Show," Lucy is told that Mrs. Gordon MacRae gave up her career to be a wife and mother, and Lucy chirps, "Like me!" In a moment like that, she sounds like a self-deceiving character in a Dawn Powell novel, but Lucy might not be able to keep bitterness at bay as she gets older. In the hour-long episodes that ended this show in the late 1950s, the love that had been so evident between Ball and Arnaz had clearly turned to resentment and hatred, and so the future of their fictional characters could be fairly dark if you think about it. Lucy will probably have to divorce Ricky at some point, just as Ball had to leave Arnaz. And that lost Hollywood contract is likely to prey on Lucy's mind as she gets older and sits in her suburban home and chain-smokes.
Arnaz's business savvy eventually made Ball the co-owner of her old studio RKO, which they renamed Desilu and turned over to TV production. After her divorce from Arnaz, whose alcoholism and blatant womanizing had gotten to be too much for her, Ball became the first female head of a studio in the 1960s. She green-lit Star Trek against the objections of her advisors and gave the go-ahead to Mission: Impossible. At the same time, Ball was also starring in another sitcom of her own called The Lucy Show. There's a fascinating TV special from 1964 where Ball plays herself and is seen in her office both getting her hair done and making executive decisions. No woman had been in charge of a Hollywood studio before, and no person of either sex had both run a studio and also continued a career as a star performer.
There are physical comedy routines from the first three seasons of The Lucy Show with Vivian Vance that are just as good as classic Laurel and Hardy short films, particularly "Lucy Puts Up a TV Antenna" and "Lucy and Her Electric Mattress." Ball had given Vance a hard time when they first started I Love Lucy, but she came to respect her story sense, especially when it came to editing comic material, and so Vance is very much an equal partner on The Lucy Show. Ball was Chaplin-esque in the way she approached her comedy. She would stumble through a routine in rehearsal and worry about it until the whole thing was perfect, and this extended to sometimes giving line readings to other actors (she did this with everyone, even distinguished guest stars like Tallulah Bankhead and Richard Burton).
Ball had earned the right to her own way when creating her comedy world, and her full talent is still remarkably engaged even in some later episodes of The Lucy Show. But the subsequent Here's Lucy, which ran from 1968 to 1974, is mainly a showcase for her children, Lucie and Desi Jr., and an opportunity to do many musical numbers with surprisingly elaborate choreography. There's an episode in Season 2 of Here's Lucy where Lucy looks at a poster of a young and glamorous Lucille Ball and thinks of putting it over a poster of Laurel and Hardy before setting it aside dismissively. This image says a lot about both Ball's achievement as a comic and her perseverance in the face of setbacks.
Here's Lucy deteriorated badly in its final seasons, particularly in the fifth season where the now-gravel-voiced Ball had to spend many episodes in a leg cast due to an offscreen skiing accident. She did a disastrous movie of the musical Mame (1974), and then she went into semi-retirement aside from a few TV specials. When Arnaz was dying in the 1980s, their daughter, Lucie, brought them together to reconnect and reminisce. Ball was married now to Gary Morton, a younger comic who was a steadying relief after all the excitement, desire, and trouble of her marriage to Arnaz. When Ball got up to leave, Arnaz wanted her to stay. "I have to go home," Ball told him. "You're already home," Arnaz said. Ball somehow found the strength to walk away from that plea, because sometimes life forces you to not follow your heart.
Ball unwisely returned for a last sitcom called Life with Lucy in 1986. In the third episode of that short-lived series, she looks in a hand mirror and croaks, "I still have it," in a matter-of-fact tone of voice, even though she's so heavily made up that the makeup looks like sad-clown armor. But, of course, the Lucy character that Ball had played for almost 40 years is a woman who seldom faces the facts, unlike Ball herself.
The surface message of I Love Lucy is often regressive, but the subtext to women from Ball and from Pugh is, "You can be more, and you deserve more." Yes, Lucy famously screws things up a lot, but not always. In the episode "Visitor from Italy," Lucy does eventually learn how to make pizzas, and there are similar routines on The Lucy Show that highlight Ball's own amazing physical mastery of her props, which shows her character's mastery of many different situations. 
Ball smashed all the rules for her sex during a groundbreaking and unprecedented career, and that's what the rebellious Lucy Ricardo attempts to do over and over again. I Love Lucy and the best episodes of The Lucy Show still set a very high standard when it comes to comedy in general and physical comedy in particular, yet Ball's most famous comic routine is largely verbal: the "Vitameatavegamin" sequence from I Love Lucy where Lucy gets progressively drunker and drunker while trying to do a TV commercial. Maybe that high point in her career, which Ball herself called "the best thing I ever did," is still so potent because it signals the real meaning of Lucille Ball and Lucy Ricardo, which is the unruly and subversive, "Let yourself go!"