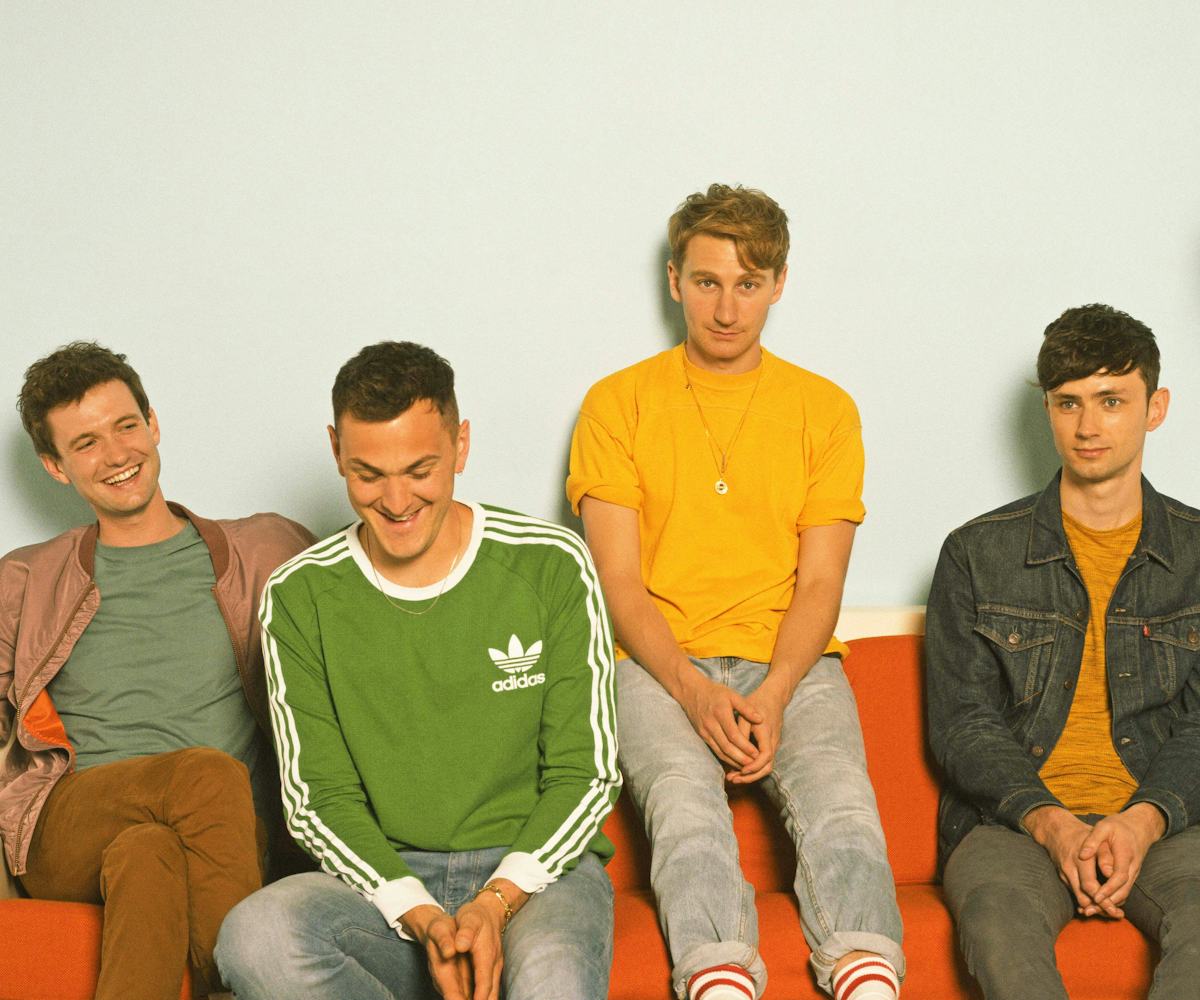 Photographed by Neil Krug
Glass Animals' Dave Bayley Thinks The Past Was Boring, Wants To Meet Jesus
Band Crush: Glass Animals
Dave Bayley approaches me at Bonnaroo with a fresh sunburn on his cheeks from the Tennessee sun. "Ah, us, pale Brits," he laughs with a shrug. Like that, the ice is broken.
The lead singer, songwriter, and guitarist of Oxford-based band Glass Animals, Bayley is known for this affable charm, which he's put to use over the years collecting people's stories in myriad of conversations. Armed with a neuroscience degree, he analyzes bits and pieces of these stories for use in the band's lyrics, or in their visual art. In essence, he lets emotions and experiences from others inform the characters that appear on albums, including 2016's How to Be a Human Being.  
Knowing this, it's hard not to imagine he's interviewing me as much as I am him, as I am gathering intel on the four-piece's next foray into psychedelic indie pop, trip-hop, or whatever other odd, untrodden path they decide to wander down. Interviewer or interviewee, Bayley is fascinating to talk with, and, over the next 20 minutes, we delve into everything from singularity to chess club to the most cardinal of sins you can commit at a show—stealing a hoodie. Read all about it, below.
What was the last great thing that you read?
I was reading a book by V. S. Naipaul. He won the Pulitzer Prize a long time ago, and it's this book of short stories kind of about the meaning of freedom. It's called In a Free State.
I really like reading short stories about people. Even though the book was written a while ago, it's so relevant now. There's a lot about race in there, a lot about the price of freedom. The world is in a very weird place at the moment, and this book does quite a good job of touching on some of those places that have become weird. 
If you had to wear one thing that you own for the rest of your life, what would it be and why?
It's like the least fashionable thing on earth. It's this hoodie that I found after a show. It was one of my first shows, and I stole the hoodie. I was freezing after the show, and I found this hoodie on the floor, and I put it on, and it saved my ass.  
I've heard you guys lean toward criminal territory. I shouldn't be surprised. [The band's guitarist Drew MacFarlane was previously arrested for climbing a road sign naked, and Bayley was arrested for peeing on a beach in Mexico.] 
[Laughs] It says "The Strokes" on it and that's it. It's fuckin' ugly, but it's the comfiest thing I own.  
What person, dead or living, would you choose to have as a roommate?
Jesus. I'm not religious or anything, but he's got a lot of things to answer for. I want to know how he did it; I want to know how he walked on water. I bet he was wakeboarding. Jesus was a killer wakeboarder. 
You're not even concerned whether he would be a good roommate or not, you just want to interrogate him.
I just want to know how he turns water into wine…
Actually, that would be a really good trait in a roommate. 
Yeah! [During] parties, it'd be great! If there was water, it's wine.
What activities do you most enjoy doing alone?
I do a lot of the artwork for the band. I did the album cover, the latest one, and other stuff. 
What mediums do you like to work in?
I don't really know; I'm not an artist at all.  
I think you're an artist!
I don't know; I just started sketching things out and then doing whatever I needed to happen to make it. The border of the latest album cover is all collage stuff. My favorite bits of art and pieces of magazine texture created this collage…  
Beyond the cover, you have like this whole creative visual universe that goes along with the album.
That's like my favorite thing, creating a world. I really like it when everything is cohesive—the artwork, the music, the live show. Well, the music is the core. And then everything else is tied together. Each song has a website, and each song is about a different character. It just gives you a bit of insight into what influenced the song. One of the characters is a weird late-'80s kind of nerd, so his website is… you know GeoCities? He's got one of those.
What's a quality about yourself that you're genuinely proud of?
No idea. Ask my mom. 
What are you most proud of so far in your career?
That I'm in a very lucky position. We get to do what we want to do musically, we have a lot of freedom, and we've been able to make a living and survive while making essentially quite weird music and pretty weird art.
What kind of person were you in high school?
I was quite shy. I was kind of a nerd. I am still a nerd. And I'm proud of it. It's good to be a nerd. I was in the chess club. The best parties were the chess club. I was also in the math club! 
If you had to live in a past era, what would you choose and why?
I think right now is cool. There's so much amazing stuff. But think about what we're going to see next. Do you know what a singularity is? It's amazing. It's when technology becomes so advanced that it can kind of think for itself and advance itself without people anymore.  
Aren't we sort of getting to that point right now?
Yeah, I think we're gonna hit that singularity point pretty soon, and then things are just gonna go crazy. It'll be amazing. 
I mean, a couple hundred years ago, where were we?
Really boring! We couldn't fly anywhere; it was so dull. 
Catch Glass Animals on tour:
7/30 - New York, NY @ Panorama Music Festival
7/31 - Pittsburgh, PA @ Stage AE w/Little Dragon
8/2 - New Haven, CT @ College Street Music Hall
8/3 - Portland, ME @ Thompson's Point
8/4 - Montréal, QC @ Osheaga Festival
8/5 - Chicago, IL @ Lollapalooza
9/14 - Boise, ID @ Summerfield @ Memorial Stadium
9/15 - Troutdale, OR @ Edgefield
9/16 - Seattle, WA @ WaMu Theater
9/19 - San Diego, CA @ Humphreys Concerts By the Bay
9/21 - Los Angeles, CA @ Shrine Auditorium
9/22 - Berkeley, CA @ Greek Theatre
9/25 - Denver, CO @ The Ogden Theatre
9/27 - St. Paul, MN @ Palace Theatre
9/28 - Chicago, IL @ Aragon Ballroom
9/29 - Detroit, MI @ Royal Oak Music Theatre
9/30 - Columbus, OH @ EXPRESS LIVE! - Outdoors
10/2 - Toronto, ON @ Massey Hall
10/3 - Montréal, QC@ Metropolis
10/5 - New York, NY @ Radio City Music Hall
10/6 - Philadelphia, PA @ The Fillmore
10/7 - Boston, MA @ Agganis Arena
10/8 - Washington, DC @ 9:30 Club
10/12 - New Orleans, LA @ Mardi Gras World
10/13-15 - Austin, TX @ Austin City Limits