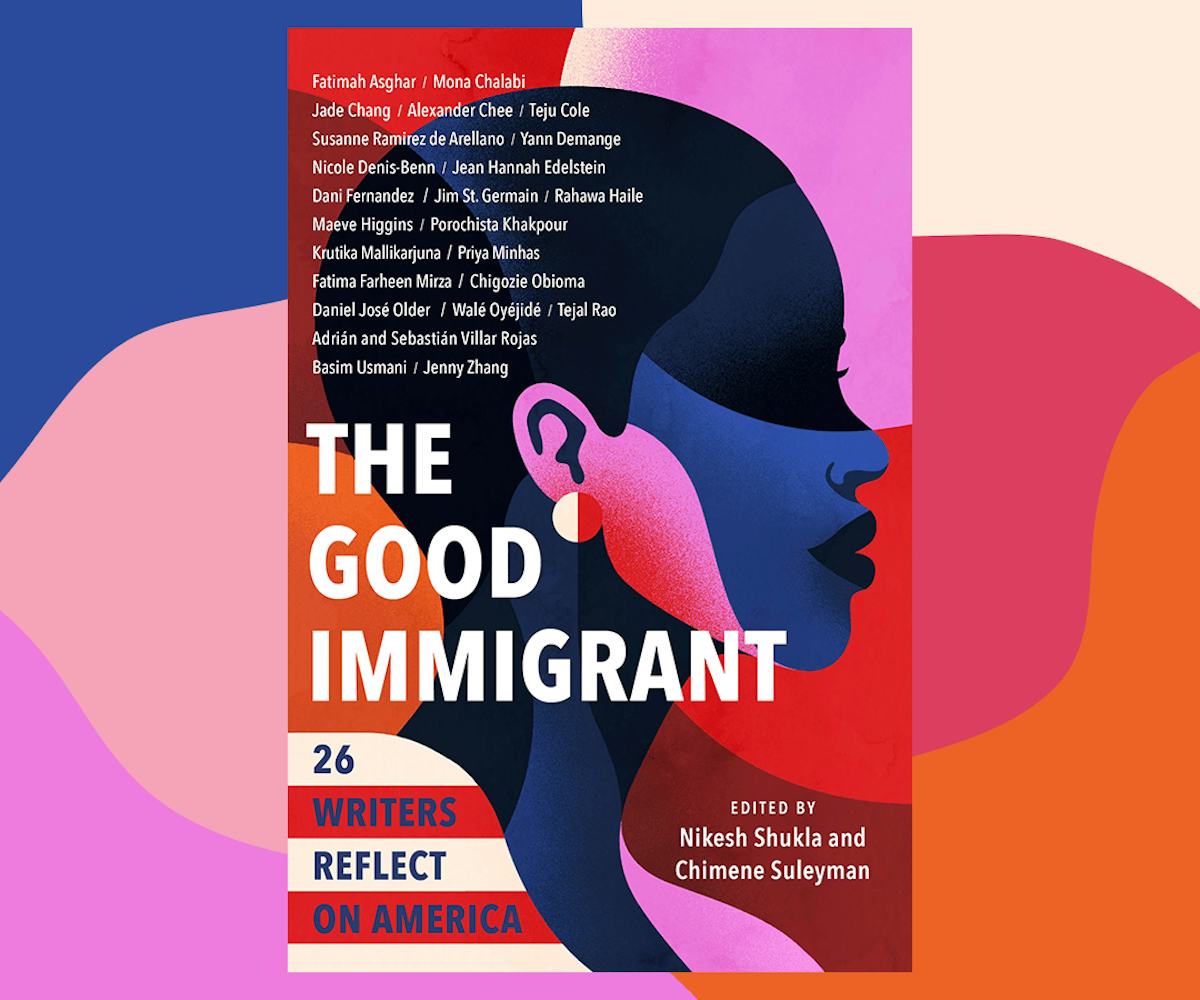 How To Be A 'Good Immigrant'
Talking with the editors of a new book about the complications inherent to an immigrant's identity
What makes a good immigrant? If the media is anything to go by, a good immigrant is someone who works hard, integrates into society, behaves themselves, becomes an athlete or a film star or saves a life—someone who must prove their worth to their new country.
In a new book The Good Immigrant: 26 Writers Reflect on America, a wide-ranging group of writers, from comedians to journalists to poets, explore what being an immigrant, or the child of an immigrant, in the U.S. means in 2019. We speak to co-editors, Nikesh Shukla, who also edited the U.K. version (published in 2016), and Chimene Suleyman, poet and columnist, about putting the book together, the need for new immigrant narratives, and the politics of being an artist.
Why were you inspired to make the U.K. edition of The Good Immigrant?
Nikesh Shukla: I was increasingly irritated by the lack of British writers of color being published in the U.K. and felt like I wanted to do something more positive than just whine on Twitter all the time. At the same time, having read Claudia Rankine's exceptional Citizen, and Ta-Nehisi Coates' Between the World and Me, I wanted to read a contemporary book about race and immigration in the U.K. I figured that doing an anthology could satisfy both those itches and also be a platform for writers who the British readership deserved to hear from more.
We crowdfunded the book with Unbound, so I could prove to the publishing industry that people did want to read books by British writers of color, and we were at 104 percent before a word of the book was even written. I didn't anticipate all this would happen in tandem with Brexit and the increasingly toxic national conversation around immigration, so we inadvertently caught a mood.
What does the title, The Good Immigrant, mean?
Chimene Suleyman: The default for immigrants ends up with us having to prove our worth. The media, the government, our neighbors start out being suspicious of us until we win an Olympic sport or a reality TV show or scale a wall to save a small child dangling from a balcony. We have to pull out the superpowers first, or work as a doctor, or chef—always serving and providing—to be good. We wanted to unravel that. To think about how complex, and even contradictory, the immigrant experience is. You shouldn't have to jump through hoops to have a right to be home.
Why did you decide that a U.S. edition of the book was needed?
NS: I'm answering this question the day after Jussie Smollett was the victim of a racist and homophobic hate crime and a Bollywood actor used a racist word to describe a Black soccer player. Racism has become normalized. We are seeing, every day, instances of casual and violent racism and everything in between. People feel emboldened, in America and the U.K., because of who runs our countries, how the press cover them, their dog-whistles and the fires they're stoking. America needs this book because young people of color need to have mirrors held up for them, too. So they can feel less isolated and alone and come together to resist this miserable oppression we are in.
How did you approach the contributors?
CS: It was essentially a wish list of favorite writers, comedians, musicians, filmmakers, artists. We sat down one evening and just wrote this really long list of people whose thoughts and experiences on immigration we just really wanted to know about, and we went from there. We felt it was really important to give the contributors a word count and not much else. We wanted to hear whatever they had to say about immigration, and we didn't doubt for a second that they would all have something so beautiful, and often heartbreaking, to say.
Did you notice any major thematic differences between the U.K. and U.S. editions?
CS: There was definitely a greater sense of fear, or something close to fear, in the U.S. edition. It felt more raw and urgent when expressing its frustrations. But I do wonder if the U.K. edition would have felt the same had it been written after Brexit and not just moments before it. But there are definitely more similarities than not. There is still a recurring feeling of not quite fitting in anywhere, of straddling two or three or more identities at once, of anger at both the causes of migration and then the reactions to it. Ultimately, they are both two very stunning collections that are both specific and universal at once.
One of the essays in the book, "How to Write Iranian-America, or The Last Essay," Porochista Khakpour describes feeling like a token writer and being asked to draw on her experiences in a way that straight, white, male writers usually aren't. Where you concerned that The Good Immigrant would be seen as a token "immigrant book"?
NS: Yes. Which is why I'm clear on who the book is for. Also, the book, in the U.K., was intended to be about race and immigration issues, written by people of color. And that was specifically to address a lack of these voices in publishing. However, as the book became a political tool that added its voices to a national conversation, I wondered what the book would have looked like if I'd thought about the word "immigrant" and included immigrant voices that weren't necessarily ones of color. And so when we were putting together the American book, we wanted to look at immigrant voices in the widest sense possible. So yes while I do have this fear, I think it is so much more than an immigrant book. And I want to exist in a world where writers of color and immigrant voices get to write about more than just their oppression. I guess, given the climate we're in, it's urgent we do address these issues.
The book's essays vary enormously in form and content. Do you think immigrant narratives are often lumped together or one specific immigrant narrative is pushed by the media?
CS: Absolutely. We are good or bad, and anything in between is erased. We are rapists, drug dealers, or terrorists, or, suddenly, when it suits everyone, we are world renowned sportsmen, celebrities, or extreme examples of altruism. You see this on a more low-key level when people express confusion over immigrants voting for Trump, or Brexit. Fundamentally I can see why it shouldn't make sense, but we forget that immigrants are not one masse, with one end goal, or one singular belief. Immigrants still reserve the right to be as nuanced, as complex, as three-dimensional, and, dare I say it, as problematic as anyone else. But if I were to say there were immigrant qualities I could make some kind of sweeping statement with, it would be to point out a braveness, a resilience, and a yearning that I've not quite seen in the same way elsewhere.
Do you think an immigrant writing about their experience in the current social climate is a political statement in itself?NS: I think immigrant writing in any social climate is political. I think writing is political. Art is political. The choice to actively write about oppression or joy is political. The desire to arm marginalized young people with mirrors and language with which to navigate the realities of the world they are in is political. There has never been a time in the recent history of the U.K. or U.S. where being from an immigrant background hasn't been political in one way or another.
Is there one particular essay from the collection that resonates with you personally?
NS: God, how do you choose your favorite child? As a comedy fan, I love Krutika [Mallikarjuna]'s essay. It's hilarious. As is Maeve [Higgins]'s. Tejal Rao is a food writer whose work I admire deeply. Also, I've known her since we were kids, and me and her brother were best mates, so getting to work with her three decades later is a joy. Priya Minhas, for me, signals the core strength of both anthologies, which is ensuring we give space to new writers with a lot to say. Working with heroes like Teju [Cole], Alexander [Chee], Jenny [Zhang], Daniel [José Older], and Porochista is a dream come true. I could say something complimentary about all of them. But the truth is, Chimene may be my sister and my favorite collaborator and my best friend, but this relationship started because I loved her work first and foremost. She is one of my favorite writers. And both her essays, in both collections, have ached. And made me cry.
CS: Sadly, I can identify with so many aspects of so many of the pieces. But I relate the most to Yann Demange (who directed White Boy Rick, Top Boy, and '71). There are so many parallels: being Middle Eastern, but light-skinned; being Muslim, culturally and historically, but still with distance to the religion; being Londoners, and a very specific kind of U.K.-Garage-loving-Londoner at that. In his piece, when he wrote about having another version of his name, and the reasons why, it really hit me. We both have Westernized versions of our names, and that can really eat you when you're trying to respond to your own identity. In the U.K. version of The Good Immigrant, my piece talked at great length about my first and last names being different to Chimene Suleyman, something that was meant to appease the whiteness I was growing up around. I fully understood what his piece was about, the feeling that you just don't belong anywhere at all, a constant sense of homelessness.
What do you hope readers take away from The Good Immigrant?
NS: To ensure you center immigrant voices when talking about immigration issues. To remind yourself that behind the word "immigrant" is a person. And, to paraphrase Reni Eddo-Lodge, instead of being a good ally to me or Chimene or the contributors, work out where you hold power and influence, and make change there.
CS: When I first started writing I used to want to convince people of things. To educate them, and change their minds. These days, if that happens, it's an added bonus. But it's not my priority. I want the people who feel like no one tells their stories to finally feel like there actually is space for them. I want someone growing up—some brown immigrant kid with two versions of her name, who prays to Allah and eats pork, who doesn't know where in the fucking world she fits—to read The Good Immigrant and think, Thank god. I'm not alone.
The Good Immigrant is available for purchase, here.
NYLON uses affiliate links and may earn a commission if you purchase something through those links, but every product chosen is selected independently.