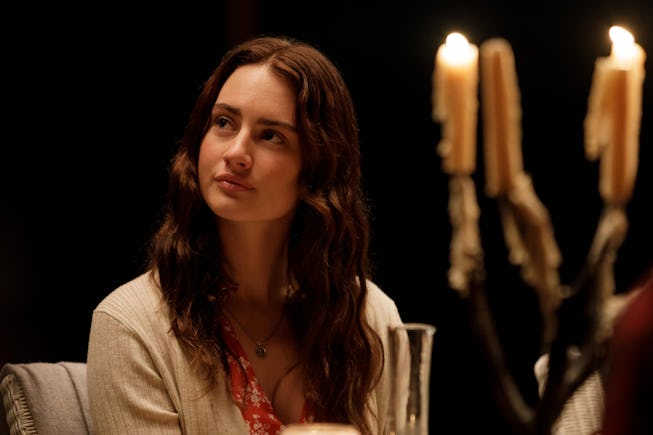 Photo by: Vince Valitutti/Hulu
9 Grace Van Patten Movies To Stream If You Love 'Nine Perfect Strangers'
Grace Van Patten, a breakout star of 'Nine Perfect Strangers' with Nicole Kidman, has an impressive roster of movie performances to check out.
At 24, Grace Van Patten may be the youngest cast member on Hulu's new dramatic thriller series, Nine Perfect Strangers, but she's quickly proved her worth as one of the ensemble show's breakout stars.
Nine Perfect Strangers — which was adapted from the best-selling book of the same name, written by Big Little Lies author Liane Moriarty — follows a group of people attending a mysterious nouveau wellness retreat called Tranquillum. They arrive intending to relax, but things take a turn when cultish retreat owner, Masha Dmitrichenko (Nicole Kidman), reveals a more insidious itinerary. The members of the group — which includes Melissa McCarthy as a writer wallowing in regret, Bobby Cannavale as a former pro football player struggling with addiction, and Regina Hall as the inscrutably upbeat Carmel — soon learn they were chosen specifically for the retreat, because their issues "compliment each other's demons."
"You want to get well? You want to heal?" Dmitrichenko asks. "Surrender yourself to me," she demands.
Van Patten plays Zoe Marconi, the 20-year-old daughter of Napoleon (Michael Shannon) and Heather (Asher Keddie), who is mourning the loss of her twin brother. Her family attends the retreat on the three year anniversary of his suicide, and quickly unravels through the series' eight episodes.
While Nine Perfect Strangers is certainly her buzziest role thus far, Van Patten isn't a Hollywood newbie. Read on for nine movies Van Patten has appeared in throughout the years.