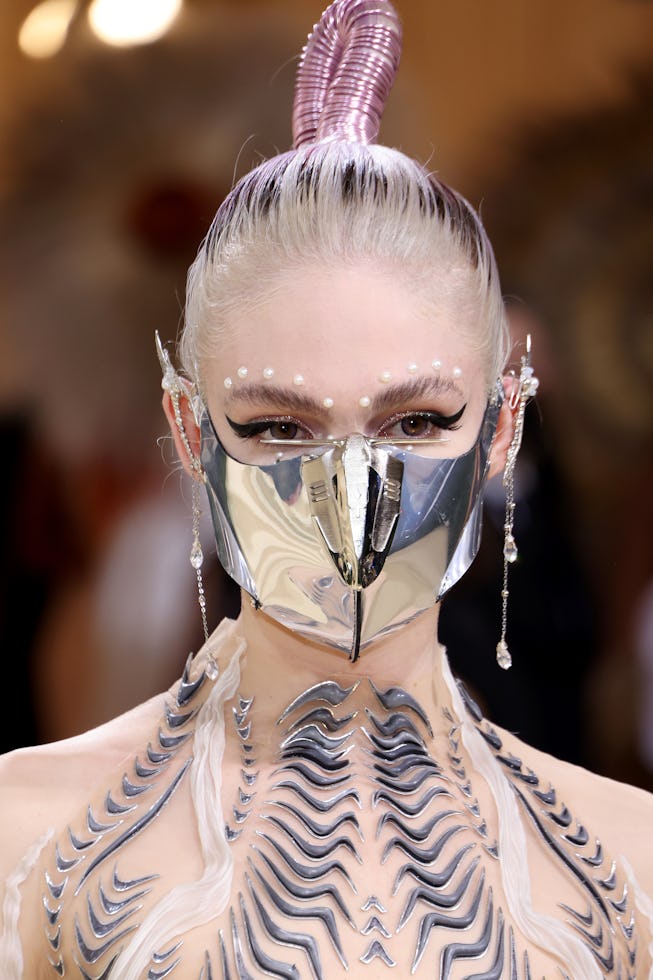 John Shearer/WireImage/Getty Images
Grimes Wants You To Make AI Music With Her Voice
Introducing Elf.Tech, the singer's own AI song generating app.
AI is the latest piece of tech that's felt the wrath of the music industry. As AI-generated covers of Kanye singing Drake and Michael Jackson singing Ice Spice proliferate online, it was the viral hit of a fake Drake and The Weeknd song, "Heart On My Sleeve," that finally prompted the major record labels to act and take down the creation on April 19, citing copyright infringement. Since then, the question has been not if, but when the music industry will act to hamper the rising threat that AI-generated music poses. The think pieces are already proliferating. The major labels' lawyers are ostensibly getting their cases ready.
But there is one artist who welcomed the forward-looking tech wave: Grimes. In response to the "Heart On My Sleeve" takedown, she issued a very on-brand tweet stating that she'll split 50-50 royalties on any "successful AI generated song that uses [her] voice," continuing by writing: "Same deal as I would with any artist I collab[orate] with. Feel free to use my voice without penalty." Now, the singer is actually making good on that promise with the rollout of her own AI song generation software that aims to make the creating (and royalty-receiving) process even easier.
On May 2, the singer officially launched Elf.Tech, a new software that allows fans to self-replicate Grimes' voice into their own music. In practice, this will work as simply as fans singing into the app, and the app spitting out the song in Grimes' voice — gnarly! If the creator then chooses to publicly distribute the song, "Grimes will collect a 50 [percent] split on the master recording royalties in exchange for the Grimes feature and distribution," per a press release. The program is currently in beta testing, but it's reportedly already created over 15,000 "voice transformations" using the GrimesAI-1. Later, there will be an option online with stems where fans will be able to train their own Grimes model, with more stems added in the future.
Dare we say it sounds... kinda sick? And, in the grand scheme of things, it doesn't appear like it's much different than the vocaloid software that's already out there — though instead of a completely fake, computer-generated voice that gets spit out, it's Grimes' vocals.
Just last week, news broke that Grimes had officially left her record label, Columbia, and in retrospect, the move was likely so she could bring Elf.Tech to life without having to remain under the watchful eye of the big players. That being said, her AI adventures haven't completely replaced her music career. Now independent, the singer is expected to release two new songs fittingly called "Music for Machines" and "I Wanna Be Software," coming soon. There's no word yet on if these were made by fake Grimes or real Grimes, but at this point, is there really a difference?