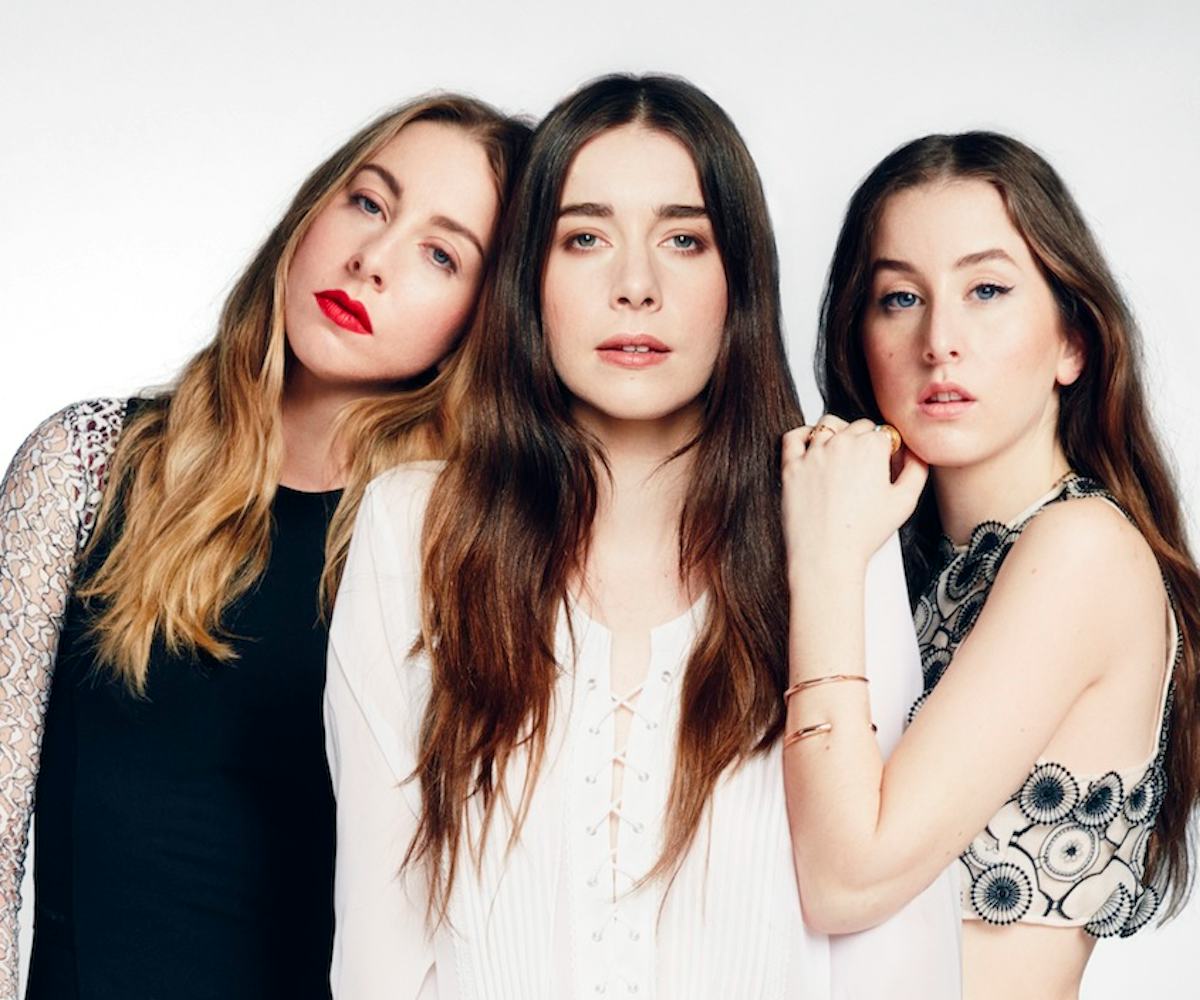 all photos by marvin scott jarrett
haim, haim, haim!
read our june/july cover story here.
Haim can feel the earth move beneath their feet.
Metaphorically, sure—the three sisters are the most-hyped band in Los Angeles, and beyond, right now: On a Saturday morning in late March, they will be stopped nearly a dozen times in under two hours by friends, fans, and pop stars alike while strolling a three- block stretch of Silver Lake. But, also, there was a 5.1-magnitude earthquake last night, stronger and more undulating than the quake a week prior. Talk inevitably turns to the Big One.
"Apparently, you're not supposed to stand in the doorway anymore," says Alana Haim, 22, the youngest of the sisters, and the most effusive. We're gathered at the ladies' favorite brunch spot, where Alana has just ordered eggs Benedict with salmon, and
fruit for the table. "I heard you should go outside,
like in the street," says Danielle, 25, the middle Haim. Though frequently described as reserved, she is quiet only in comparison to her sisters. Whereas Alana answers questions readily, even ones not specifically addressed to her, Danielle is choosier about chiming in, but chatty once she does. She orders poached eggs with chicken-apple sausage and seasonal lettuce.
After hearing Danielle's order, Alana switches to the same. "The new thing is you're supposed to put a pillow over your head, but that makes no sense to me," she continues.
"Kill yourself before the earthquake does." That's the eldest, Este, 28, the sister who flirted with David Letterman 
when the band played Late Night a year ago, upholding the Barrymore legacy of ballsy blondes. She opts for the house salad (going vegan has helped with her diabetes, she says).
Birth order is not a topic that particularly interests Haim, but more on that later. The sisters grew up making music together in the San Fernando Valley, first as replacements for their parents' friends in the cover band Rockinhaim, playing Van Morrison and The Doobie Brothers at street fairs and fundraisers. "My dad says he woke up from a dream and saw us playing music together," says Alana, who was only four when her father, a soccer player turned real estate agent, put a pair of drumsticks in her hands. "But I feel like he wants to glorify the story." Rockinhaim never played for money, but their dad, Mordechai, a.k.a. Moti, took it seriously. "It was like, 'We're practicing Saturday; don't think you're going to Susie's house,'" says Danielle, sipping some coffee.
Their discipline paid off: Two weeks from now, Haim will rule Coachella with an exuberant, sweaty performance only a handful of time slots away from the headlining OutKast. Six months ago, Columbia released their debut album, Days Are Gone, an eclectic collection of smooth harmonies and rhythm-is- gonna-get-you beats, the fait accompli of artists who were raised on TRL and California radio, where the Eagles and Fleetwood Mac are in constant rotation. Their music has drawn comparisons to artists with mountains of cultural currency (Destiny's Child and Heart). They've appeared on Saturday Night Live, opened for Phoenix, and briefly considered a casual offer to become A$AP Rocky's backing band, but instead lent some haunting vocals to his "LVL" late one night after a party in New York.
They've pretty much been on the road since their successful South by Southwest showcase in March 2012, and today, everybody seems happy to have them back in L.A., however briefly  (their world tour kicks off in a week). At brunch, Alana excuses herself to chat with buddy Ed Droste of the psych- folk band Grizzly Bear, while Haim's regular hairstylist, Candice Birns, joins the table to console Este about a two- year-old cut that refuses to grow out. (Her mane is not quite as voluminous as her sisters', though this is only relevant during show-closing drum breakdowns to "Let Me Go," when an all-hands-on- deck percussive attack leads to some resplendent headbanging.)
After brunch, we head to the nearby farmers' market. Danielle holds Alana's purse so her sister can browse thrift racks for her trademark cutoffs, and a local songwriter friend approaches and almost immediately bursts into tears recounting a breakup. Danielle draws her in for a long hug, while Este adds in a wry sing-song: "We're living the same life." The two step away to swap stories of recent exes (all three Haim sisters are currently single).
Up saunters Sia, the Australian songwriter/hit-maker/firecracker whose song "Breathe Me" scored the famous last scene in Six Feet Under. She greets them warmly: "You guys? Successful. As predicted." The petite singer, incognito in jeans, a white tee, and a trucker hat, half-seriously adds: "When you get rich, it's awesome. You can have all the things you want. I mean, you might be born rich—I'm not sure what your background is?"
No, they assure her.
She proceeds to rattle off a few things money can buy, including a boob reduction and a house in Palm Springs. "Are you guys going to Coachella? I'm going to have brunch on Sunday, I'm thinking like a midday vibe."
Este responds for the group: "RSVP yes."
Watching the sisters readjust to life in Los Angeles is curious, because for so long it seemed like they would never leave. Overnight success is a myth to Haim, who started writing music in earnest back in 2006—"terrible songs that were derivative of bands we liked," according to Danielle. Encouraged by their parents, who are hardly the Dave Mustaines of this scenario, Haim took the stage by themselves for the first time in July 2007, at a friend's party in the Valley.
This would be followed by five years of gigs, mostly opening for other bands, always with a singular goal: a residency at The Echo, an East L.A. club that offers promising bands an 11 p.m. slot for a month of Mondays. It's basically a rite of passage for local musicians, and has helped launch the careers of bands like Silversun Pickups and Foster the People. But despite their perseverance, Haim were stuck warming the bench.
"We knew how to play as a band, but we could never get a recording right," explains Danielle during brunch, cutting into her sausage. "It was frustrating to see some guys get that residency after being a band for two months." Singles like "The Wire" and "Forever" were kicking around by this point, but knowing nothing about recording, they'd blow whatever money they made playing live on studio time and come away with little to show for it.
"I get a lot of artists calling me, saying they want to do a residency, but it's more strategic than that," says Liz Garo, the senior talent buyer for The Echo and Spaceland Presents, who's been booking bands there for the past 12 years. "Haim were really good musicians. That was one area where they stood out: They were performers, more than your average indie-rock band. But it felt like they were still figuring things out. At the time, I would not have picked them as the band that was going to break." (Of course, Garo adds with a laugh, they now have an open invitation.)
Back then, the future of the band was uncertain enough that other opportunities were explored. Este had followed in her father's footsteps by getting her Realtor's license at 18 and went on to study ethnomusicology at UCLA. "That was my parents being like, 'You don't have a backup plan,'" says Este, separating some avocado from her toast. "I was the oldest, you know." Turns out birth order played a role after all: By the time Alana graduated high school, she was touring the flyover states with Haim, opening for Julian Casablancas.
Common attributes of older children, according to a random sampling of experts on the Internet: overachieving, conscientious, controlling, cautious. Alana and Danielle dismiss the latter immediately—after stage-diving with Florence Welch during a Haim show last year and giving out her real phone number to the crowd at a London festival, Este cannot be accused of circumspection. As for controlling, she's the so-called "mama dog" on tour, and 
during the rare times when the girls snuck in some TV as kids (a no-no in the Haim household), little Alana and Danielle were forced to watch Poltergeist and scandalous Real World seasons (Seattle, Hawaii), because, as Este puts it, "my house, my rules." But otherwise, there's not a bossy word from her; she doesn't even hover over Alana, who's wearing her big sister's new, white crochet shirtdress.
Danielle, on the other hand, opted for community college while working in the shoe department at American Rag and continued plugging away at the music. Middle children: hard to pin down, but frequently peacemakers, people pleasers, somewhat rebellious, and very social.
"I don't know about that," says Este.
"About what—not having friends?" shoots back Danielle, taking mock offense.
"No, no, no," says Este, concerned she's hurt her sister's feelings.
"Danielle has that vibe that, like, calms everyone down," chimes in Alana (the youngest: outgoing, comfortable with stardom). "She's definitely not rebellious."
Though that may not be entirely true, either. Danielle's the one without the Twitter account, the one who once struck out on her own, and into a former boyfriend's pad in Venice, where much of Days Are Gone was written. (Alana and Este still live with their parents in the Valley, seeing no need for their own place when they're hardly ever home.) Her tenacity is largely responsible for Haim's current success. 
It was a stroke of luck, and an actual Stroke, that helped Haim close the distance from eager to in-demand. Fourth of July, 2008: A musician friend invites Danielle and Este to a pool party at his friend Jenny's house. "Jenny" turns out to be singer-songwriter Jenny Lewis, and the party is one of her notorious Laurel Canyon jam sessions, where musicians gather and help themselves to her vintage instruments. Este and Danielle, huge Rilo Kiley fans, hopped on bass and drums, respectively. "Jenny said, 'Yeah, girls playing, that's my shit,'" recalls Danielle.
Soon after, Danielle got a text from Lewis during a Haim rehearsal: "'Hey D, trying to find some people to go on my next tour, do you wanna come jam?'" There was some jumping around; American Rag got the heave-ho.
The very day after that tour concluded, Julian Casablancas asked Danielle to play guitar on the road with him in support of his solo album, Phrazes for the Young. In the Haim narrative, he emerges as something of a pooh-bah.
"On tour, he'd be like, 'So what's the deal with your band?'" recalls Danielle. "And I'd be like, 'Honestly, we've been playing L.A. three times a week for years. We never got a great recording.' And he related to that. He's like, 'When I was with The Strokes, we'd go into the studio and we couldn't get that sound, but once we found it, everything took off for us. Maybe stop playing live and get a good recording.' I took every little thing he said to heart, because I was a big fan."
Waiting for songwriting inspiration in the shower wasn't going to cut it, although that approach yielded great songs, like the slow-burning album closer "Running If You Call My Name." But tracks came that easily only a few times, so the sisters quit gigging and got to work with GarageBand.
"We read this book called The War of Art," says Danielle. "It basically just tells you to work on your art every day, so literally every day for a year we'd just write—little parts, little sections." As for creative differences, the ladies claim to have none.
"I remember hearing 'My Song 5' for the first time," says Alana, referring to Days Are Gone's most unexpected track, a groan that rises from digital bowels to mingle with distorted vocals and halting harmonies. "Danielle started the beat and I was like, 'What the fuck did you smoke last night?'"
With enough material for an EP, Haim recorded Forever in the studio of music producer and film/ TV composer Ludwig Göransson and, finally, the band was ready to make their proper, out-of-state debut at South by Southwest—only they were rejected from the festival's official 2012 lineup. Their manager booked a couple of gigs around Austin anyway.
"Our first show was literally three people," begins Alana, "and one of them was"—the sisters finish in unison—"a dancing baby!" Alana continues, "And then the next show we had a couple more people, and the next show we had a couple more, and by the last show, people could not get in. The dancing baby must've pulled some strings."
If you've seen Haim live, it won't come as a surprise that word-of-mouth buzz secured their reputation. Their lifelong dress rehearsal has left them hungry for the performance, and it's effing sexy to behold (not in some icky, sister-fantasy way, either).
A few weeks later, in the stifling, 100-degree heat of Coachella, the girls are "schvitzing [their] balls off," to use Este's favorite expression. Alana dominates stage right in a reticulate white top and denim shorts—possibly purchased during our "shitload of shorts" shopping spree, as Este called it—dancing and occasionally executing full-body gyrations while moving from the drums to the keys and back again. (Haim includes drummer Dash Hutton, a silent-ish partner, but the sisters usually share a deconstructed set among themselves.)
To the left, Este, in a black crop top, skirt, and signature red lipstick, banters with the audience and gives them plenty of fantastic "bass face," a rubbery cross between a TMJ exercise and an emu imitation that fans have come to adore (one of them is holding up an oversized cardboard cutout of Este caught in the act). Danielle, center, has traded in her preferred leather vests and jeans— she cites Chrissie Hynde and Amelia Earhart among her style influences—for a plain black blouse and cutoffs. She occasionally steps to the front for a feverish guitar solo and intensifies her near-baritone to punctuate lyrics along with Este: "If it gets rough, it's time to get rough" ("Falling"), "Honey I'm not your honey pie" ("My Song 5").
Their wordplay frequently conjures memories of other songs that might have made just the slightest impression: cue "Forever" in your head, and the once-ubiquitous Donna Lewis number "I Love You Always Forever" might sneak in, and "Running If You Call My Name" doesn't feel miles away from Kate Bush, on a moor, singing "Running Up That Hill." (Haim are hoping to make it to London next month for the eccentric songwriter's first show in 35 years.)
Once the girls scored a deal with Columbia in 2012, recording again presented a hurdle, because their tour schedule left them without a second for the studio. Instead, Days Are Gone was cobbled together over time—and not exactly on time, as it arrived after last summer's festival season. But the ladies refused to rush it, preferring to improve the music with help from, among others, Grammy-winning producer Ariel Rechtshaid, a fellow Valley kid who has helped distinguish the sound of artists from Vampire Weekend to Sky Ferreira.
It was Rechtshaid who was finally able to coax "The Wire" out of them, a deceptively complicated track with a shuffling beat and trade-off harmonies that had become their Waterloo. "We were so badly burned by that song," says Alana. "We recorded it five or six times before, and hated it. One little sound can make it so fucking cheesy."
But the perfectionism was worth it—Days Are Gone has sold more than 170,000 copies in the States alone, it landed on almost every 2013 best-of list, and the only downside so far is that the world now knows about Valli Girls. As teenagers, Este and Danielle regrettably signed, and later wriggled out of, a contract to be part of a prefab pop act for which they had to vamp like faux punks while singing the Trollz theme song. Their only thoughts on the matter, according to Danielle: "It was a very weird L.A. situation."
NOW BACK to a different, weird L.A. situation: talking boob reductions and trading DJ tips with Sia (her secret weapon is "We Didn't Start the Fire," Este's is "I Wanna Dance With Somebody") at the farmers' market. A Twitter acquaintance of the Aussie pop singer saunters over, and Sia introduces him as "Huggs."
"Do you give good hugs, Huggs?" Este wants to know. She's willing to see for herself, so the scruffy-looking dude with the vinyl LPs tucked under his arm gets an embrace from the leggy Amazon in a short floral skirt.
"Don't get a boner!" stage- whispers Sia.
"Too late!" Not missing a beat, Este holds one hand to her southern province and pops a finger out.
Fifteen minutes later—the girls have said their goodbyes to Sia, who was off to perform at an ASPCA charity event with their mutual friend Kesha— Huggs returns to chat with Alana. "On your record, I get a Michael Jackson vibe, but live, I hear Thin Lizzy...."
Danielle, dressed in a black cable-knit sweater and black J Brand jeans, looks up from the Harley-Davidson muscle tee she's considering and turns to me. "Did you hire him?" she asks. After some successful haggling for a vintage blue crew neck, she and her sisters head to rehearsal. They won't make it but a few feet before they're stopped again— this time, by a pink-haired high school acquaintance and, a few paces later, a fan named Gaby, who's driving to Vegas to see them on tour.
This is how Haim roll. Where they go, everything trembles.
blazer and pants by stella mccartney, t-shirt by uniqlo, shoes by jimmy choo.
shirt by jill stuart, skirt by kenzo.
on alana: dress by valentino. on danielle: shirt by sandro, jeans by wildfox, danielle's own belt and bracelet. on este: sweater by rag & bone, necklace by vanessa mooney
jacket by topshop, dress by valentino, ring on right hand by vanessa mooney, ring on left hand by cartier.
on este: dress by rag & bone. on danielle: shirt by the kooples. on alana: shirt by jill stuart, skirt by rag & bone, bracelets by cartier.