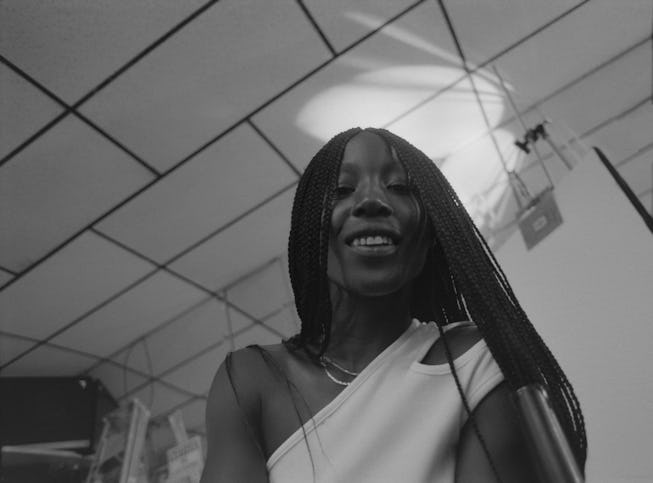 Ryley Paskal
Hawa Has Her D'Angelo Moment In Playful "Actually" Video
The multi-hyphenate bares it all in a new video premiere on NYLON.
In 2020, we called Hawa a musician to watch after she released her debut EP, the ONE. The eight-track project was, and still is, an impressive feat for the New York-based 19-year-old (now 22), albeit one who'd already held a stint as the youngest-ever composer for the New York Philarmonic Orchestra (she nabbed that title at 15). Across its tracks which rattled and popped, she confidently rapped and sang about love and complicated relationships, making us wonder what she'd do next. That answer came in 2022 when she released her debut album Hadja Bangoura, a project that proved she'd leveled up once again. Her already eclectic sound grew even more adventurous and her musings about intimacy matured as she mixed R&B and drill into her soulful confessionals.
One vibrant example is "Actually," a short cut from the album (at a brief minute and thirty seconds), and whose music video NYLON premieres below. Flaring with rock-ish attitude, the track is about a relationship that "factually" might be too toxic to pursue, but it's executed with such energy and playfulness, it instead sounds like she's reveling in it.
That lightheartedness is palpable in its Keenan MacWilliam-directed music video which sees Hawa standing on a platform — fully topless — as handlers and assistants smear red paint on her, a metaphor for baring it all, or as Hawa puts it, having her own "little D'angelo moment."
Below, watch the video, and read on for a short conversation with Hawa as she talks her album, her upcoming tour, and her favorite fashion designers right now.
What was the video concept for "Actually," and did you face any challenges executing it?
The concept for this video was just me really trying to take people into my world and show them a glimpse of the world that I'm starting to build for myself and for my music. And don't get me wrong, I also took it as a chance to have my own little D'Angelo moment.
In the wider narrative of your album Hadja Bangoura, what is the significance of "Actually"?
I mean it has significance just by being on the album. This album is a lot about reflecting and about diving into my own mind and experimenting with music, so I would think that the song represents gaslighting in a toxic relationship, which feeds in to the whole narrative of this album.
The new album sonically is much more explorative and daring than your first EP. How did your listening habits evolve from your first EP to this new project?
It evolved in many ways. As I've been making music, I've been growing more as a musician so I've been approaching music from a different perspective. I can now hear what it is that I truly wanna make as a musician whenever I'm in the studio and I now understand how to structure my music in certain ways where I can make it sound like a controlled mess.
What was the most challenging song you worked on for the record/ are most proud of?
I would say all of them were challenging to make and I'm proud of all of them to be honest - would be hard for me to choose.
What are you most looking forward to with touring the new record this year?
Just meeting all the different people, eating all the different foods, going to the different museums, listening to the different music. You know, I just like living life. I think that if you're a creator of any form it's good to see the world and see how people communicate through their art.
Finally, as someone who's moves within the fashion sphere too, who are some designers you've been really into lately?
I like Wales Bonner, Telfar, Theophilio, Collina Strada, etc.