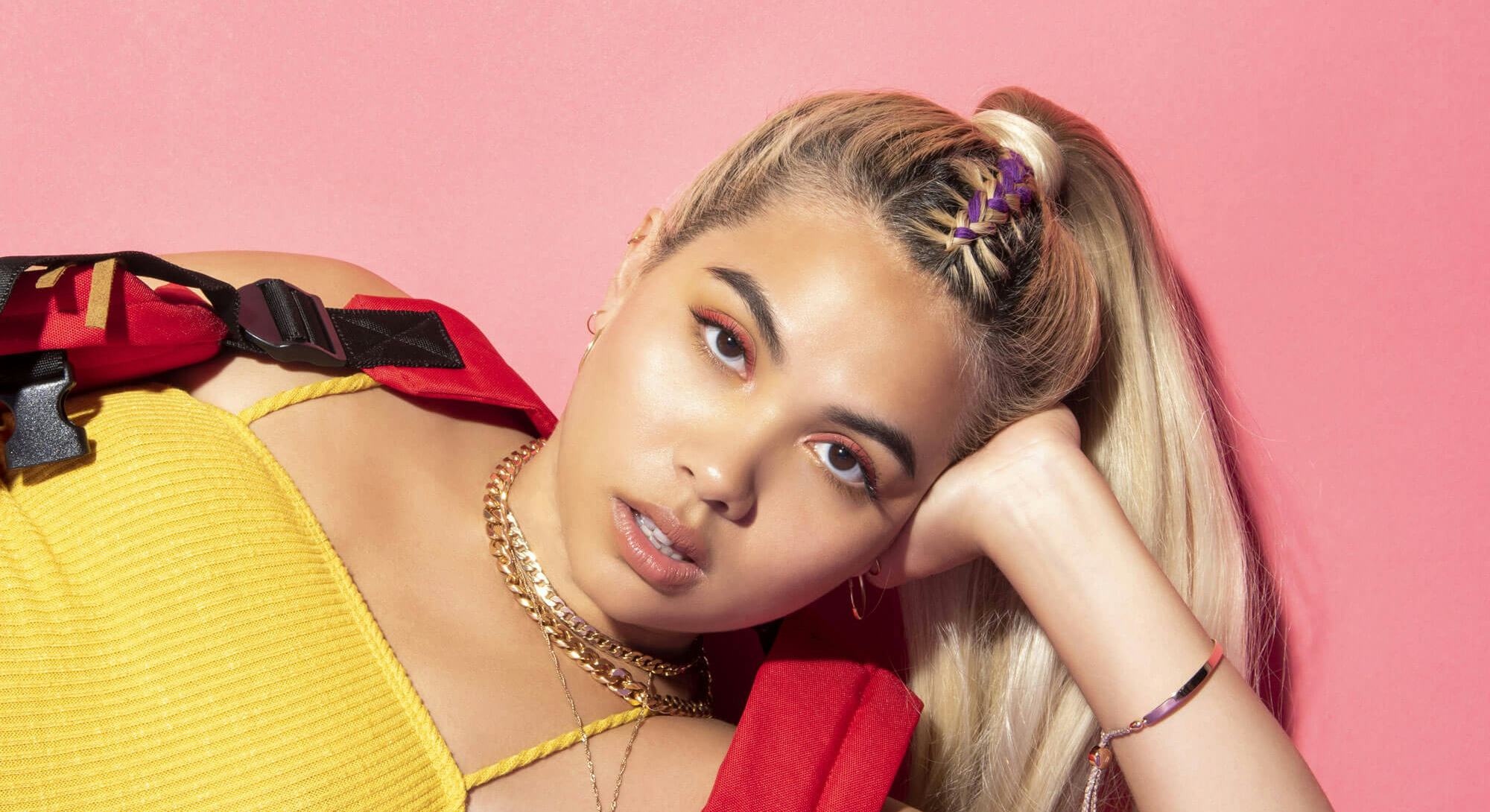 Hayley Kiyoko, American Teen Lesbian Heartthrob
Once upon a time, budding lesbian aspirant Hayley Kiyoko watched a television show—stop me, gay ladies, if you've heard this one before—just for the gay parts. "I watched Grey's Anatomy. I loved... Torres?" Kiyoko asks. "What was her name?"
Callie Torres, I tell her, adding that Sara Ramirez, the actress who played the bisexual doctor in one of television's first-ever multi-season lesbian love stories, recently came out herself. Kiyoko cries, "I KNOW! I KNEW IT! I knew it." She continues, "I had such a big crush on her! I'd watch Grey's Anatomy just to watch her kiss another girl. That's how starving I was, how starved we are. We find out about it and then it's like, I gotta find it! And then it lasts for like five seconds, and you're like, Welp, that was all I got."
For example, another thing we "got" in the mid-'00s was a four-episode arc on The O.C., in which lanky ingenue Marissa (Mischa Barton) realizes she's bisexual after falling for edgy-haired bartender Alex (Olivia Wilde). Kiyoko watched that one too. "Oh my god, when Mischa kissed that hot girl!" she recalls. "I was in love with her for YEARS after that. I was like, I hope one day I can kiss a girl who looks like that! That's my dream."
Have you achieved that dream?
Her smile blooms underneath her face like a ripple before becoming a grin: "I would say so."
And then, without skipping a beat: "But that's a great example of what I'm doing. If they can see me flirt with girls on stage, then they can be like, Oh, I can do that too, I can get a girl like that, those feelings are normal. But I sing about sad stuff, too, because life is sad. I keep it real. I try to keep it real. And I'm a little goofy."
"My dream growing up was performing in an arena and having hot girls screaming at me."
Through keeping it real and just a little goofy, Kiyoko has tapped a, as mentioned, starving market bursting with girls who've never heard or seen their stories told like this—by a five-foot-four-and-three-quarter-inch-tall half-Japanese lesbian with Day-Glo hair in a crop top,  cargo pants, tied-around-the-waist track jacket, actually-on-the-body track jacket combo that carefully reveals her solar plexus and consequently, it feels, her soul.
Kiyoko makes honesty look cool, like power. She's got a big laugh, twinkling bedroom eyes, and, even when exhausted after her first weekend at Coachella and a chaotic all-day photo shoot, an eager energy that's somehow both gentle and wild. On stage, so many breathless yards away from her swarming audience, every gyration of Kiyoko's hips feels like a personal lap dance. She's hot and she moves with the cockiness of a teen boy heartthrob in a big car who thinks the earth exists for him to find women. But unlike that teen boy, well, she's a girl for starters, and also there's less ego, less pretense—her soul is right there for you to feel and touch. In a way, everything she does is a challenge to that particular package: What would that attitude look like in a female body? It looks good. After every show, Kiyoko takes a group photo with beaming, ecstatic fans, but she's beaming too. I'm pretty sure this is feminism. I mean, there's swagger... but there's also a lot of crying.
For example, when I tell Kiyoko how my friend described her concerts as being "like the future, like it feels like we don't have to be for scraps or be on the fringes of culture, it feels like the future belongs to queer women," and ask her what it feels like to create that experience, she tears up and dabs her eyes with the sleeves of her oversized myrtle green FILA hoodie, saying, "I'm sorry, I blacked out, what was the question?"
She comes to: "It's fulfilling." She adds, "I really just always wanted to perform and create art. I didn't think I was gonna have such a connection with so many people. To be able to share that with others, and create a space and give them representation and inspire them to create hope is great. I didn't think I had that power."
Kiyoko worried, once, that being out would put her into a certain box, but when she saw how badly her fans needed that box, she hopped on. "I realized that the more you share, the more you can inspire other people to love themselves sooner. Seeing is believing, and you've gotta see someone lead the pack to be able to go, Oh yeah, I'm gonna do that too. So someone's gotta do it."
"My fans have given me purpose, and without that purpose, I would be lost."
As a lesbian artist, Kiyoko is entirely new and wholly unprecedented. She's also just wildly talented: an actress, dancer, singer, and songwriter who writes and directs her own music videos and plays multiple instruments. She's devoted to her fans with a fervor she's willing to label spiritual. "My fans have given me purpose," she says when recalling how she crawled out of depression caused by post-concussion syndrome in 2016, "and without that purpose, I would be lost."
Kiyoko is also the first lesbian pop star signed to a major label to make multiple music videos in which she kisses girls. "This isn't new! I don't know why it's new," she echoes the "Girls Like Girls" message.
Her way here was absolutely paved by Tegan & Sara, but there are also some shades happening of k.d. lang circa 1993, of whom Madonna said, upon meeting her, "Elvis is alive, and she is beautiful." Lang had a much older fan base, but, like Kiyoko, she presented a highly stylized, subversively but deliberately sexualized image that effortlessly courted a dyke-heavy fandom and inspired straight women to question their orientation while garnering a diverse fan base and respect as an artist, too.
The concept of a young out lesbian pop star is so outré, in fact, that "people still think I don't like girls, or people think I'm bisexual. I'm like... why?" The oft-brutal real-life oppression faced by bisexual women aside, they're not uncommon in pop—current chart-topping bisexuals include Lady Gaga, Halsey, Demi Lovato, and Janelle Monáe, all of whom have done their share of ground-breaking. But until recently, heterosexual acts were the ones most likely to feature girl-girl action in their videos.
Kiyoko's music generally and her music videos specifically know that the world is full of lies, but here, let's break the sky open and just fly to this dreamscape of splashing strawberry milk, golden skin, and banana-colored hair. Here, hold a beautiful girl's hand, the lighting is warm or else incandescent; here, be brave, be gay, be proud, be hot. It's perfect smart synth-pop with beats that inspire grinding the mid-afternoon away on a velvet tufted chaise lounge or watching your crush swim butterfly laps on the first day of summer. "I over-communicate and feel too much," Kiyoko confesses dead-on in "Feelings," and queer girls all over the world nod along, hot on her trail. "You wanna be friends forever? I can think of something better," she whispers, and we bow to pick up what she's putting down.
The world doesn't lack famous lesbians or lesbian musicians, but it's undeniable that Kiyoko is doing something entirely different, and her success feels like a genuine turning point in queer culture. Here she is, The Classic Teen Pop Heartthrob, ready to inspire teenage hysteria and turn your girlfriend gay, but also, it's progressive! Her team is almost entirely women and/or people of color, bringing you outsider culture in an insider box.
"My dream growing up was performing in an arena and having hot girls screaming at me," she admits, recalling the 'NSync tour she attended as a kid, wide-eyed and scheming. "Now I have so much more purpose in my life, and it goes beyond just screaming hot girls. But I love the energy of it. I love when I dance and they scream—I don't know, it's fun!"
The screaming girls throw enough bras on stage to give a Victoria's Secret dressing room attendant an aneurysm. This demonstrates both the audience's lust for Kiyoko and the fact that most women will take any excuse to remove their bra. It is fun. At her sold-out show in Santa Ana, California, in late April, it's downright delightful to see a lesbian essentially cut out and placed into the same scenes we've used to frame boy bands and teen idols for decades. It's all very sexy, but also romantic, sensual, like the cover of Expectations, where Kiyoko gazes lazily on a naked woman lying on her rug, or the sea of female limbs from which she sings in the "Curious" video. It's absurd and brazen, you just wanna scream and hug her forever.
She reflects, "I think that's why I feel like I'm living in a dream world right now. I always idolized how women looked at men growing up. I wanted to be wanted like that—but as a woman. I think that's different. I don't think the world has seen that yet. So I would love to be that person."
Seems to be working. Just ask the straight girl from Coachella whose tweet went viral with its video of Kiyoko looking her up and down: "When you think you're straight and then Hayley Kiyoko gives you this look... suddenly you're not so sure of anything anymore."
That's the magic of being touched by Lesbian Jesus, right? When I point out that she and Jesus have the same length hair, she agrees: "I think that's why people call me Lesbian Jesus. It's the hair. Also, I used to have a very long beard, but I shaved it off. For style purposes."
"I realized that the more you share about yourself, the more you can inspire other people to love themselves sooner."
Kiyoko has been working very hard for a very long time. She grew up in Los Angeles, the daughter of Sarah Kawahara, a Japanese-Canadian figure skater and Emmy-winning choreographer, and Jamie Alcroft, a comedian and voice actor. At six, Kiyoko asked for drum lessons, by eight, she was writing her own songs, and by 11, selling drum charts to local music shops and appearing in Cinnamon Toast Crunch commercials. She says her mom describes her as "a very dark child," but it's more "intense" than dark. "I always felt very passionately about everything. I would go to the grocery store in a Red Power Ranger outfit, and no one was gonna tell me otherwise. I was very aggressive in the sense of just, like, knowing what I wanted to do."
She was a tomboy, getting injured in the dirt. Later, she'd head up student government, start a band in her garage, and launch her high school step team while auditioning and playing every talent show, even though "no one would respond to my flyers!"
After breaking out as Velma in 2009′s Scooby-Doo! The Mystery Begins, she guested on The Wizards of Waverly Place and starred in the Disney comedy Lemonade Mouth. In both Lemonade Mouth and 2015′s Jem & The Holograms, she plays a punky rebel on the precarious verge of musical success. That's how Kiyoko usually got cast: rough around the edges, daring, alternative lifestyle hair. Like as a juvenile delinquent teen in The Fosters and a hacker-gone-white hat in the short-lived CSI: Cyber.
The music, though, was always the thing. She loves performing, period, but also acting got her the money she wanted to spend at Guitar Center. She did a few years with girl group The Stunners, briefly touring with Justin Bieber (a very polarizing figure in lesbian heartthrob history).
At the time she was writing "very Fiona Apple type music," and with The Stunners, she'd be able to dance, and Kiyoko loves to dance. They released some very forgettable singles on topics including what you can do with their bubblegum and the necessity of Santa bringing his soldiers home, throughout which Kiyoko sported (again) a very gay haircut. But before we get into what happened next, though, which is basically everything that matters now, we have to go back again, one more time.
Hayley Kiyoko always knew she liked girls but had no idea what to do about it. She had a lot of boyfriends in elementary and middle school. "We, like, innocently kissed and drew drawings for each other, but we'd also check out girls together. We were more like bros," she remembers. Her final relationship with a boy, in high school, came to a bittersweet conclusion: "I'll never forget it—we had this serious talk, like, I need to tell you something. And he was like, I need to tell you something too. So we both came out to each other."
I ask if they stayed friends.
"Well, it was really sad because then he got sent to conversion therapy, and I never saw him again."
Eventually, Kiyoko underwent a different type of shock therapy. As you do, she'd fallen hard for her best friend, and it felt mutual: "She'd text me like, I miss you, I love you, I can't stop thinking about you... and she'd hold my hand under the table, you know, not friendship stuff." Kiyoko eventually couldn't take it anymore and paid her sister to take the afternoon off from work to drive her to the best friend's house.
"I looked at her," Kiyoko remembers, "and said, 'Are you gonna kiss me or what?' And she looked at me like I was an alien. She didn't say anything. She just shook her head no. I'll never forget leaving her house, it was like slow motion out of a movie. I was sobbing. My sister was driving me home with my brother in the backseat, and I was just like… a mess. And I locked myself in the garage for several days and got fat and shaved all my hair off."
I ask if they stayed friends.
"She got a boyfriend like the next day, and I never talked to her again."
What about now? Now that Kiyoko's a famous lesbian heartthrob?
"No! I messaged her on Facebook, and she denied everything. So I was like, Okay cool, so you're never changing! I just wanted to have that closure, you know? It really bothered me."
"That was my first experience of realizing that some people can't have feelings for girls, or they choose not to live that life, or be part of it?... I wanted to do the 'Girls Like Girls' music video to create hope."
Which brings us back to 2015. At this point, she'd been hustling for several years, but felt she lacked the connections to get basics like a producer or a studio. In 2013 she'd crowdfunded to release her first solo EP, A Belle to Remember, and debuted the This Side of Paradise EP in February 2015.
It was, for a hopeful person like Kiyoko, a kinda hopeless time. "Everyone was getting discovered by remixes and YouTube covers, and I was like, This is not me."
But she had this one video she really wanted to do, just this one story. She'd do anything to tell it, like it was the last one she'd ever tell, filming illegally on the street, and in a friend's backyard, and on a tightly wound shoestring. She feared nobody would connect with her story.
"I was just so close to it," she explains. "And so I almost didn't release it. The night before, I was like, I'm terrible, I suck."
It dropped on June 24, 2015, two days before the U.S. legalized same-sex marriage nationwide, and within hours, stories were pouring in from grateful fans. She was playing Mac's Bar (max capacity: 200) in Lansing, Michigan, when "Girls Like Girls" hit 500k. On July 5, a puffy-eyed, scratchy-voiced Kiyoko thanked her Kiyokians on Instagram when it hit one million. At two million, she wrote, "This video is becoming a bigger movement, a bigger message than I could have ever dreamed of. Your passion and personal connection to the story warms my heart and I am constantly humbled and shocked by the kindness and love you are showing for my music and our video." Millions became more and more millions. (Current millions: 90.)
"If they can see me flirt with girls on stage, then they can be like, oh, I can do that too, I can get a girl like that, those feelings are normal."
At five million, she just posted two photos of herself passed out on public streets and another splayed on the carriage of an ambling golf cart on a studio backlot—just a small girl in a plaid shirt, open and grateful for whatever would come next.
What came next was a record deal with Atlantic, 2016′s Citrine EP, and the triumphant "Gravel to Tempo" video, in which Kiyoko, in denim shorts and a ponytail, crawls like a cat across a cafeteria table colonized by popular girls alternately appalled and delighted.
Prior to dropping Expectations, which debuted at No. 12 on the Billboard Charts on March 30, 2018, she'd whipped her ever-more-massive fan base into a fine frenzy with self-directed videos for "Feelings," "Sleepover," and "Curious," all works that flirted with the female gaze in a context never before considered.
But her audience isn't just queer women, and she doesn't want it to be, either: "I know that if I make really great art, even if you can't connect to it on a very specific level, you can connect to it on an emotional level."
Now, it's all starting to come together. Her celebrity is spreading like mono at an all-girls boarding school. Fans tweet about her approximately every second. Her machine is not exactly well-oiled, just yet, but everybody seems to be having a very good time, even if they're still doing a lot on a small budget, and every time I tell Kiyoko how famous and successful she is, she low-key heartily disagrees.
"We were on our way to Coachella, and I just said, like, 'You know, I feel like I don't fit in.' And Marla [Vazquez, Kiyoko's makeup artist and PA,] said, "You don't fit in because you stand out," and I almost started crying! I just feel like I don't fit in. I'm not friends with celebrities, I don't know the cool people, I just feel like a geek going to Coachella. People think I'm part of that crowd now, but I'm not remotely in that crowd."
She's amazed, for example, to be NYLON's cover star. It's funny that she's gracing the Pride issue specifically, because although she likes Pride now, because "Pride is about loving yourself, and I think that's just so important and I support that," she didn't always.
See, in elementary school, a girl asked Kiyoko what her favorite color was and Kiyoko replied, "Rainbow." So the girl howled back, "You're gaaaaayyy!" and then ran away.
"I was devastated! I was so offended and upset, and because of that moment, I hated rainbows," Kiyoko remembers. "I would not associate myself with rainbows. At all. Like, I wouldn't go to gay clubs, wouldn't go to Pride, because there were rainbows. I was haunted by this one incident."
Her tone shifts into awe and self-deprecation: "It's just... funny to me now... because now I'm surrounded by rainbows!"
Kiyoko actually sells branded 20GAYTEEN-imprinted rainbow flags online and at her merch table. At concerts, she waves her flag ritualistically, which feels really poignant, considering. All those doubts, fears, and insecurities from her youth, wondering if there was a place for someone like her, shaving her head in the garage, that's gone, wave it away. We're here now. Surrounded by rainbows, screaming hot girls, and a dreamy future that suddenly doesn't feel quite so far off.
I always felt very passionately about everything. I would go to the grocery store in a Red Power Ranger outfit, and no one was gonna tell me otherwise."
Credits