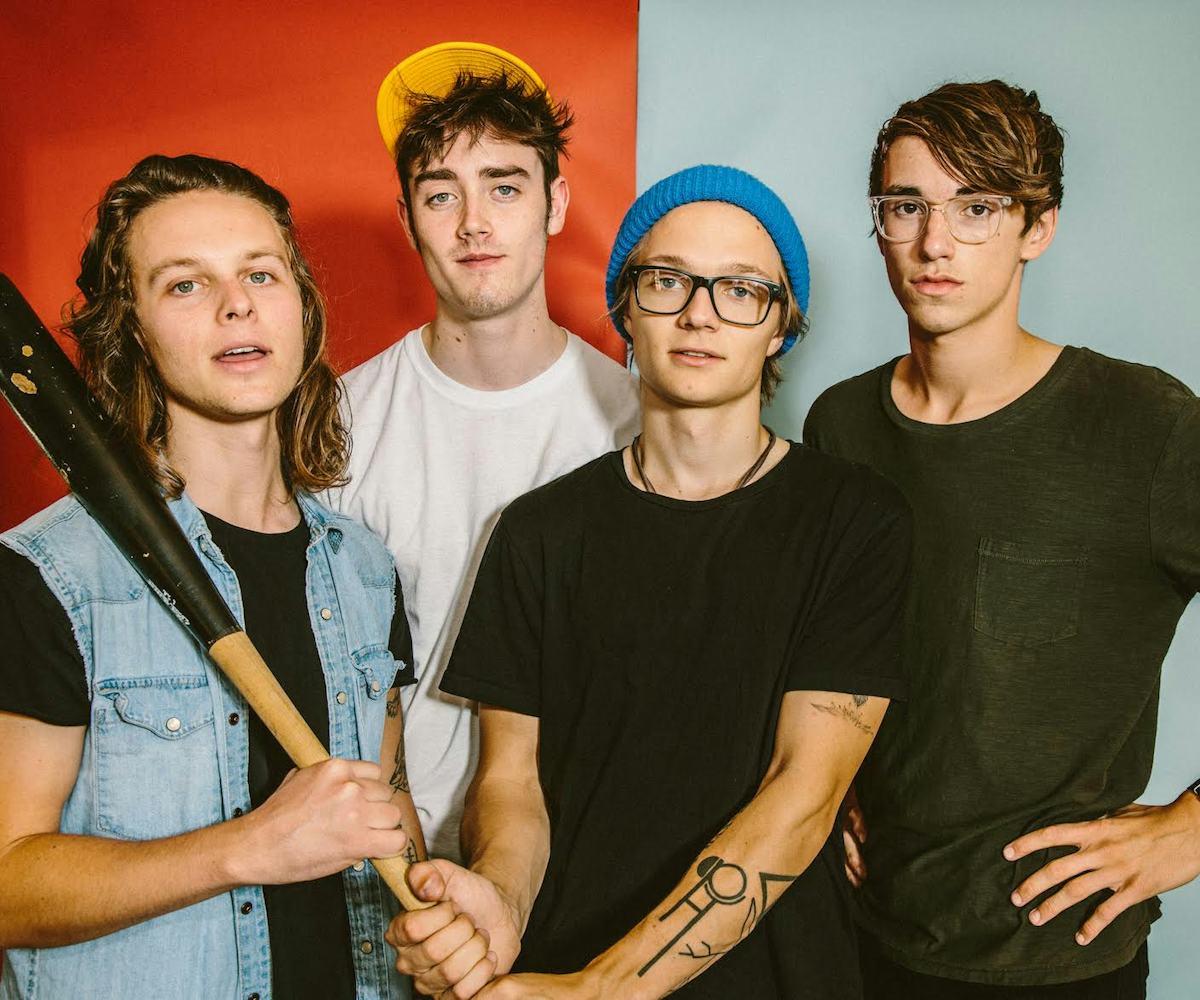 Alice Baxley
Hippo Campus Is All Grown Up Now
The Midwestern art school boys are becoming mature musicians
For four suburban, Midwestern boys, the dissolution of high school brought about the inception of a band with big ambitions—albeit a healthy dose of cautiousness about their future. After all, not every high school band makes it big. But nevertheless, the indie rock band Hippo Campus came into fruition, as the boys behind the band were eager to turn their longtime dream into reality.
Lead singer Jake Luppen explains, "It's that quest for perfection that we've been on for awhile; that quest for perfection that we've been on since high school."
Now, several years since their initial formation and after releasing two EPs, holding various festival slots, and touring, the Minnesota band, known for their buoyant riffs and songs filled with juvenile mischief, have developed a sense of maturity, and sound like they're truly coming into their own on their full-length debut, landmark. The album demonstrates the band's growth; there's a sincerity in both sound and lyric, as they turn their unease with the digital age and their experiences with love and grief into an album that encapsulates their ascent.
"Nathan [Stocker, the guitarist] and I, senior year of high school, we were having lunch and talking about frustrations we were having with other projects we were in; it seemed like they were both destined to taper off as college approached. We wanted to make a band that would be successful, and that we would be all in on," says Luppen. What they created was Hippo Campus, a project made up of danceable guitarwork and witty lyricism, resonant with familiar sounds of fleeting innocence and intentional recklessness. 
With landmark, the band has created a sonic divergence from their Bashful Creatures and South EPs, allowing their music to develop from its original, fragile power into a grown-up strength.
"The EPs were very reflective of our high school experience and where we were at when we were writing those tunes; landmark is reflective of what has happened in the past two and a half years or so," says Luppen. "[It's] what we were supposed to be making at this time."
Luppen continues, "[For landmark], we had the luxury of having time, we had eight months to do this project… so we had time to really sit with the material in the recording process. We really focused on the individual songs this time around and we tried to not limit ourselves to not just being a two guitar-bass-drums band," and instead allowed the album to venture into colossal territory with their use of alternative production on tracks like "poems."
Luppen says, "We went into the record wanting to be ironic," explaining that they originally intended to mock the internet age, "but it just wasn't working, because you can only go so far with that. It got to a point where it was like, 'I don't know if people want to hear this. I think people just want to hear honesty.'"
He says, "I had a moment where I realized I hadn't necessarily been writing from a place of personal honesty." For Luppen, sincerity in storytelling was the key to creating meaningful pieces of which they could be proud. The maturity of the band's songwriting comes through on album beauties like "epitaph" and "monsoon," which turn personal experiences of a wistful love affair and the persistence of grief into poetic verses capable of washing over the listener like a wave of contemplation.
"We went into this record with the intention of making something that we would be happy with, to the point where everybody else could hate it and we could still feel good about it at the end of the day. I think, personally, it's honest and I'm happy with it, and it's up to everyone else if they like it or not," Luppen explains.
Though now firmly out of high school, the boys in the band are holding onto the youthful idealism they had when they first set out to pursue the project. Luppen says, "We still have a fire lit under us to push things. I think that something we wanted when we started the band was to always be different from what's happening, and I know a lot of bands strive for that, but we try to keep our youthful energies in our creativity."
On the cusp of the release of landmark, Luppen says that the spark between the bandmates burns brighter than ever. "It's just become [that], the more time goes by, the more we're family. It's so far past the level of four friends. It's basically like we're brothers. I hope it'll always be that way."
Though Hippo Campus are no longer adolescents playing boastful shows out of basements, with their search for honesty and the release of their monumental debut, the Midwestern boys are just at the beginning of their journey.