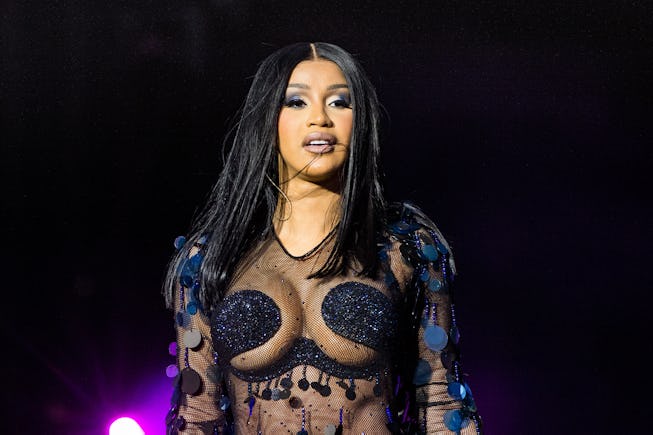 Joseph Okpako/WireImage/Getty Images
Hot 97 Summer Jam Is Back In New York — With Cardi B As Headliner
The long-standing hip hop fete is back in New York for the first time in two decades.
For the last two decades, New York's long-standing and iconic (and at times chaotic) hip hop festival Summer Jam, has called various venues in New Jersey home. Now, the festival is making its return to NY, just in time for the 50th anniversary of the music genre the city birthed, hip hop. Hot 97 Summer Jam will kick off this June at the UBS Arena in Elmont, NY with Cardi B as its special headliner.
This year's festival will once again feature the biggest names in rap right now — and a markedly more gender-balanced roster — with additional main stage performances from GloRilla, Ice Spice, Coi Leray, Fivio Foreign, French Montana, Lil TJay, and more. Legendary hip hop trio of Yonkers, NY, The LOX, comprising Sheek Louch, Styles P, and Jadakiss, will also take the stage to mark this year's special anniversary, while additional artists NLE Choppa, Kenzo B, 2Rare, Sha EK, McVert and TQ will be featured at a pre-festival show, emceed by French Montana.
"HOT 97's Summer Jam is a hip-hop staple and we are excited to bring the most electric show of the summer back to NY for hip hop's 50th anniversary," said Bradford Tobin, President, Chief Operating Officer and General Counsel in a press release.
"The show is all about bringing hip-hop's biggest stars to the stage and we are honored to have New York's own, Cardi B, as our headliner this year," added TT Torrez, multimedia personality and VP of Artist and Label Relations. "I am so proud of the strong female presence in our lineup, which represents women's dominance over the airwaves this year."
Hot 97 Summer Jam held its inaugural festival in 1994 in Jersey, and in most recent years took over MetLife Stadium. The 2023 festival is the first time the event taken place in NY since as far back as 2002. Read on for everything you need to know about attending Summer Jam 2023:
Who is playing Summer Jam 2023?
Women rappers take the spotlight this year with a headlining performance from Cardi B, and additional sets from GloRilla, Ice Spice, and Coi Leray. Fivio Foreign, French Montana, Lil TJay, and the legendary hip hop trio, The Lox, are also set to perform to celebrate 50 years of hip hop.
Where and when is Summer Jam 2023?
Summer Jam 2023 is back in New York at the UBS Arena in Elmont, NY on June 4, 2023.
How do I buy tickets to Summer Jam 2023?
An exclusive presale for American Express card members kicks off April 4 at 10 a.m. and wraps April 6 at 10 p.m. The general on-sale starts April 8 at 10 a.m. at Hot 97's website and Ticketmaster.