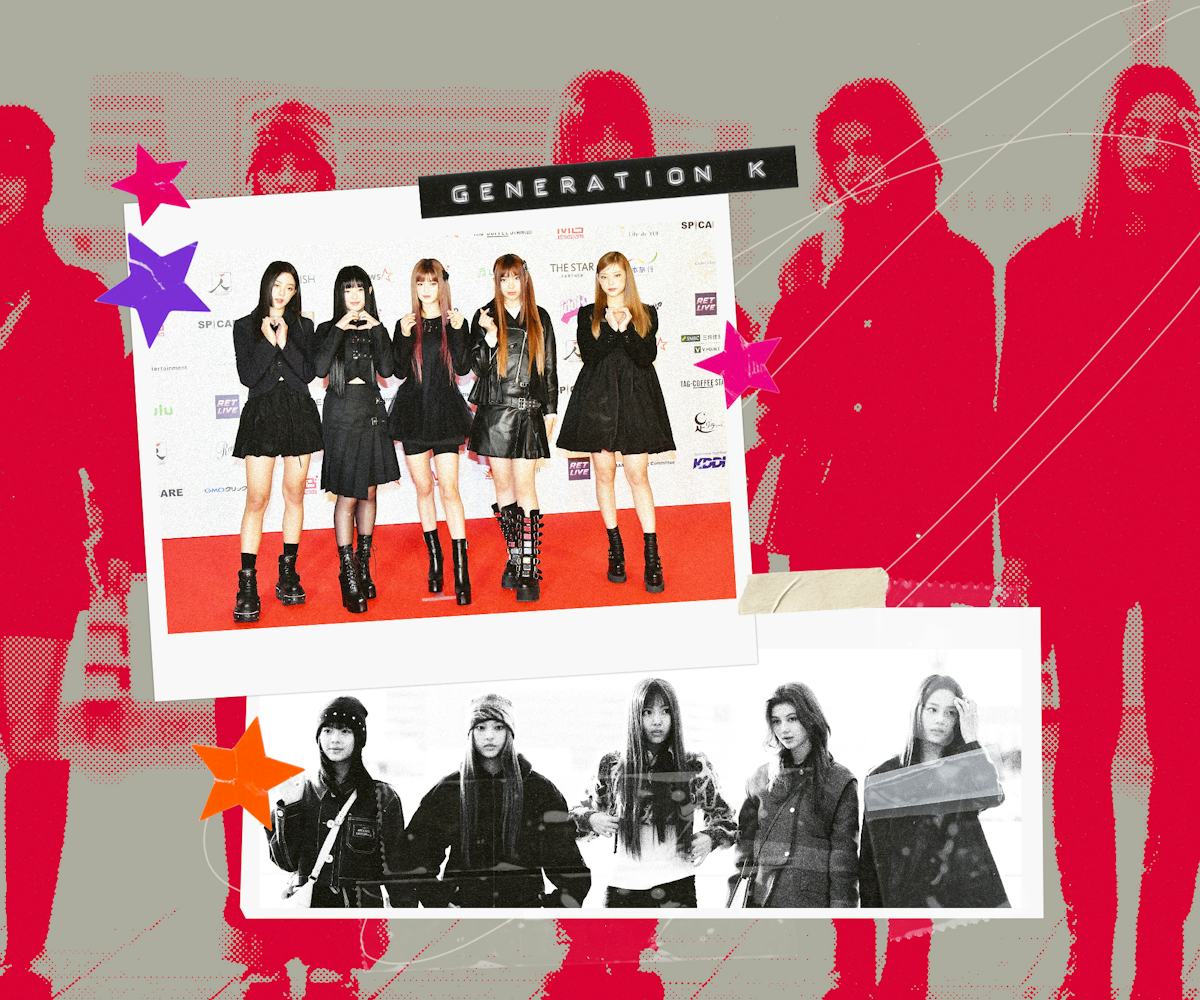 Jun Sato/The Chosunilbo JNS/Getty Images
NewJeans & The Reality Of Being A Teen K-Pop Idol
NewJeans' rise has sparked an important conversation among fans: "How young is too young to be an idol?"
When NewJeans debuted in July 2022 with their song "Attention" — a sparkling R&B tune with a simple, airy groove — they struck a chord with K-pop fans looking for something other than typical girl-crush maximalism. The five young members of NewJeans appeared bright and effervescent in the hazy glow of the visual's Y2K aesthetic, and as a millennial, I can't deny that 14-year-old Hyein's colorful butterfly clips and the group's casual, baggy style directly appealed to me. Their recent release, "Ditto," is similarly steeped in warm, early-aughts nostalgia, with dreamy synths and wistful ambience.
That's the key to their incredible success: As teenage girls who range in age from 14 to 18, NewJeans are idolized by their peers and admired by older Gen Zers and millennials like me. However, their indelible rise and global popularity has also sparked an important conversation among fans, with many asking the question: "How young is too young to be an idol?"
In the case of NewJeans, the members are minors in Korea where the legal age of adulthood is 19. They sing about heart-racing crushes and bruised feelings; their music videos, soft and emotionally vivid, capture the glowy essence of girlhood. That image has been masterfully curated by influential creative director Min Hee-jin, who oversaw the group's development as the head of their label ADOR, a subsidiary of HYBE. Min has been known for her sharp visual eye and unique storytelling, often finding inspiration in various depictions of femininity. But she faced scrutiny shortly after the group's debut when their song "Cookie" was condemned by Western fans for sexually suggestive lyrics. Fans argued that the word could be interpreted as a euphemism for female genitalia.
To the average Korean listener, however, the song seemed harmless, and ADOR maintains that "Cookie" pairs the affectionate act of baking cookies with burning CDs, since both share the same conceptual verb in Korean. Still, many fans think the company should have been more vigilant seeing as they're targeting both domestic and international audiences, and continue to take issues with Min's visual aesthetics and "voyeuristic" reference points. (At the same time, it can be argued that creative contemporaries like director Sofia Coppola and photographer Petra Collins have made entire careers out of portraying the intimacy of the young female gaze, or "girl gaze.")
The line between objectification and expression of teenage sexuality can oftentimes get blurred in a global entertainment industry that commodifies young women's bodies. In response to the criticism, ADOR shared its own concern over how NewJeans has been unfairly categorized as an "unusually young group… when other teenage groups have similar lineups," they wrote in a statement. It's a valid point. Look at any of today's top rookie acts, and you'll find at least one underage member. IVE's Leeseo was 14 when she debuted in late 2021; her group mate Wonyoung, 18, is frequently referred to as "God baby," a nickname she earned when she debuted as a member of IZ*ONE at 14. (She was only 13 years old when she participated in Produce 48, the competition show that put the group together.) NMIXX's Kyujin was 15 when the group dropped their first single "O.O," the same age as LE SSERAFIM's Eunchae when she made her debut in May 2022. It's the same with boy groups: ENHYPEN's NiKi and P1Harmony's Jongseob both made their debuts at 14, appearing in a competition series that documented their exacting training period.
For generations, young idols have been the foundation of the billion-dollar K-pop industry, where idol music is marketed toward teens and 20-somethings. (This isn't unique to K-pop; teen pop is a highly commercialized product around the world.) By courting young fans, companies are creating lifelong consumers.
"There's an element of relatability, like this person could have been my classmate or this person could have been my friend, that is attractive [to young listeners]," says Melody, the creator of the YouTube channel KpopSociology, whose videos offer insightful critical analysis of the K-pop landscape. "If you like someone who's around the same age as you, you age together, so there's also an element of growing up together."
Some of K-pop's biggest names started their careers when they were barely into their teenage years. BoA, the undisputed "Queen of K-pop," was 13 when she released her first album, ID; Peace B, in 2000. (Of her younger self, she told Vogue Korea in 2020, "I wish I didn't drive myself to the point where I'd be in pain.") Changmin was 15 when he debuted as part of TVXQ. Taemin, in all of his floppy-haired glory, debuted with SHINee at 14. HyunA and Sunmi were also 14 when they made their debut in JYP Entertainment's Wonder Girls, as was Krystal, the face of f(x) and one of Min's primary muses during her 16-year tenure at SM Entertainment. In his introspective solo track "My Time," BTS' youngest member Jung Kook, who debuted at 15, reflects on his lost youth, opening with the rumination, "Feels like I became a grown-up faster than everyone else."
Hard work and sacrifice are part of the job from the minute a young person enters the industry's notoriously rigorous trainee system. Trainees can spend a large part of their adolescence at the company, attending classes and monthly evaluations that not only pick apart their skills but also their image. Park Jihyo entered JYP Entertainment at 8 years old; she debuted as the leader of TWICE at 18. "I feel sad that I don't have any memories during my school days," she said in a 2017 episode of Carefree Travellers. "When school ended, I would go to the agency right away. When I think about it now, I envy my friends who were able to eat tteokbokki and go karaoke."
Not having that childhood socialization period can take a mental toll. "It's a lot of pressure to put on children," says Dr. Jean Kim, M.D., a Korean-American psychiatrist and writer. "Yes, the results are that they're phenomenally talented performers, but what's the cost?" Psychologically, Kim says, they could be more prone to depression and anxiety and struggle to "adjust socially and know what they want for themselves moving forward." Crucially, adolescence is the "identity-formation period" when teens figure out their sense of self by testing limits. "If they're stuck in training mode where everyone is telling them what to do, they don't really go through that stage so they might get stuck — those things might happen later for them, or they might never fully develop autonomy."
If everyone knows the system is imperfect at best and abusive at worst, it raises the question of why there hasn't been more widespread reform to protect underage artists from exploitation and abuse.
K-pop certainly isn't the only industry that profits off the labor of its child stars or favors youth and fresh-faced ingenues. In Hollywood, child stardom comes as a cautionary tale, and those who do sustain successful careers into adulthood are often candid about the sexualization, mistreatment, and exploitation they faced as kids navigating the entertainment business. In 2021, boy group Why Don't We sued their former manager alleging "mental, emotional, and financial abuse." On Instagram, they posted a joint statement, writing, "We were 15 to 18 years old when Why Don't We started. We were young, impressionable, and trusting… We have now matured to the point where suffering in silence is no longer an option." Their tribulations mirror similar stories from acts like TLC, Backstreet Boys, and countless other artists who have been taken advantage of by adults in positions of power. Exploitation is, largely, an open secret.
In K-pop, however, it's more explicit. Fans online often speak out against companies. "If you look at the American industry, child abuse occurs everywhere. But I want to look at the way the industry narrates [it]. All these abusive stories are completely concealed," says Stephanie Choi, an adjunct assistant professor at New York University who studies pop culture and consumerism in South Korea. "In K-pop, you'll see how very often the companies are demonized [by fans] and the way the abusive system is so transparent… The narrative is that there's no kind company in K-pop."
If everyone knows the system is imperfect at best and abusive at worst, it raises the question of why there hasn't been more widespread reform to protect underage artists from exploitation and abuse, especially since there are more new groups now than ever before.
So far, the few changes within the industry have been regulatory: limits on working hours for minors under the age of 18; prohibiting minors to work past 10 p.m. (with some exceptions for overseas schedules); and fairer contract terms that bar artist agreements from extending past seven years, reduce penalty fees for contract termination, and restrict companies from overly surveilling the personal lives of artists. There are also restrictions on what underage idols can wear during public broadcasts and contractual mandates that state companies have a duty to help with treatment for trainees and artists who develop mental health disorders. Each company, however, has its own set of guidelines for their idols, as well as pay distribution models. Most artists are also expected to pay back their trainee debt, which many accumulate as teens.
The reality of being a young K-pop idol today means existing in an extreme environment, not only physically but mentally. In addition to being under the microscope, they're subjected to an overwhelming number of online comments, which research shows greatly impacts feelings of self-worth. Some agencies offer mental health services on a regular basis for their talent, and Kim says that support is integral to a teen's development. "Part of nurturing kids is to challenge them and help them meet their full potential," Kim says. "There's a benefit in doing something you love at an early age and being successful at it."
As NewJeans continue to experience unprecedented levels of success, with major brand deals already in place, their image is already being commodified and consumed. But the perception that they have no say in how their image is presented is something ADOR denies. The company wants to dispel the notion "that young people are unassertive and uninvolved with the world around them."
The more I thought about what that meant in the neoliberalist context of K-pop, the more I realized that NewJeans are in a unique position. They're signed to one of the most powerful Korean entertainment companies, and the members are taking an active role in dictating their own stories (Minji, Danielle, and Hanni already have songwriting credits). It appears they're being given opportunities to flourish.
It seems to me it's not a question of whether teens should be idols but rather under what conditions. NewJeans seem to be setting the standard for what some of those conditions could look like: Their ideas are being heard, and they're getting paid for their labor. Unfortunately, that's not the reality for a lot of teens in the industry, especially those from smaller companies who aren't afforded the same level of exposure and career assurance. There needs to be systemic support in place to help young artists mentally adjust to the rigors of their environment, financially prepare for their futures, and nurture their own self-expression. What would it look like if young idols had the ability to craft their own image? How much more expansive could K-pop be?
Generation K is a column by writer Crystal Bell exploring the trends and issues affecting K-pop and its surrounding community.