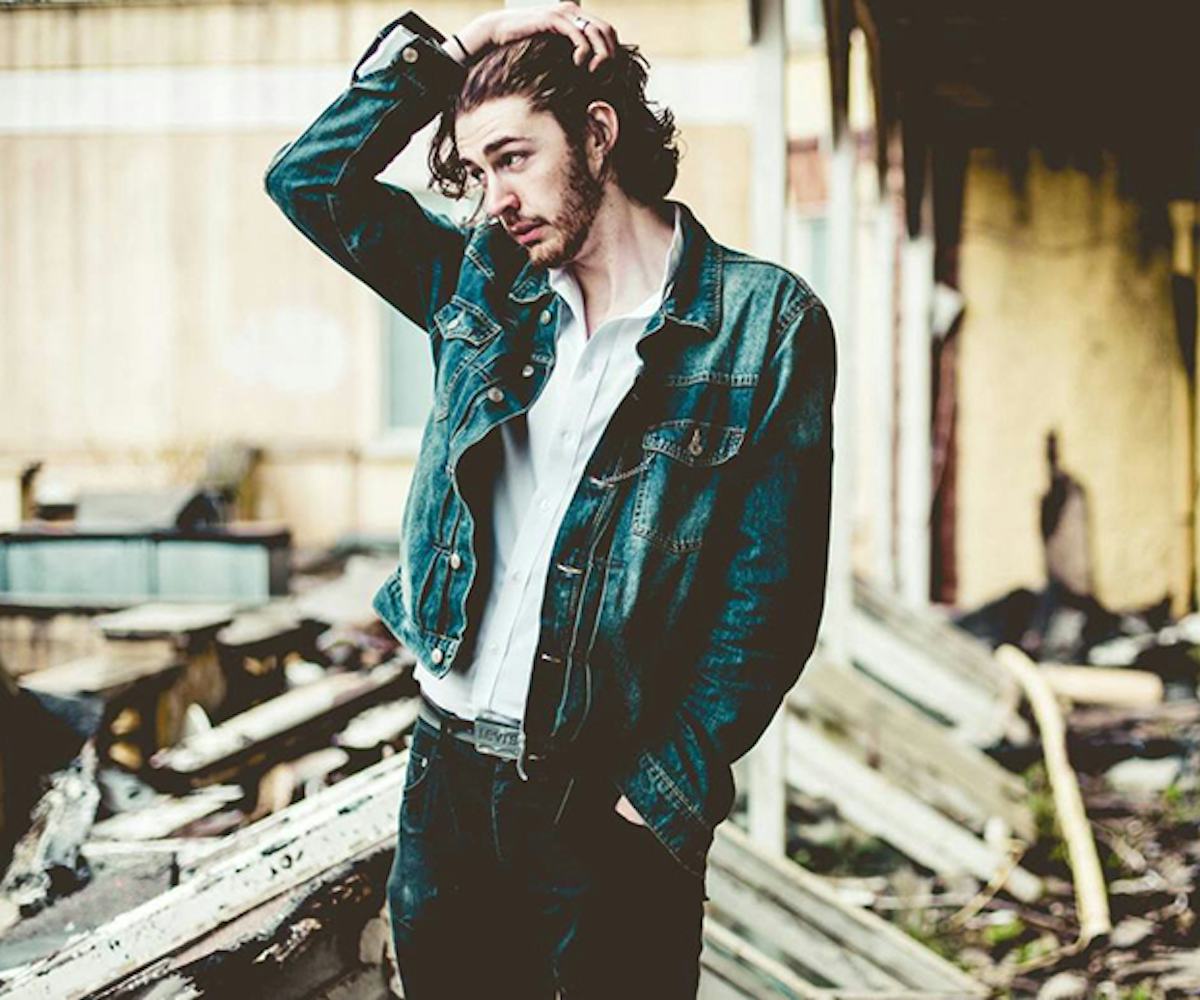 Photo via Hozier facebook
hozier's moment has arrived
talking to the musician about songwriting, fame, and breakups
Andrew "Hozier" Byrne is having a moment. He's performed on Saturday Night Live, sang with Annie Lennox at the Grammys, and was nominated for Song of the Year for his hit "Take Me To Church." That breakout single, which was certified four times platinum and became the most streamed song of 2014, had a modest Youtube release in 2013. Like most of Hozier's songs, "Take Me To Church" explores the best and worst parts of humanity, encompassing everything from simple love to desire, rebellion, acceptance, and sin.
His self-titled album dropped in October of last year, topping sales charts as the highest-selling debut by a new artist. But not long ago, the 24-year-old was just a college student playing in bands and Irish pubs for fun. Born in rural County Wicklow, his earliest musical influences came from the blues and soul records his father played around the house. He taught himself how to play the guitar when he was a teenager and went on to study music at Dublin's Trinity College. Soon after, he quit school to write songs that people could relate to, and "Take Me To Church" was the first song he was satisfied with. Without the influence of outside producers, he created his own sound and recorded demos in the attic of his parents home in Ireland. 
Hozier finds inspiration in artists like Ella Fitzgerald, Tom Waits, and Otis Reading, but it's the dark, broken melodies that he does best.  We caught up with Hozier about life on the road, breakups, and making music in the attic. 
You've been touring for several months and are currently playing another string of shows here in the US. Are you enjoying being out on the road?
Absolutely! Yeah, I'm really enjoying it. I've been out on the road for quite awhile now, and this tour will basically be going on until March of next year. So it's a long one, but it's really great. I'm finding myself very eager to sit down and write new music all the time, so when the time comes again, it will be really nice. For now, I'm loving being out and playing live shows.  
Have you been able to do any writing on the road, or are you waiting until you have the time and space? 
Yeah, I'm trying. It's really hard to find time though when you're constantly touring. You're literally sharing a bus with a lot of people, so that makes it difficult as well, but I do try to find the time to sit and write some. As long as I can keep track of all the ideas that are in my head and write them down when I have them, I'll hopefully be able to follow through and flesh them out when the time comes. 
You've had an amazing year—you had SNL, played at the Grammys with Annie Lennox, and were nominated for a Grammy as well. Any personal highlights for you? 
It's all been so great. The Grammy show was an amazing highlight for sure and SNL as well. When I think back though, playing Newport Folk Festival last year was a big moment for me. You sometimes get these moments when you're able to see a level of support that you haven't seen before. That show was one of those moments for me. When it happens, it just kind of shocks you.
You've spoken before about growing up in rural Ireland. How has your childhood impacted your music? 
My dad was a musician in Ireland when I was a young child. He was always playing blues records, and he played in a lot of blues bands in Dublin. So some of my earliest memories are of him playing music and just having musicians all around me. By the time I was older, I was very familiar with music and grew to have a fascination with it. I always found it interesting to think about roots of music, of early African music, and everything that kind of grew from those beginnings—soul, jazz, blues. So I started teaching myself how to play when I was a teenager and started writing songs, and I just kind of kept going from there. 
Your first album was prematurely born in the attic of your parents home after a breakup. Tell us about that experience.
The breakup really had very little to do with it, except for the fact that I had more time on my hands to write. I guess I was also able to use the writing and recording as a way to distract myself. I was living back at home with my parents in Ireland at the time, and I was basically demoing all of the songs for the album up in the attic. A lot of the songs were recorded up there first and then I took it all to producer Rob Kirwan. But yeah, the attic is—in my head at least—where the album really first started taking shape. 
You're known for using your platform to speak up about important issues like equality and nationalism, and your songs often have an air of liberation and rebellion. Where does that come from? 
Everyone's values come through in their music. So mine do too, I suppose. If I feel strongly enough about something or some issue, I wouldn't ever shy away from putting that to music. That's just me being honest. I just try to put some of that honesty into the music I write. 
Your latest release was the video for your song "Someone New." What's the story behind that track? 
That song is actually the only co-write on the album. It's one of the happier sounding songs on the album too, but it's also kind of looking at people in a different light. The person is looking from stranger to stranger, in an almost infatuated way. So I think underneath it all, it does also have a sense of really sad loneliness to it. 
Your mother painted the artwork for the cover of your EPs and debut album? 
Yeah, she's an artist. When the first EPs were being released, I asked her if I could borrow some of her paintings for the cover. So by the time the album release came around, she had painted a new painting for me to use. 
You played in several bands growing up. What were some of the early bands and projects you were involved in?  
I was in a few bands during the time I was in school. I was a college student, so I was lending my voice around, and I had a lot more time to do so. I was singing for different projects kind of left, right, and center, but I was also writing music for myself all the time. I left college sometime during my first year of school, because I had an opportunity to demo with a label. That time in the studio conflicted with my exams, so I decided I had to take the opportunity to work in live music and record rather than stay in college. I was in a few groups before then, as well. I was in a choral group called Anúna that was a world music choir, but I'd say my first real band was when I was 15. We played a lot of blues and funk.
Your songs have such a feeling of power, especially in live settings. How do you create that feeling? Is it something you set out to do, or it just happens naturally? 
I think the gospel choir sound was something I wanted to draw from when creating the album. I wanted to capture the feeling I got when I listened to gospel music or when I listened to blues music, so that was definitely something I wanted to explore. In the demos I stared doing in the attic, I was starting to record those kind of choral parts and stuff like that. So really, I wanted to explore that Southern Gothic type of sound. 
The songwriting process is so personal for every musician. When writing a new song, do you normally start with words or chords? 
It really changes from song to song. Sometimes there might be a passage, or a sentence or verse that really strikes me. If I have some lyrics written, where there's actually enough to make a song, then I'll flesh it out and write a song. To be honest, I think it really all starts with a core feeling.
What do you think has been the most difficult thing you've written a song about?
Every song is very, very different. It changes. Sometimes a song will take a day to write, or even minutes to write. Others can take months or years to write. With the case of "Take Me To Church," I had ideas for those specific lyrics for years before I actually recorded them. I feel like if you don't have a home for those words, a real home for those lyrics, or a place to put them in a meaningful or worthwhile way, then they just stay in limbo until the time comes.