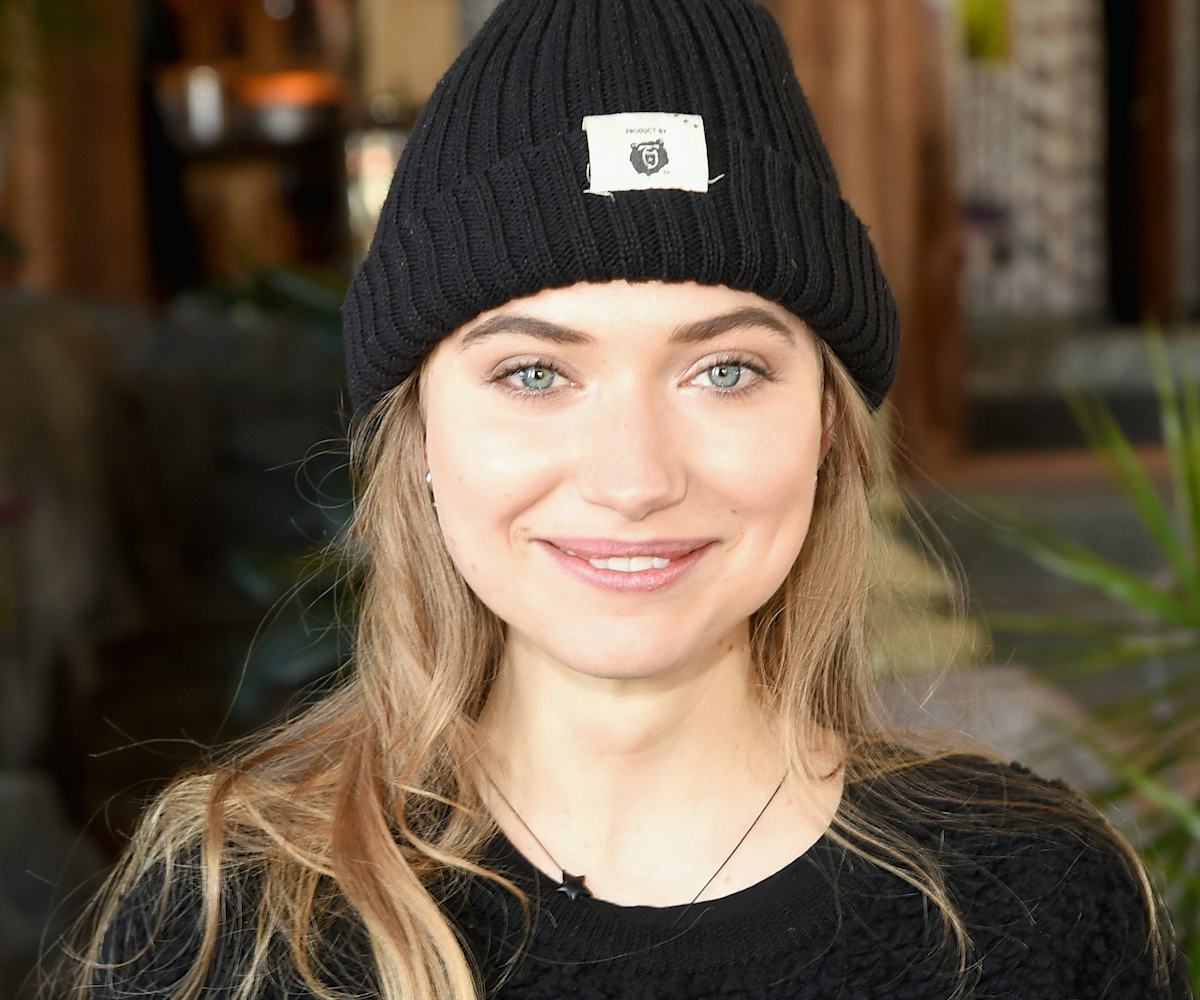 Photo by Jason Merritt
Imogen Poots On Surviving Her Brutal New Thriller, 'Green Room'
"There was something endless and relentless about it"
In the jagged and intense thriller Green Room, Sir Patrick Stewart plays wildly against type as the merciless leader of a gang of white supremacists who sets out on a bloody rampage to destroy a punk rock band who happens to be in the wrong place at the wrong time. Caught in the middle is Amber, a mysterious girl whose only motive is survival. British actress Imogen Poots jumped at the chance to play the dark and gritty role and, alongside co-stars Alia Shawkat and Anton Yelchin, endured some of the most grueling horror sequences of the year. Poots, who's been appearing in films since her 2007 breakout 28 Weeks Later, will next be seen in The Lonely Island's Justin Bieber send-up, Popstar: Never Stop Never Stopping, and then as the plucky heroine in Cameron Crowe's first foray into television, Showtime's Roadies. We caught up with 26-year-old New York transplant to discuss how she survived those intense scenes opposite Stewart, what Roadies taught her about the transient lifestyle, and how the New Yorker in her has been learning to fit in while filming in Los Angeles.
I really enjoyed the film. I'm proud of myself for making it through it. 
Yay! I'm proud of you too. I'm so glad that you liked the film. It is intense, and I forget how intense it is sometimes because I forget how other people don't know the prosthetics process of it. I feel terrible when I tell people to watch it.
What was the vibe like on set?
It was a really intense environment. Everyone, at the end of each day, would just feel the weight of that. And because it was such an ensemble piece as well, there was something endless and relentless about it, because it wasn't two people in a scene in a room. It was like a seven-to-eight hander. It was very contagious and serious. So it was a very strong network of love, especially between Anton and Alia and I. It was actually a really pleasurable place to come to work.
What attracted you to the role of Amber?
It was just a chance to completely transform. I was really thankful to the director for taking that chance. You look at someone online and see a bunch of pictures of them in dresses at events and shit. So it was cool for him to say, "I want to see you get fucked up." And not a lot of people have the imagination to roll with that. So I was jumping at the chance to play her, purely because I kept waiting for something within her to break. She's such a quintessential survivor, and I found that uniquely unsettling.
What's your personal stance on horror films?
It depends on the type of horror. I love old-school horror. The original The Fog, where it's dry ice rolling in, I find all of that stuff fascinating, the early stages of making a horror film. I love psychological thrillers. Don't Look Now was an amazing film. I also think The Others is one of the greatest horror films I've ever seen. But in terms of gore and stuff like that, I'm not a massive fanatic.
What movie has scared you the most?
I imagine it would be something like The Others. I think all of us have a tendency to do this, but my imagination can get so messed up sometimes. I'll fabricate a potential scenario that is stupid, but if the film has presented me with that as an option—like people turning out to be ghosts—it's something that I wouldn't necessarily put to bed. I would very much indulge in that notion, of something not actually real in front of you, which is the most terrifying thing of all after leaving a film.
So when you watch something like Jurassic Park, you're immediately checking your backyard for dinosaurs?
Well, Jurassic Park I love! My brother and I would watch that all the time because it was such an artful film. My stomach doesn't turn with Jurassic Park. 
Patrick Stewart was terrifying in this film. What was it like working opposite him?
He was, wasn't he? Well, he's such a jokey guy. He's so chill, and he's so giggly and fun. And it's funny because we grew up with him, especially growing up in England, and we see him as this British sort of serious thespian. And then when you get to work with him, Patrick's still like a kid. I could tell he really enjoyed talking with Anton and I about the state of cinema today and stuff like that. And then to see him in this role was really scary, because it's just that notion of human beings having the capacity to inflict such pain—physical and psychological—on each other, and that's just mortifying. 
Are you looking forward to Roadies making its debut? 
I am looking forward to it. I don't really know what to make of it if I'm honest. You only ever get a private script with something like this, and I fell in love with that. I fell in love with Cameron, and I really, really love the role. It was a chance to play a character that is not only in the world of music, but also a woman who was so independent and no way afflicted by a male, and has her own quest that she must go on. And I was very intrigued by that. But I've never done something like this before, in the sense that you're contracted to do things, and I'm just taking each day as it comes. But I certainly wouldn't feel comfortable saying, "It's going to be this!" or "It's going to be that!" But I'm excited every day to go to work to play her. 
What has Roadies taught you about the transient lifestyle? Does it seem at all glamorous?
No. It doesn't seem glamorous at all. It seems very claustrophobic. We've been filming a lot of the time on a tour bus, and so often we'll look at the schedule of the upcoming week and we'll say, "Ahh. Every single scene takes place on the bus! It sucks." It's like that—everyone stinks, no one showers, it's not private in any way. It's a lot of time spent with these people, and you don't choose it. Something that I think Cameron has captured in each episode is that magic of when the band is just about to go on, and anyone who loves music—anyone who loves going to a concert or a play—understands that feeling when the lights go down, when you're just like, "Wow. That's what they're in it for." 
If there was one band that you could tour with, who would it be?
It would probably be a band like The Velvet Underground. I think that would be a really interesting band to be a roadie with, in their heyday, because also what was happening at the time culturally. I think that would have been a pretty wild experience. But in terms of seeing a musician actually play live—to have seen Johnny Cash or Elvis Presley, something like that would be my dream.
You've been filming in Los Angeles lately. Have you been missing New York?
Yeah. Actually, I'm speaking to you right now from Tompkins Square Park because I had four days off in a row and I just booked a flight—probably got in trouble for doing it—but I just booked a flight and ran away. I just needed this. I needed to come home for a second. I'm relishing it. And then I go back to L.A. on Sunday. But it's cool. I've got my beach cruiser bicycle, and I found people there that I love. It's just another chapter.
If you hop on a beach cruiser, you'll fit right in.
Yes! Those wide handlebars—it's really great. You feel so low in that seat, too.
The braking situation freaks me out, though. I prefer the hand brakes.
Me too! And also, whenever I'm trying to make a left turn in the middle of the road, I've realized that because I'm on a beach cruiser, people don't expect me to be a realistic cyclist. They just ignore and act like I'm a fake. I'm just invisible. It's really upsetting!
In recent years, your career has been really building momentum. Does the limelight get overwhelming?
I'm quite happy with the way things are going and getting to do jobs that I really love. There was a period of time where the work I was doing was cool, but it just feels different now and I'm really excited. But I'm happy to just keep trucking, and life ain't so bad. So that's kind of how I think about it.