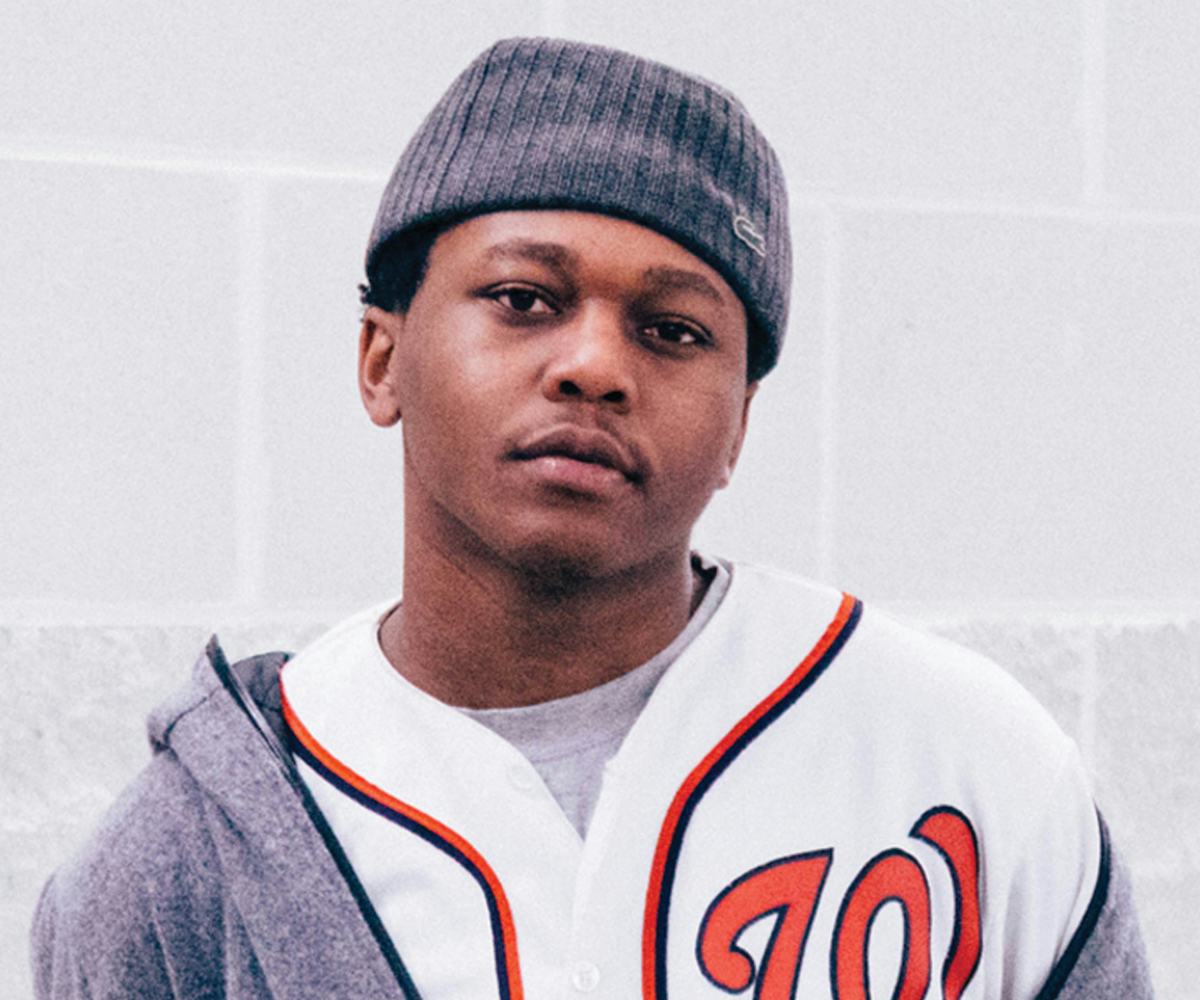 Photo Courtesy of @innanetjames via Instagram
Rapper Innanet James On Creating His EP 'Quebec Place'
Innanet James finds inspiration in his namesake. "The internet is crazy, bro," says the 21-year-old rapper. "It brings everybody together."
James, who released his debut EP, Quebec Place, in August has built a strong web presence. Last year, his ebullient debut single, "Black," became a bona fide hit in the blogosphere, and the internet has both provided James with a platform to share his voice and brought him closer to collaborators. He worked with Montreal-based producer, The Kount, on three of the EP's tracks after coming across his music on SoundCloud, and a couple of weeks ago James even tweeted his email address and asked his followers to send him beats—but only fun tracks that they'd "play around granny."
As fun-loving as he is, the Maryland native's lyrics also reveal an artist who is plugged into the world around him. On "Black," he raps, "I'm black, so black and I'm proud/ This for my Men in Black, Will Smith, in pursuit of happiness/ Malcolm X all your problems, get your hand out my pocket," over crisp beats and elastic horns, and in the video for his single, "Summer," he explores racial inequality and police violence as two men, one white and one black, meet divergent fates after going about their days exactly the same. We talked to James about his new EP, growing up in and around Washington, D.C., and how a pizza delivery helped him finish a song.
How did you get started making music?
I started a long time ago. I just wanted to rap one day. I was listening to the freestyle Lil Wayne did. It was the "Upgrade" freestyle from Da Drought 3. That's what made me want to rap.
You've said you grew up listening to rap, R&B, and go-go, which is associated with Washington. How did growing up in the D.C. area influence you personally and musically?
Oh, dawg, that's home. That's everything, you know what I'm saying? I've lived everywhere in that whole area. I'm from Maryland. I'm from Silver Spring, Montgomery County, in Maryland, but I've lived in Waldorf, D.C., I've lived in uptown D.C., I've lived in northeast D.C., I've lived everywhere. I guess, I got, like, the best parts of when D.C. was really D.C. before it became gentrified, and you could go to the go-go on the weekend. 
Is there a pretty close-knit musical community there?
It is now, but it wasn't before. Up until like 2010, nobody was rapping. We only had go-go. The first rap artist we had from out of our area was Wale, and then it was Tabi Bonney, and I think it died down for a bit until Fat Trel popped back up. But, yeah, there wasn't really a rap community, and then it was a slow process. But now it's a beautiful place, dawg. We all cool.
Collaboration seems to play a big part in your music. How did working with people like Chaz French inform the direction of your EP?
The collab with Chaz was crazy 'cause we were in House Studio, and I just asked him to come through for a session. I went to a session of his, probably two days before, and we got a couple songs done, so I just asked him to come through. And we were up there just picking through beats. I ain't had nothing he liked, and they ordered pizza, and I just happened to go downstairs for some pizza. We were high and hungry. And then this producer was down there, and he was like, "I like what y'all are working on upstairs," so he came up and played a couple beats, and Chaz was like, "That's the one." That's how that happened. I didn't think we were going to get that record done that night, but we did.
What was the writing process like for the EP?
It was all over the place because we had "Black" done. "Black" was done before I even thought to do Quebec Place. So, I did "Summer," and we kind of just made the whole project after those two songs. "Summer" was already out, and we were just like, "Yo, we need a whole project now. I can't just keep coasting on singles." And then so that day my manager, Dre, was like, "Put this project together." So we were at House Studio for six hours a session for three days a week, dawg. It was a slow process cause I didn't know how to create full songs, I just knew how to write verses. So I was figuring out how to write hooks at the same time, and it was a learning process. It was dope.
Are there any artists or albums that inspired you while you were making the EP?
Yeah. I listened to a lot of Anderson .Paak. I was fucking with Vince Staples heavy. Mick Jenkins is one of my favorites, Alex Wiley, a lot of new people. A lot of new artists. I was listening to Happy Belated by Chaz. My favorite song ever is probably Donell Jones's "You Know What's Up," so I listen to that a lot. [Laughs] That's my favorite song ever. It's, like, when that shit come on, time stops. 
The video for your single, "Summer," depicts a situation that's especially pertinent given what just happened in Charlotte and Tulsa. How did you come up with the concept?
I don't even know how we thought of the concept for that video. We just didn't want it to be something generic for "Summer." It was about what's important to us. Like, that shit is important. That shit is crazy. It's happening like once a month... I just don't get it how that shit keeps happening this frequently, dawg. I don't get it. It's just baffling. So, it was just hella important, and I'm glad we got that done in that video. 
What do you hope to accomplish with your music?
One day I want to win a Grammy, and, like, drink Champagne out of it. That's my goal, so I'm gonna make it happen. I want to make music that people love. Music with a message, music with a purpose. That's my goal. 
I have a few quickfire questions. If you were a pizza what kind would you be?
A buffalo chicken pizza. I had that once.
If you had to give your high-school self one piece of advice, what would it be?
You were not wrong, everything you've done has worked, and don't listen to what Mr. Dean Fry says about math. Dawg, he was telling me that algebra was, like, the key to life. It's not. I've been out of high school three years, and I ain't gave a fuck about algebra. [Laughs] You know what I'm saying? Like, that shit is not important.
How would you describe your music to someone who hadn't heard it?
It feels like love. Whatever love feels like, that's what my music feels like. I don't know that feeling, but whatever it feels like is what my music feels like. [Laughs]