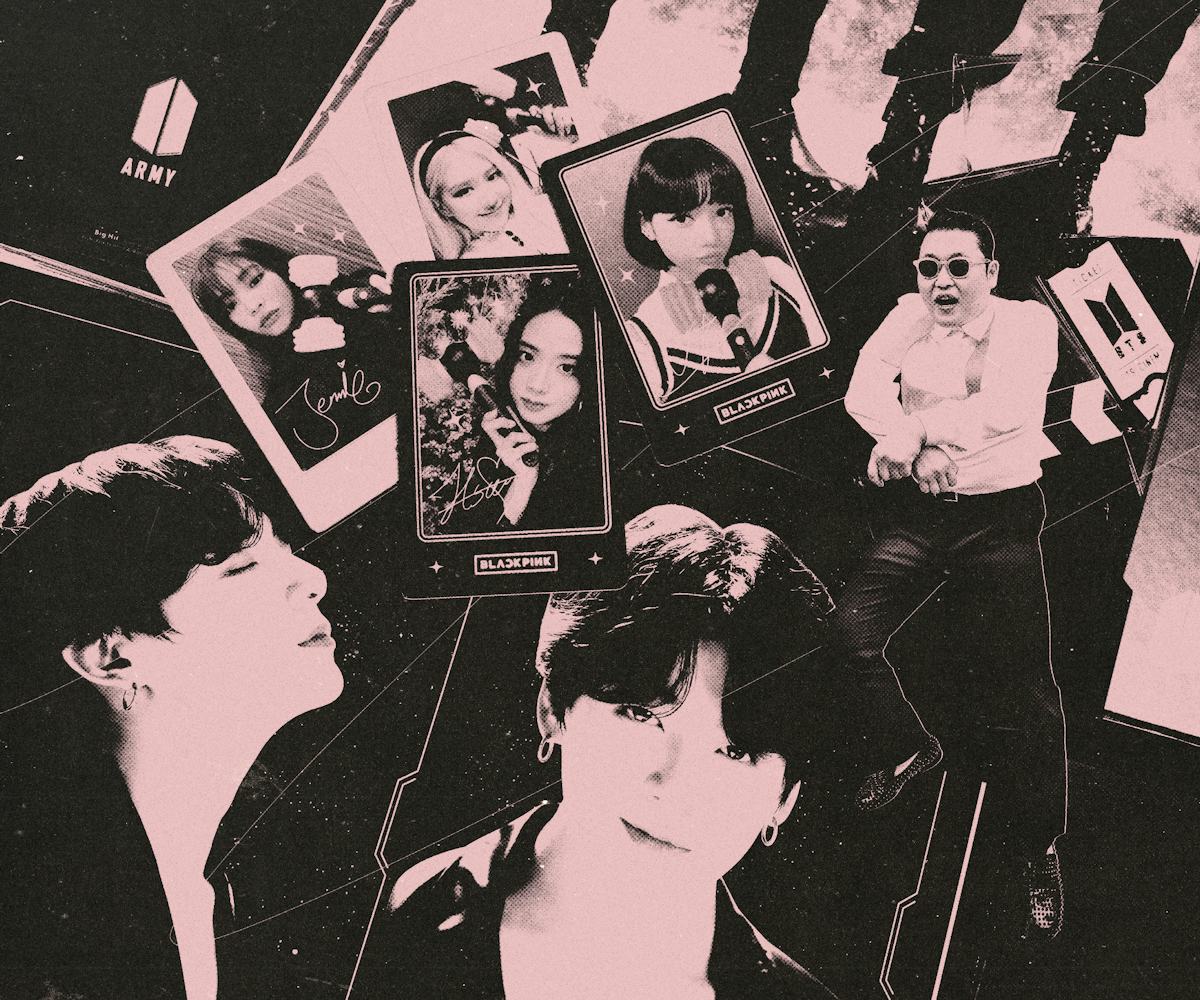 Lindsay Hattrick/Nylon; Shutterstock; Getty Images
Is K-Pop Finally Mainstream?
And what does "mainstream" even mean in 2023?
Look at the biggest songs in the U.S. right now and you'll find a bit of everything: Miley Cyrus's anthemic pop comeback; SZA's revenge ruminations; Selena Gomez's cross-cultural collab with Nigerian singer Rema; and controversial country star Morgan Wallen's unvanquishable return. At the forefront of the list sits Park Jimin's "Like Crazy," the glittery solo debut from BTS's graceful tenor.
When Jimin topped the Billboard Hot 100 with "Like Crazy" on April 4, he became the first South Korean artist to do so. As a member of the most influential pop act of the last decade, Jimin placing atop the singles chart isn't all that surprising in the era of hyperactive fandom. As a group, BTS have six Billboard No. 1 singles. In total, they've charted 26 songs in the 14 years since Wonder Girls made history as the first Korean act to appear on the Hot 100, where rookie girl group Fifty Fifty currently sits at No. 60 with their surprise hit "Cupid." The charming February release has been gaining momentum on TikTok, even appearing on Ariana Grande's Instagram Story.
The weekly chart, which takes into consideration audio and visual streams and radio airplay impressions, is still considered an indicator of mainstream success. And Korean-language music claiming a spot on it is still a big deal. Combined with K-pop acts now filling arenas on a regular basis, booking coveted U.S. airtime, generating billions worldwide, and now headlining the most prestigious music festivals, it begs the question: Has K-pop finally become mainstream?
To answer this question, it's necessary to understand what "mainstream" means. More often than not for Korean artists it means making a commercial impact in the U.S. by releasing music in English. The success of BTS's "Dynamite" and "Butter" — English-language singles released under Columbia Records — led to tracks like TWICE's "The Feels" (the group's first entry on the Hot 100) and LOONA's breakthrough radio hit "Star." These are the songs that get pushed to radio and performed on television, mostly feel-good bops made to appeal to the widest possible audience.
This is what Andrew Mall, an assistant professor of music at Northeastern University, describes as "mainstreaming." It's the strategic process through which a genre of music's audience "gets bigger than its community of origin," he tells NYLON. "It's the result of intentional decisions made by record labels and not necessarily by artists, usually made by the music industry professionals that are responsible for distributing them, selling them, and finding audiences and marketing them."
And its seemingly worked, as The Atlantic's Lenika Cruz observed following BTS' release of "Dynamite," BTS's first No. 1 entry on the Hot 100, "Whether the band intended to or not, the only English-language single they've released in seven years has become their biggest chart success yet, outperforming the dozens of more artistically ambitious records that they wrote or produced in Korean."
This isn't an unusual practice limited to non-English speaking artists in the industry. In the early aughts, seminal American pop stars like Christina Aguilera and *NSYNC recorded Spanish-language versions of their hit singles. (I am the proud owner of Eden Crush's first and only single on cassette, which the group recorded in both English and Spanish.) American pop stars also embark on global tours all the time, but there's a double standard for non English-speaking acts whose success in the U.S. is often downplayed as a temporary phenomenon. Part of the reason is culture's underlying inclination to balk at anything that's popular among teenage girls, young women, and marginalized audiences, and that's especially true for K-pop artists, in particular boy groups who possess a more gender-fluid image by American standards.
"The music industry creates music that caters to the taste of teen girls, but they then don't take their musical opinions seriously and look down upon the music that they like," Mall says. "That's the danger: Does K-pop become really popular among a constituency that actually isn't valued [by industry gatekeepers] aside from their ability to generate revenue?"
In his research, Mall looks at traditional metrics of success like sales and radio play, which are often reflected on the Billboard charts, to analyze the growth of certain niche music communities. Other metrics important to mainstream designation include ticket sales and concert revenue, in addition to licensing and publishing income. ("How much revenue is that recording bringing in for its copyright owners? That's usually a measure of success," Mall adds.)
For K-pop acts, making it big in the U.S. isn't only about chasing revenue; it's also about validation, breaking through old institutions like the Recording Academy, winning a Grammy, and doing what once felt impossible. For most influential American artists, a Grammy is just a trophy. "For K-pop artists, those traditional metrics of mainstream success may be more significant," Mall adds.
While major award ceremonies like the Grammys offer industry recognition, it's no longer where American audiences engage with music. In fact, the more traditional model of album sales, radio play, and Grammy nominations feels outdated in today's streaming landscape. In 2023, a viral TikTok audio can propel an artist into the mainstream. Just look at the rapid ascension of the people's princess, Ice Spice. The Bronx rapper's collaboration with UK singer and outspoken NCTzen PinkPantheress, "Boy's a liar Pt. 2," currently sits in the top 10 on the Hot 100.
"TikTok involves a different kind of engagement with music," Mall says. The relevance reflected across your FYP, or even on Spotify's own streaming charts, can look dramatically different than what's charting on Billboard. For example, Enhypen's "Polaroid Love," Treasure's "Darari," and Fifty Fifty's "Cupid" all sparked trending audios on TikTok, inviting creators outside of K-pop's core fanbase to engage with the music. (All of these trending songs are sung primarily in Korean.)
"Now, media pervades through many more distribution channels that target different demographics and interests," songwriter and co-host of Vulture's "Switched on Pop" podcast Charlie Harling tells NYLON via email. "Though there is still unequal power in cultural creation, there is not one center."
It's the idea of a fractured mainstream. In his 2015 academic article "How Do You Solve a Problem Like a Mainstream? Charting the Musical Middle," music scholar and author Eric Weisbard noted, "It is more productive to think not of a mainstream but of mainstreams that can exist side by side, competing and blending with each other."
There are artists that are hugely popular among a group of people of which other music consumers may have never heard. But there are also certain acts that can resonate across these cultural fissures. "Everyone listens to the new Beyoncé record, right? Everyone's excited about Taylor Swift's Eras Tour," Mall says. "Even with the fractured mainstream, there are still artists that will bring everyone together."
The question is are K-pop artists getting to that point? A lot has changed since "Gangnam Style"went viral on YouTube nearly 11 years ago. "There are cases where the song increases in popularity and cases when the [artist] increases in popularity, and longevity is that much longer in the latter," Psy told reporters last year. Groups like BTS and Blackpink have arguably achieved that latter permanence that Psy wasn't afforded in America in the 2010s. Blackpink headlined Coachella, while Tomorrow X Together are headlining Lollapalooza, where BTS's J-Hope made history last year.
But, if one single mainstream no longer exists, then who says K-pop's success in the U.S. has to be measured by old industry standards? These spaces, where people from all walks of life come together to enjoy music, exist not at the mainstream but rather at the intersection of cultures — a place that's perhaps even more meaningful. "We could ask, what are the cultural objects that cut across multiple cultural intersections," Harding says. "Does a piece of music speak to people across ages, ethnicities, genders, class, etc? This way, we can understand music that doesn't just go deep into a fanbase, but cuts across many identities with meaning that resonates for all kinds of folks."
By those standards, the popularity of K-pop abroad is undeniable. Whether you consider that to be mainstream or not is perhaps as irrelevant as the term itself.