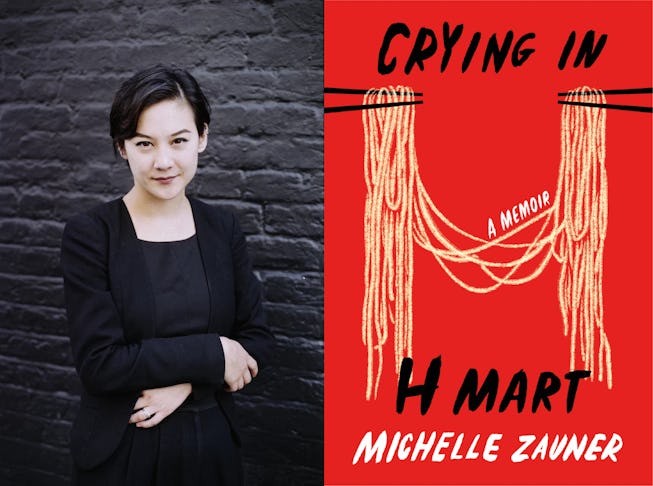 L: Barbora Mrazkova
Japanese Breakfast's Debut Memoir 'Crying In H Mart' Is Here
The musician's first book is a stunning meditation on grief, identity, and food.
Two years ago, indie-pop musician Michelle Zauner of the band Japanese Breakfast published an essay in The New Yorker called "Crying In H Mart." Written about her late mother's battle with cancer in 2014, it was a stunning meditation on grief, identity, and their intersection with food. Now, Zauner has released her first book of the same name, out now via Knopf.
Crying In H Mart is a gut-wrenching memoir that goes deep into Zauner's childhood growing up Korean-American and her complex relationship with her mother, all strung together through gorgeous descriptions of food and the memories she has eating them. And judging by its ecstatic early reviews, it might be wise to make sure your tissue supply is replenished before diving in.
Zauner is also gearing up to release her third studio album as Japanese Breakfast, Jubilee, out June 4 via Dead Oceans. She ushered the new era in in March with its bright lead single "Be Sweet."
"After spending the last five years writing about grief, I wanted our follow up to be about joy," she said of the record in a press statement. "For me, a third record should feel bombastic and so I wanted to pull out all the stops for this one. I wrote 'Be Sweet' with Jack Tatum from Wild Nothing a few years ago. I've been holding onto it for so long and am so excited to finally put it out there."
Order Crying In H Mart now, and watch Japanese Breakfast's latest video and single, "Posing In Bondage," below.