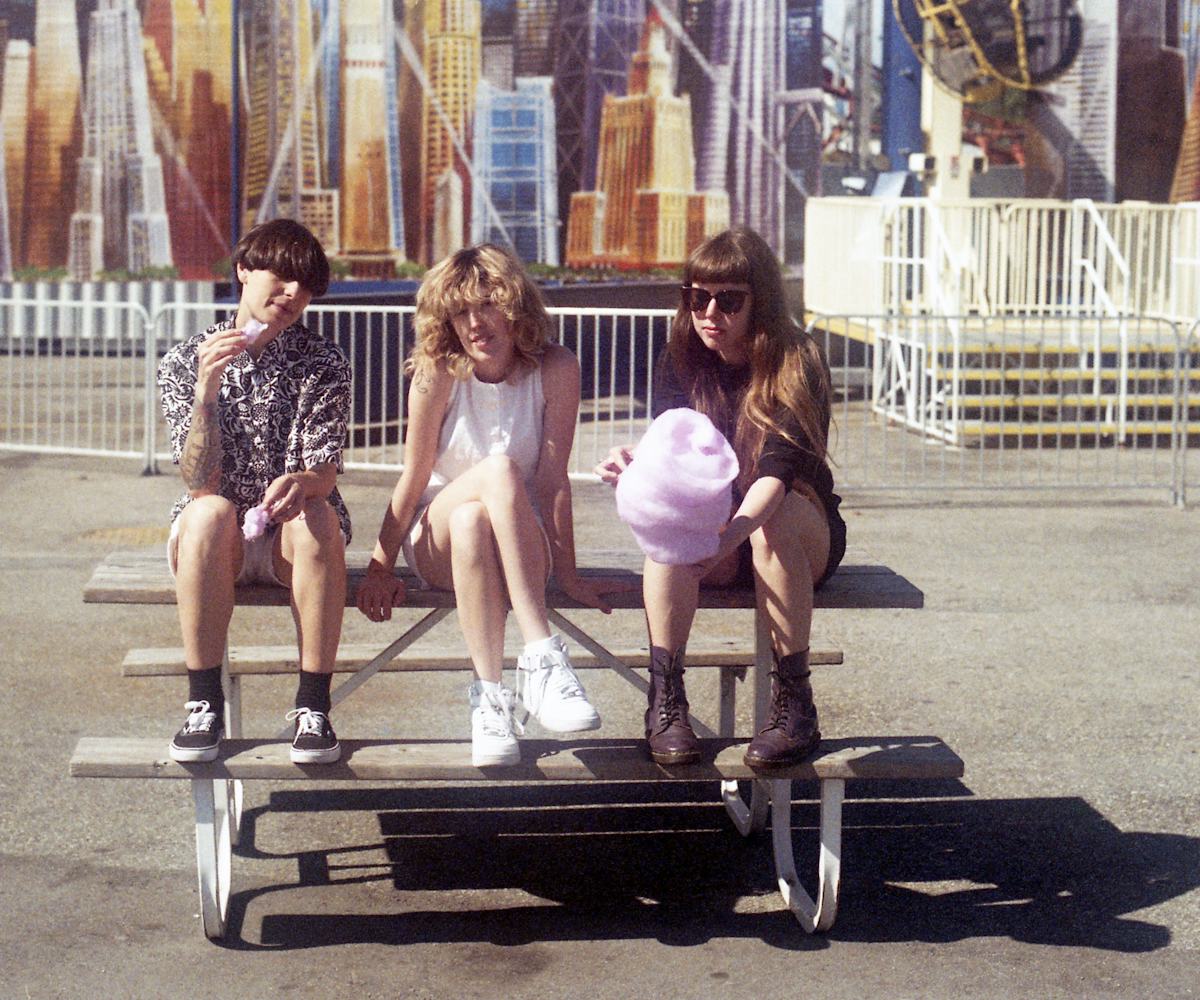 Photo by Andrew Volk
A Conversation With The Courtneys' Jen Twynn Payne
The Vancouver trio just kicked off a nationwide tour
On The Courtneys' sophomore album, The Courtneys II, the Vancouver trio just wants to have fun and lay down tracks about their Kiefer Sutherland obsession. After spending the past few years carefully crafting their artisanal brand of bouncy, sun-soaked power pop, The Courtneys' return with a feel-good record that tenderly walks the line between jangly garage rock and pure pop, finding a perfect balance amidst the hooks and fuzz that influence each track. And while the album touches on irreverent topics like cotton candy and vampire boyfriends, The Courtneys are more than willing to get introspective. On songs like "Minnesota" and "Tour" drummer, songwriter, and lead singer, Jen Twynn Payne (aka "Cute Courtney"), crafts songs about loss and confusion almost as easily as she writes about the freedom of getting away: "It's hard for us to let go," sings Payne, "slack off and hit the open ride, driving down the western sea, the sun it gets higher, higher."
With the help of bassist Courtney Loove ("Classic Courtney") and guitarist Sydney Koke ("Crazy Courtney"), Payne and the rest of The Courtneys are a sunny beam of light in a rather depressing time, a reminder that music can get us through anything if it's catchy enough. We recently spoke Payne about being both the drummer and lead singer, the importance of taking time with the music you create, and the anxiety of getting CNN push notifications in the age of Donald Trump.
Canadian bands like White Lung, Mac DeMarco, Tegan and Sara, Japandroids have been really successful. Considering that you know a lot of people in these bands, what is it like to see your friends do so well?
It's the best. I'm happy for everybody, and it's cool to be a part of that community. I have this book on the No Wave scene in New York in the 1980s, and I always read it and try to wonder if the people in the book realized at the time that they were a part of something, a part of a community. I always wonder what it looked like while it was happening, while they were in it, so I also wonder what's going to be happening in 30 years from now with all the people we know. Is it going to look like a particular scene?
What does the scene look like now in Vancouver?
There's a lot of bands right now who haven't broken out of Vancouver yet, but they're awesome. There's always a good scene going on. It kind of gets refreshed as bands move on to bigger things or leave the city. There's always bands replacing them and starting the cycle over again. I also think of Canada as being one big scene, but I also think of the Pacific Northwest, like Seattle, as being a scene, too. There are always things going on.
What's interesting about The Courtneys is that you're both the drummer and the lead singer. Was drumming and singing difficult to master?
I've always drummed and sang in every band I've been in. It's always been the normal thing I do. Lately, with The Courtneys, I feel that I put singing more as a priority over drumming. I've always kept the drumming really simple in this band for a few reasons: a) because we're influenced by bands with really simple drums, and b) because I really enjoy singing and want to sometimes just sing, so I put more of a focus on that in this band. My voice is my first instrument, and the drums are my second instrument.
I'm curious as to why it took so long for you to put out The Courtneys II.
We're just really slow. When we all lived here, we would jam once a week on Sundays at 1pm. We couldn't plan anything else that day because we knew we had to practice and write music. We didn't jam any more than that, so it was basically once a week for three hours when we'd get stuff done. On top of that, we're very picky. We would write a song and then sit on it for a long time, and then stuff would get thrown away. It was a long process for us. 
There's something to be said about taking time with your art and not rushing it.
For us, this band has always been about having fun and hanging out with our best friends rather than about being prolific songwriters. The motivation was never about having to turn out all this stuff really quickly, or "making it." We had no expectations. We just want to have fun.
Did you record the songs yourself or did you work with other people?
We always record with our friend Jordan. He lives on Gabriola Island [in British Columbia] and has a studio out there called the Noise Floor. A lot of Vancouver bands record with him. We recorded our first record with him. It's a cool place. It's hard to get to, but once you're there, you're on this weird recording retreat. There's no internet, and you're on this weird island, and he has this little cabin for bands to stay in. It's awesome.
They're also a bit longer than the songs off of your self-titled album. Was that intentional?
The only intentionally longer song was "Lost Boys." We wanted to have a song that had a long jam at the end. It's like seven minutes. That one was definitely intentional, but the rest of them were just the length that they ended up being. When I was writing the lyrics, I was really into that movie at the moment in time, and really into Kiefer Sutherland.
You write a lot of pop culture references into your lyrics. Is that because you can relate pop culture to your own emotions?
I think I do it because I consume a lot of television and movies and music. That's what's on my mind a lot of the times. However, I feel like, on this album, there's really only one song that has a pop culture reference.
On "Tour" you sing: "Where you are and what you want to be, it takes a long time." Where did that come from and do you feel that way about yourself?
Yes. That just comes from me thinking about me. I feel like I struggle with that a lot. I have all these ideas about where I think I want to be in my life, and I have no idea how to get there.
Your upcoming North American tour with Jay Som is called The You Do You Tour. Where did that name come from?
We haven't met Jay Som yet, but somebody—I think it was out booking agent—said that we had to come up with a tour name and it was really hard. We were in an email thread with the other band and we were like, "We don't know each other, how do we come up with this name?" We always name our tours after the tour starts because something will happen on tour that seems like an obvious tour name, but for this, we needed one before, so we had this phone call where we were all brainstorming and someone came up with You Do You. It was just an arbitrary name that we all liked, and it kind of seemed like a light comment on Trump getting voted in.
What are your thoughts on what's going on?
It's insane. I don't even know what to say about it. It's blowing my mind right now. I get these push notifications from CNN, and when I'm at work every day, there's a text from CNN every 10 minutes about something going on with Trump, or in the White House, and it's just like, "Are you kidding me?" It's nonstop every day. What's going to come next? I have no idea. I couldn't even guess.
I almost feel like you put this out now to give us some relief.
I'm glad. If it can help people be a distraction in a positive way, I'm super into that. It wasn't intentional for us to release it while all this shit is going down, but I'm happy to know that it might make people feel better.
The Courtneys are currently on tour with Jay Som, and you can check out the dates here.